The self-proclaimed Yankees fan sported a Houston Astros hat, hours before her fiancé Justin Verlander's team faces the Yankees.
Look who loves the Yankees! Just in time for the Yanks to take on the Astros in Game 2 of the American League Championship Series, the New York Post has taken out a half-page ad in Saturday's Houston Chronicle, featuring this charming photo of devoted Bombers bombshell Kate Upton. We're hoping this Post page from...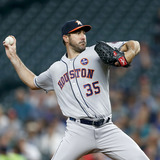 Justin Verlander does not have to make the transition to his new team alone. Thankfully his fiancee is supporting him.Verlander on Tuesday pitched his first ever MLB game for a team other than the Detroit Tigers. He made his Houston Astros debut while facing the Mariners in Seattle. And guess who was there to watch him? Kate Upton was all decked out in new Astros gear: Houston acquired...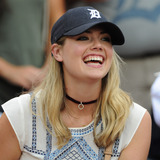 Detroit Tigers pitcher Justin Verlander recently tweeted about his theory that baseballs are juiced. While Verlander's claim has its supporters and critics, the pitcher can at least rely on fiancée Kate Upton's support.The supermodel on Tuesday took to social media to tweet at MLB commissioner Rob Manfred to speak her piece regarding Verlander's juiced baseball theory.Upton's tweet...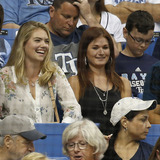 The latest Sports Illustrated Swimsuit Issue is set to be released next week, and there have been rumblings that Kate Upton will be featured on the cover for the first time since 2013. Or, she might not appear in the magazine at all.A source told Mara Siegler of Page Six that Upton's appearance in this year's Swimsuit Issue is not a given because she is demanding to get the cover...
Rick Porcello won the A.L. Cy Young Award on Wednesday by beating out Justin Verlander, who got significantly more first-place votes than the Boston Red Sox ace. How does Verlander's fiancee feel about that? Not good. Not good at all. After the results were announced, Kate Upton took to Twitter to unload on Porcello and the voters: Upton then retweeted some stats that Verlander...
Kate Upton waded into the national anthem protests controversy and gave a very strong rebuke of those who did not stand for the anthem prior to their football games on Sunday. The supermodel sent the following tweets in which she called the protesters' actions "unacceptable." This is unacceptable. You should be proud to be an American. Especially on 9/11 when we should support...
Instagram On Tuesday, Kate Upton showed off her ability to wear tight pants and do kegel exercises.  I met Kate at a Detroit-area gym soon after rumors of her and Verlander were birthed.  Despite knowing why she was in town, I asked why.  She lied to me.  She wasn't really in town for her sister's wedding. She was in town to put her kegel exercises to use. I take my kegels...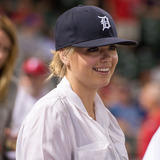 Athletes have their ups and downs, and it's important for them to learn how to take the good with the bad. Detroit Tigers ace Justin Verlander is no different. He had a rough 2014, in which his ERA skyrocketed to 4.54 with a 15-12 record. It was quite a difference from 2011 and 2012, when the hard-throwing pitcher compiled a 41-13 record in those two seasons combined, with an average...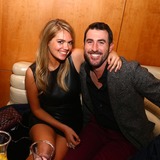 By Jason Rowan Detroit Tigers pitcher Justin Verlander came oh-so-close to notching his third-career no-hitter Wednesday night, but suffered understandable heartbreak when Los Angeles Angels catcher Chris Iannetta led off the ninth inning with a double. Verlander of course must be disappointed over how things played out, but still should be encouraged with his dominant performance...
MORE STORIES >>
Entertainment News

Delivered to your inbox

You'll also receive Yardbarker's daily Top 10, featuring the best sports stories from around the web. Customize your newsletter to get articles on your favorite sports and teams. And the best part? It's free!