Squeeeeeeeeee!!! For those of you who have not been paying attention, it is safe to say this freshman class is pretty good. In fact, it's pretty, pretty, pretty good. In fact, it's a compilation of Larry David saying "pretty, pretty, pretty good" good. That actually might be underselling it. Four games into the season, the consensus #1 recruiting class (in which we lost literally...
Larry David hit up Friday night's Warriors-Lakers game at Staples Center, because, let's be honest, everyone loves to watch Golden State. The Warriors dropped 149 points on the Lakers on Wednesday night, so their former assistant coach, Luke Walton, was looking to have his team avenge the loss. That's not how it worked out, though, as Golden State had its best defensive performance...
Larry David's New York Jets fandom has been a source of some "prettay good" lighthearted NFL talk in recent weeks, so it was perfectly fitting that the legendary funnyman paid a visit to the team's training camp on Wednesday. Not only did the co-creator of "Seinfeld" and "Curb Your Enthusiasm" presumably take in some practice action, he also took a few minutes to field some questions...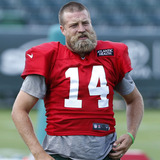 Longtime New York Jets fan and renowned funnyman Larry David opined recently that he doesn't understand why Ryan Fitzpatrick insists on sporting his trademark, unkempt beard. In fact, the co-creator of "Seinfeld" and "Curb Your Enthusiasm" suggested during an appearance this week on "The Dan Patrick Show," perhaps jokingly, that Fitzpatrick should shave it off. But is it possible...
Those of you who are loyal LBS readers have probably picked up on the fact that LB and Del are two of the biggest fans Larry David has. We love "Seinfeld" and are borderline obsessed with his work in "Curb Your Enthusiasm." If you're not a huge LD fan, you might not get why the […]
Classic. You could say, if you wanted to go with the easy reference, Larry David, comedic genius, looks prettay prettay prettay prettay annoyed with his New York Knicks basketball team in this photo from a recent game. My guess is that the the very Larry David-esque pose and countenance occurred during the debacle on Sunday […]The post 'Like flaming globes, Sigmund!' Larry David...
MORE STORIES >>
Entertainment News

Delivered to your inbox

You'll also receive Yardbarker's daily Top 10, featuring the best sports stories from around the web. Customize your newsletter to get articles on your favorite sports and teams. And the best part? It's free!