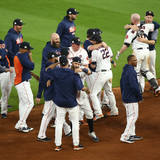 With their seven-game defeat of the New York Yankees in the ALCS, the Houston Astros have qualified for their second World Series. The Astros are not only playing for their first World Series victory but are also vying for the first Houston championship in any sport since 1995.That year, the Houston Rockets won their second straight championship, sweeping the Orlando Magic 4-0 in...
A few years ago, as he was nearing his 60th birthday, Jackie Chan talked about slowing down — taking some serious roles and doing fewer stunts in his action movies. The man who was once considered the world's biggest movie star is back in action mode this week in "The Foreigner," playing a businessman who wants answers when his daughter is killed in a London terror attack — and wages...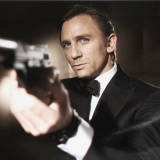 With "Kingsman: The Golden Circle" set to hit theaters on Sept. 22, we got to thinking about some of the best spies of all time in both film and TV. Although there have certainly been a lot throughout Hollywood's long and storied history, obviously not everyone could make an exclusive top-20 slideshow like the one we created. For the record, the spy genre generally includes those...
With audiences around the globe gearing up for the release of "Guardians of the Galaxy Vol. 2" on May 5, we started thinking about all the other funny space-related films throughout history. In response, we compiled a list of movies that feature astronauts, alien invaders, and interplanetary travel, and picked the ones that made us laugh the most - whether the humor was intentionally...
Brett Moffitt's No. 34 Ford will be surrounded by plenty of action before it even hits the track at Bristol (Tenn.) Motor Speedway this week. Images from the international thriller No Escape will cover Moffitt's Ford Fusion as primary sponsor for Saturday's Irwin Tools Night Race at the .533-mile oval.   No Escape, starring Owen Wilson, Pierce Brosnan and Lake Bell, centers on...
Pierce Brosnan and Owen Wilson will star in the action/thriller The Coup, about an American family living in Southeast Asia, who find themselves trapped in a nightmarish scenario when a
Pierce Brosnan stars as the highly trained and formidable ex-CIA agent Peter Devereaux in the big screen action thriller The November Man, which hit theaters last week. Devereaux, who has been
Movies The comedian's Mrs. Doubtfire co-star remembers struggling to keep a straight face.
Movies Whether he's serving as 007, resurrecting Thomas Crown, or starring in November Man, the Irish actor personifies big-screen cool.
MORE STORIES >>
Entertainment News

Delivered to your inbox

You'll also receive Yardbarker's daily Top 10, featuring the best sports stories from around the web. Customize your newsletter to get articles on your favorite sports and teams. And the best part? It's free!