Found March 31, 2012 on Awful Announcing:
Craig Carton from WFAN-New York's "Boomer and Carton" show takes it to Hank Haney, for writing a book about Tiger Woods: "The Big Miss." Haney defends the book itself as positive, in regards to how it portrays Tiger Woods, and Carton is a asserting that it was a violation of Woods' trust.  The interview and exchanges grow increasingly heated as the interview drags on; culminating with Haney hanging up well after twenty minutes. You can see the interview for yourself, in it's entirety:
Check the transcript for some of the juiciest quotes after the jump...
Carton discusses Elin's name being referenced in the book...
CARTON: You talk about his wife in the book.
HANEY: I talk about his wife only in areas where it pertains to his golf. The first time I talk about his wife is when she asked Tiger, "What are we going to do to celebrate?" And Tiger said, "We don't celebrate victories like this because..."
CARTON: Hank, you talked about the icy stares between the two of them after the accident when you saw him on the range outside of his house. What's that got to do with golf?
Carton then challenges Haney's fame being made off Tiger...
CARTON: But it doesn't matter. Don't you think it's a violation?
HANEY: I don't feel like it was.
CARTON: You don't see that Tiger Woods allowed you into his world, obviously paid you I assume a decent amount of money to be his coach. Without Tiger Woods, you're not getting TV shows, you're not writing books. And you don't view it as a basic violation of the man's trust?
Haney dodges a question if the roles were reversed...
CARTON: Would you feel violated if someone did it to you?
HANEY: Would I feel violated if someone did it to me? I didn't do that. I kept everything in the book that was personal.
CARTON: It's a simple question: would you feel violated if someone did it to you?
HANEY: There are so many things I left out of this book that would have been going way beyond the line that I...
CARTON: Well, that's a cheap threat right there, c'mon.
CARTON: It's a salacious book to make money.
HANEY: No, it's not a salacious book.
CARTON: What was your advance? How much?
HANEY: Guys, we're going to have to agree to disagree.
CARTON: How much money were you paid to write the book?
HANEY: That's totally irrelevant.
As the interview goes on, it becomes awkward, then acrimonious...
CARTON: What do you think the general opinion is? Overall, outside of the guys who will kiss your ass like the guys who will kiss my ass and Boomer's ass and Tiger's ass, what do you think overall the perception of your book is, Hank?
HANEY: It's perception into the greatness that is Tiger Woods. That's the feedback that I am hearing
CARTON: Am I the first guy to give you a hard time about breaking that trust?
HANEY: You're definitely the most vocal and you're the only one who yelled and screamed and called me a coward.
And that is just a small sample of what happened during the first seventeen minutes of the twenty-three minute long interview.  Check it out.
[h/t: Golf.com, video via Bob's Blitz Youtube]
Like Awful Announcing on Facebook
Follow Awful Announcing on Twitter

Original Story:
http://www.awfulannouncing.com/2012-a...
THE BACKYARD
BEST OF MAXIM
RELATED ARTICLES
RED ON SUNDAY?
Images have been made public that reveal what Tiger Woods will wear on all four days of the Masters at Augusta (should he survive the cut and make it to the weekend).
SHOCK JOCK
Hank Haney appeared on Boomer and Carton to discuss his Tiger Woods book. Carton berated the golf coach so much, Haney hung up.
Tiger Woods and Rory McIlroy passed each other on Sunday at Augusta National last year, two players from different generations who appeared headed in opposite directions. Now, headed into Masters 2012, they're on a collision course - each taking a path over the last 12 months that would have been difficult for anyone to chart. It all started last April 10. Woods, with four...
For a couple of seconds there, it looked as if Tiger Woods might just be beyond the breathy sex talk that accompanies all his golfing exploits. Sunday, he returned to what originally made him a person of interest, winning a golf tournament. And we fell back to standard sports debating positions of whether this signaled him being back or if this was a blip and he had zero chance of...
The three biggest names in golf Rory Mcilory, Tiger Woods, and Phil Mickelson are all playing well at the same time. These are the only three golfers in the world that can move the needle just by showing up, and they all have their games peaking at the right time. This will be the most anticipated Masters since maybe 2001, when Woods set out to complete his Tiger Slam. I'll take...
Augusta National. Blocked blacks until 1991. Two years ago? Blocked bloggers. Last year? They blocked Bergen Record Columnist Tara Sullivan. They've not, however, blocked any of the last four CEOs of... Full story at Bob's Blitz ~ http://www.bobsblitz.com
We are very near one of the greatest weekends of the year, as we approach the the start of the Masters at Augusta National. The focus will be on Tiger Woods, once again, but what would be a Masters tournament without a little controversy of their secretive membership bylaws? Controversy may not be the right word, but what is in question is whether or not they have or will extend...
The list of people who are waiting for an opportunity to unload on Hank Haney is long and distinguished. Regardless of the type of person he is or the mistakes he has made in his past, Tiger Woods still has a massive following. Anyone who paid attention to the Arnold Palmer Invitational last weekend is well aware of that. For every person who enjoys reading "The Big Miss" and...
If you visit this site regularly, you know my feelings on the Hank Haney book about Tiger Woods. Haney taking personal information shared between him and Tiger and printing it to the masses is definitely not my cup of tea, and more than anything, seems to me to be a big bruise to man code. But somehow (!), two radio reporters actually made me feel sorry for Hank. WFAN's Craig...
Opposite the NCAA Tournament and Tiger Woods, Sunday's rain-shortened Auto Club 500 sputtered in the ratings. The NASCAR Sprint Cup Auto Club 500 from Fontana drew a 3.8 final rating and 6.153 million viewers on FOX, down 17% in ratings and 24% in viewership from the same race last year (4.6, 8.080M), and down 14% and 16%, respectively, from the comparable Food City 500 in 2010...
Rory McIlroy grew up wanting to become the next Tiger Woods. But what the precocious young Irishman does this week at the year's first major, the Masters, will go a long way to revealing whether he's to be the next Tiger, or the next Shark. As in Greg Norman, who, as McIlroy infamously did last April, imploded with the coveted green jacket beckoning and never really recovered...
WFAN's Craig Carton may have bullied Jenn Sterger last year, but today? He battered Hank Haney. Haney, who authored the betray of trust tell-all The Big Miss about his ex-employer Tiger Woods called... Full story at Bob's Blitz ~ http://www.bobsblitz.com
Golf News

Delivered to your inbox

You'll also receive Yardbarker's daily Top 10, featuring the best sports stories from around the web. Customize your newsletter to get articles on your favorite sports and teams. And the best part? It's free!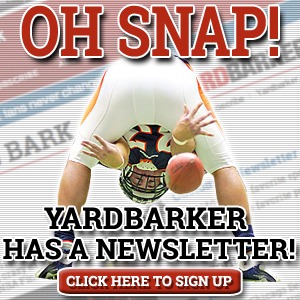 Latest Rumors
The Backyard

Today's Best Stuff

For Bloggers

Join the Yardbarker Network for more promotion, traffic, and money.

Company Info

Help

What is Yardbarker?

Yardbarker is the largest network of sports blogs and pro athlete blogs on the web. This site is the hub of the Yardbarker Network, where our editors and algorithms curate the best sports content from our network and beyond.