Found March 24, 2012 on Fox Sports:
Back in the day, Tiger Woods wasn't just the best player in the world, he was also one of the luckiest. Errant shots would have a habit of finding safe harbor, bounces would go his way, putts -- like the famous one on the final hole at the 2008 US Open -- would somehow fall in instead of lipping out like they did for most everyone else. The past two-and-a-half years, not so much. I thought of this on Friday at the Arnold Palmer Invitational when Woods, four-under par on his round at the time, snap-hooked a driver on the 10th hole. The out-of-bounds fence protecting the houses to the left of the hole is flimsy. Woods' ball could easily have ended up in a backyard, his momentum shot. But the ball somehow not only stayed in bounds, but left him an opening, from where he did what he used to do all the time, threaded a beautiful recovery shot that found the putting surface. From the outhouse to the penthouse, and Woods even almost made the putt. His second shot into the par 5 16th went so far left it looked to be wet, but somehow the ball jumped onto the green, from where he two-putted for birdie. There were, to be sure, plenty of quality shots, too -- the five iron into the treacherous par 3 17th was as high and soft and pretty as you'll see -- but it's fair to say things went Woods' way on Friday. This was a bogey-free seven-under-par 65 that wasn't really exceptional. "I felt like I actually hit it better yesterday than I did today. But I made more putts today, for sure," Woods said later, "I felt great over the putter." And that, in itself, is a feeling he hasn't much had in a long while. Woods putted on each green. His lone missed green in regulation, the 13th, stopped on the fringe. The last time he'd hit this many greens in regulation? Five years ago at Torrey Pines. At 10-under par, Woods finds himself with a share of the lead at the midway point of a PGA Tour event for the first time since the 2009 Tour Championship. I asked him if it was like riding a bike, remembering what to do with the lead. "It hasn't been that long, you know," he said, referring to his 54-hole share of the lead at Abu Dhabi to start this year. But he lost there, shooting 72 in the final round to Robert Rock's 70. And he also held the midway lead at the Australian Open in Sydney last November. But a Saturday 75 dented his chances and he ultimately finished third, losing to Greg Chalmers. "I'm comfortable up there and I feel like I'm playing well," Woods said. "We've still got a long way to go. Still need to continue doing what I'm doing out there, just kind of plodding my way along." In his favor is that he's won six times at Bay Hill. Four times he's had the halfway lead at Arnie's place and converted three of them -- his only loss coming in 1998. "It's always been the case that certain golf courses, no matter how I'm playing coming in, I feel comfortable once I get there," he said. "Fortunately, this is one of them. "For some reason, I just understand how to play it." Ernie Els thinks it's him. Els played with Woods in the final round at the Honda Classic, when Woods shot 62 to make a run at Rory McIlroy. In the three rounds they've played together this year, Woods has shot 18-under par. "He should pay me," Els joked. If Woods goes on to win an official PGA Tour event for the first time in two-and-a-half years, it wouldn't hurt to ask.
Original Story:
http://msn.foxsports.com/golf/story/t...
THE BACKYARD
BEST OF MAXIM
RELATED ARTICLES
THE HOOK
Tiger has had some of the most amazing golf shots you and I have ever seen. He has also had his fair share of "what the heck was that" moments. Today at the Arnold Palmer Invitational at Bay Hill, it was definitely the latter on the 15th hole Yes, that is someones backyard that the ball ended up in. Though he double-bogeyed the hole and created a huge divot in the process...
Is Tiger Woods back? If the odds are any indication, he certainly is. Tiger shot a 13-under 275 to capture the Arnold Palmer Invitiational over the weekend, his first PGA Tour win since the 2009 sex scandal. Tiger actually went 923 days between PGA Tour wins; his previous victory was at the 2009 BMW Championship on Sept. 13, 2009 (he did win the Australian Masters two months later...
So Tiger Woods is a very good golfer. And very good golfers normally hit very good golf shots. But sometimes, they do things like the video above. It ain't pretty. It ain't good. And it makes us all feel a little better about our golf games.
Tiger Woods shot well in his opening round at the Arnold Palmer Invitational Thursday going 3-under (69) to tie him for fourth. His strong opening round was even more impressive when you consider the back pain he endured Wednesday during the Pro-Am. Tiger tweaked his back on the sixth hole and blamed a photographer for the incident. "I guess one of the so-called professional photographers...
It has been just announced that Hank Haney will be all over ESPN on Monday to tout his tell-all book, The Big Miss: My Years Coaching Tiger Woods, allowing him to continue to tarnish the already-damaged legacy of Tiger Woods in the selfish interest of likely reaping massive financial gains as a reward for his [...]
Tiger Woods won his first PGA Tour victory since his infamous sex scandal at the end of 2009, in which a dozen or so women came out as having an affair with the golf king. Woods closed his victory at the Arnold Palmer Invitational with a 2-under 70 for a five-shot win over Graeme McDowell. Seems like the prince of golf is may be back.  With the Masters only two weeks away,...
One swing cost Tiger Woods a comfortable lead Saturday at Bay Hill. He still finished atop the leaderboard, leaving him one round away from winning on the PGA Tour for the first time in 30 months. Woods, who led by as many as four shots on the back nine, hooked a tee shot out-of-bounds on the 15th hole for double bogey. He wound up with a 1-under 71 for a one-shot lead over Graeme...
Tiger ends 30-month drought with Bay Hill victory.
ORLANDO, Fla. (AP) -- Tiger Woods is in a place he hasn't been in more than two years -- in the lead on the PGA Tour going into the weekend. Woods ran off four straight birdies early in his round Friday and made short work of the par 5s on his way to a 7-under 65, giving him a one-shot lead over Graeme McDowell and Jason Dufner at the Arnold Palmer Invitational. It's the...
With Tiger Woods on his way to his first PGA Tour victory in over two years, overnight ratings increased dramatically for Saturday's third round coverage of the Arnold Palmer Invitational. Coverage of the third round of the PGA Tour Arnold Palmer Invitational earned a 2.9 overnight rating on NBC Saturday, according to USA Today, up 53% from last year (1.9), and up 93% from 2010...
How exciting is this time of year? This weekend the Final 4 is decided in the Big Dance. The Marshall baseball team and softball teams both have conference games this weekend. Tiger Woods is in contention to win his first tournament in over two years. However, what can trump all of that? How about the fact that today is the eve, eve of spring practice for OUR Marshall University Thundering Herd.
Golf News

Delivered to your inbox

You'll also receive Yardbarker's daily Top 10, featuring the best sports stories from around the web. Customize your newsletter to get articles on your favorite sports and teams. And the best part? It's free!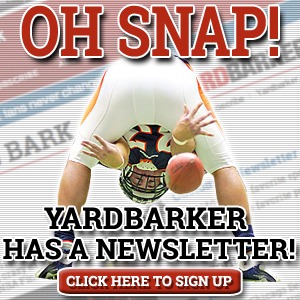 Latest Rumors
The Backyard

Today's Best Stuff

For Bloggers

Join the Yardbarker Network for more promotion, traffic, and money.

Company Info

Help

What is Yardbarker?

Yardbarker is the largest network of sports blogs and pro athlete blogs on the web. This site is the hub of the Yardbarker Network, where our editors and algorithms curate the best sports content from our network and beyond.