Posted January 04, 2013 on AP on Fox
J.J. Henry slipped on a white golf cap that prompted questions because of the four letters stretched across the front. That was the whole idea. S.H.E.S. Perhaps it was only fitting that Henry wore the cap during the pro-am round Thursday at the Tournament of Champions, for it was the same day some 400 students who survived the massacre at Sandy Hook Elementary School returned to classes at a different school building in a neighboring Connecticut town. ''A couple people have asked what the letters stand for, and a few others have figured it out,'' Henry said after stepping out of the rain at Kapalua. ''It's a way to help remember and think about the families.'' And what better PGA Tour winner to wear the cap than Henry. He grew up in Fairfield, Conn., about 20 miles south of Newtown. His aunt lived for years around the corner from Sandy Hook Elementary. Henry remembers when his middle school basketball team played games at Chalk Hill, where the Sandy Hook students now go to school. Henry doesn't know any of the families in Newtown, but he considers them neighbors. He carries the Connecticut flag on the PGA Tour, and the connection is strong. ''This is just a way to honor those families. And growing up there ... to have something happen like it did, you're almost at a loss for words,'' said Henry, a three-time Connecticut State Amateur champion. ''Being the first tournament of the year, in a beautiful place like Hawaii, a lot of those people are cooped up in their houses in freezing cold or snow. If they happen to be a golf fan and see it, maybe that could say that all PGA Tour players are thinking about them.'' It's a small gesture that Henry hopes can grow into something much bigger. Henry is wearing ''S.H.E.S'' in bold, black letters across the front of his cap only for the PGA Tour season-opener, which began Friday and will be broadcast on Golf Channel. On Sunday, there's a three-hour broadcast window on NBC Sports. He'd planning another recognition and remembrance, which he expects it will involve more people. Already this week, he received an email from Nathan Grube, the tournament director of the Travelers Championship in Hartford, Conn., about what they can do. The PGA Tour also is waiting for plans to unfold, with Travelers taking the lead as the tour's only stop in Connecticut. Henry, who went to school at TCU and lives in Fort Worth, Texas, already has the ''Henry House Foundation'' that targets children, and he has a special skybox at the Colonial. He is thinking about another skybox specifically for the families of Sandy Hook this summer at the Travelers Championship. Perhaps they can raise enough money to one day rebuilt Sandy Hook. ''It's a small state, but they love their golf,'' Henry said. Henry's first PGA Tour win was in Hartford in 2006, and he qualified for the Tournament of Champions by winning the Reno-Tahoe Open last year. He is starting his 13th year on the PGA Tour, a career that includes one Ryder Cup appearance in 2006. ''People know who I am in Connecticut,'' Henry said. ''If I happen to get on TV and hit some good shots, and if Golf Channel talks about it ... it's not about me,'' he said. ''I just wanted to do something as someone who grew up there and went to those schools. If Golf Channel can talk about the whole PGA Tour family, we all feel the same way. I think that's what we're all after.'' Henry did not want the week to go by without raising awareness that 20 first-grade students, along with six educators, were slain Dec. 14 by a gunman on a day that shook the country. Henry was home in Texas when he heard the news. The shootings happened so close to where he grew up and where his parents still live, it reached a point where he had a hard time turning on the news. ''It's almost hard to talk about,'' he said. Henry has an endorsement deal with TaylorMade, though that doesn't include the front of his hat, one of the most visible billboards among golfers. He is completing a corporate deal for that space, but in the meantime, he thought it would be appropriate to do something - anything - so that Sandy Hook would not be forgotten. --- SNEDEKER BONUS: Brandt Snedeker has earned just over $10 million in his last three years on the PGA Tour, and he collected a $10 million bonus last September when he captured the FedEx Cup. He lives modestly in Nashville, Tenn., and is not one who gets too wrapped up in money. The FedEx Cup was an exception, but only for a second. He received $9 million up front, with $1 million deferred. ''Put it this way,'' Snedeker said. ''I never check my bank account statements, and that was the first time I've checked it.'' But whatever he spends isn't for him. Snedeker has created the Brandt and Mandy Snedeker Foundation geared toward helping children in the Nashville area. He already has made a couple of donations, and is looking for ways to use the foundation to channel more of his money. As for himself? Snedeker still drives the same car and doesn't plan to get another one. He doesn't plan to do much of anything with his big windfall, except to donate to charities. ''The way I look at it is I play golf for a living,'' he said. ''I'm not smart enough to play golf and manage my own money. There's a bunch of people out there a lot smarter than I am, who can do a lot better than I can. So why not find them and make sure they know what they're doing.'' --- MUSINGS: Hyundai clients had the first two choices for the Thursday pro-am at the Tournament of Champions at Kapalua. The first pick was Rickie Fowler, not surprising given his popularity. The second choice of a player was John Huh, the South Korean who was the only rookie last year to reach the Tour Championship. ... Steve Stricker would not lose much by playing no more than 10 tournaments this year. Even though the PGA Tour requires a minimum of 15 events for its members, if Stricker were to fall short of that he would only use his voting rights for the 2014 season, meaning he would not be able to vote for player of the year, as an example. Stricker also said some of the deferred income from his FedEx Cup bonuses would kick in if he doesn't play the minimum 15 events. He didn't seem overly bothered. Asked if there were any negatives on his plan to go into semi-retirement, Stricker said, ''I can't think of any.''
Original Story:
http://msn.foxsports.com/golf/story/H...
THE BACKYARD
BEST OF MAXIM
RELATED ARTICLES
He will wear his emotions not on his sleeve, but on his hat. S.H.E.S. Emblazoned in a position usually reserved for sponsorship reasons, the letters will be with J.J. Henry as he plays the season opener, the Hyundai Tournament of Champions. "A couple people have asked, and a lot of people have already figured it out," Henry said. Sandy Hook Elementary School. The sheer...
Golf News

Delivered to your inbox

You'll also receive Yardbarker's daily Top 10, featuring the best sports stories from around the web. Customize your newsletter to get articles on your favorite sports and teams. And the best part? It's free!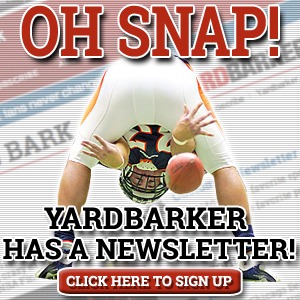 Latest Rumors
The Backyard

Today's Best Stuff

For Bloggers

Join the Yardbarker Network for more promotion, traffic, and money.

Company Info

Help

What is Yardbarker?

Yardbarker is the largest network of sports blogs and pro athlete blogs on the web. This site is the hub of the Yardbarker Network, where our editors and algorithms curate the best sports content from our network and beyond.