Found May 01, 2013 on Gamedayr:
Via Gamedayr:
The 2013 Masters was one of the most intriguing golf tournaments in recent memory. We watched a 14-year old actually make the cut and an Australian win it all for the very first time.
However, one of the biggest stories of the entire weekend had nothing to do with either Guan Tianlang or Adam Scott.
Surprise: America was riveted by a situation involving Tiger Woods, probably the only golfer most folks country wide have ever heard of.
On the 15th hole, Tiger took a drop ball that would live on in infamy. The fact that Woods was nearly disqualified and eventually assessed a two-stroke penalty was one thing, however, the refereeing itself was completely another.
The rest of the nation could not believe some guy on his couch at home was able to get in touch with a Masters official and then manage to get one of the greatest in the history of the game penalized.
Who was this person? Was it just some punk sitting at home all day and night looking for ways to hate on famous people such as Tiger? How did he call up the Tournament in the first place?
As it turns out, the caller was not simply some nobody — it was Champions Tour golfer David Eger. Here's what Eger told Sports Illustrated about what he saw while watching at home like the rest of us:
"I could see there was a divot — not a divot, a divot hole — when he played the shot the second time that was not there the first time. I played it again and again. I could see that the fairway was spotless the first time he played the shot and there was that divot hole, maybe three or four feet in front of where he played after the drop."
At that point, Eger called his friend Mickey Bradley, who was working as one of the rules officials at Augusta. What happened next, as well as how it all actually wound up being for Tiger's benefit, is something we are leaving to SI to explain:
"[Mickey] Bradley immediately called [competition committee chairman Fred] Ridley and Russell, the veteran PGA Tour administrator who is on the three-man Masters competition committee that is chaired by Ridley, a former U.S. Amateur champion and USGA president. Bradley also forwarded Eger's text to Russell and Ridley. In his text, Eger wrote that Woods 'didn't appear to play by Rule 26-1-a.' He wrote that he 'appeared to be 3-4 feet back' from his divot mark."

"It should be noted that Eger's call saved Woods from disqualification, because it spurred Ridley's incorrect interpretation, which was challenged by Woods's own comments to ESPN, which enabled Ridley to invoke rule 33-7, the one that allows wrongs to be righted.
Let's recap: David Eger, a Champions Tour golfer, called Mickey Bradley, an official, who called Fred Ridley about the fact that Tiger failed to comply with Rule 26-1-a (doesn't everyone know Rule 26-1-a? Sheesh).
At that point, Ridley interpreted everything incorrectly, so instead of disqualifying Woods, the superstar was assessed the two-stroke penalty.
So there you have it, the story behind how Tiger Woods' infamous drop ball penalty was spotted and assessed.
Original Story:
http://gamedayr.com/gamedayr/the-man-...
THE BACKYARD
BEST OF MAXIM
RELATED ARTICLES
Tiger Woods will not see the virtual green in the PGA Tour in 2015. EA Sports has announced that the 2015 edition of the annual "Tiger Woods PGA Tour" game franchise has been canceled. The company had released a new version of the game every year since its creation in 1998. Both the Playstation and XBox systems are set to release the newest versions of their gaming consoles in...
When the news broke during the Masters that it was a person watching at home that outed Tiger Woods's mistake and cost him a couple of shots the world was a little shocked. Could it actually be that simple to mess with/have an effect on the outcome of one of the most prestigious events in golf? The answer for now still seems to be yes, but it appears that in this case maybe...
David Eger ((ht: golf.com)) Well, isn't this a bit of a surprise. Contrary to pubic assumptions, it wasn't just some guy watching TV on home who called in the potential rules violation by Tiger Woods during this years Masters golf tourney. Rather the "Mysterious" phone call came from former Tournament Director (other tourneys) and current Senior Tour golfer...
The television viewer who reported the illegal drop Tiger Woods took during the Masters was more than just a golf fan. Sports Illustrated reports it was David Eger, a rules expert who has worked for the USGA and the PGA Tour. Eger says he was watching the Masters when he replayed the 15th hole to see how Woods made bogey. Woods hit the pin with his third shot, which bounced back...
The man pictured to the left is name David Eger. Currently, Eger is Champions tour golfer.Before joining the Champions tour, Eger was a tournament director with both the PGA Tour and the USGA. So in other words, Eger is deeply versed in the ins and outs of tournament etiquette and rules.So when Tiger Woods took a curious drop on the 15th hole, Eger's tournament director instincts...
Quail Hollow has been a symbol of perfection for 10 years since it returned to the PGA Tour lineup, a beautifully manicured golf course where the six major champions who have won ranged from Tiger Woods to Rory McIlroy. It is less than perfect this year. Some have even compared the greens to a rundown municipal course. One thing that hasn't changed at the Wells Fargo Championship...
Sure, the Golf Boys may boast a veritable who's who of PGA Tour professionals: Bubba Watson, Ben Crane, Rickie Fowler and Hunter Mahan, but have those fellas ever attempted to write a parody song? Ask "Weird Al" Yankovic, that crap ain't easy. So, the Golf Boys can keep going on with their "Oh Oh Oh" and whatnot, but they now have some stiff competition in the golf-themed...
Golf News

Delivered to your inbox

You'll also receive Yardbarker's daily Top 10, featuring the best sports stories from around the web. Customize your newsletter to get articles on your favorite sports and teams. And the best part? It's free!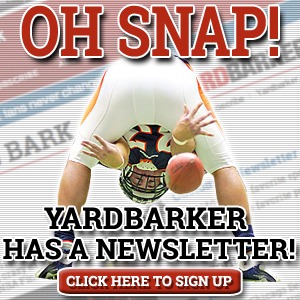 Latest Rumors
Best of Yardbarker

Today's Best Stuff

For Bloggers

Join the Yardbarker Network for more promotion, traffic, and money.

Company Info

Help

What is Yardbarker?

Yardbarker is the largest network of sports blogs and pro athlete blogs on the web. This site is the hub of the Yardbarker Network, where our editors and algorithms curate the best sports content from our network and beyond.