Found September 17, 2012 on Fox Sports:
Even before the 1997 Masters romp that changed only everything in golf, Greg Norman knew his days at the top of the game were drawing to an end. No one needed to tell the Great White Shark that another predator was lurking, that the Tiger era was dawning. "Of course I knew. I remember Tiger was down at the Australian Open (in 1996), and I gave a speech in which I basically handed him the baton, so to speak," Norman says. A decade before, Norman took that same baton from Jack Nicklaus; he remembers exactly when it happened. "I'd won the money titles in Europe and in the US, and I suppose there were people who thought of me as the best player. But, for me, it didn't happen until I beat Jack 1-up at the Match Play (at Wentworth)," he says. "After I beat him, I felt I was the No. 1. It was the jewel in my crown, so to speak." And so it is, Norman feels, that Rory McIlroy is now taking the baton from Woods. McIlroy not only took the PGA by eight shots when Woods faltered on the weekend but has won the past two FedEx Cup playoff events -- at TPC Boston and Crooked Stick -- with Woods in the hunt both times. "You've got to beat the guy you're taking over from to feel that you're the top guy, and Rory's starting to do that now," Norman says. He notices, too, that Woods is far friendlier with McIlroy than he has been, historically, with rivals, which Norman feels betrays insecurity. "What I'm seeing is that Tiger's really intimidated by Rory," he says. "When have you ever seen him intimidated by another player? Never. "But I think he knows his time's up and that's normal; these things tend to go in 15-year cycles. "Jack took it from Arnold (Palmer). I took it from Jack, Tiger from me and now it looks like Rory's taking it from Tiger." Norman says McIlroy -- who again will be paired Thursday and Friday with Woods during the first two rounds of the Tour Championship, the FedEx Cup finale -- is not only the best player in the game but the player with the best chance of eclipsing Nicklaus' record of 18 majors. "And I don't mean that as a negative to Tiger, because he's got 14, but the years are in Rory's favor," he says. "Now, there's a lot of X factors that we don't know yet with Rory. As I said, he's got a lot to learn -- learning how to win when you don't have your best game -- and we don't know yet how he's going to deal with all the scrutiny that comes with being No. 1, but just because he's so good and so young, I have to go with him." As for Woods, Norman thinks he'll continue to be an elite player, but never again the player he was. "It takes about 10,000 hours of hard work to get to the top and stay there -- that's 10 years of hitting a lot of golf balls -- and it takes its toll on the body," he says. "I used to say in my early or even mid-20s that it doesn't take long for a Rolls Royce to warm up. But the older you get, you can't do that anymore. "By the time you get to your mid-30s, the repetitive motion of hitting a golf ball leads to all kinds of issues, and if you look at Tiger, you can see that's true. He's got Achilles problems, knee problems; the signs are all there of a decay that's inevitable." And, he says, Woods has emotional scars to go with the physiological. "Tiger was groomed to win by his dad, and that's all changed now because his dad's gone," Norman says, referring to Earl Woods, who died in 2006. "He's been a ship without a rudder for a long time. "Everyone needs a mentor in life, and his dad was his. You can lose your direction -- and he did, especially off the course -- because your go-to person is not there. "I think his real problem now is: Who does he go to? Who does he lean on? "He can't go to his manager, because he's just going to tell him what he wants to hear. Your manager isn't going to slap you around and tell you that you didn't practice enough, didn't prepare properly. He's not going to tell you home truths like that. "Only someone with the same blood can talk to a guy like Tiger like that, so that he'll listen." Norman says Woods' demise is most obvious at the majors. He hasn't won one since the 2008 US Open and let three legitimate chances slip this year with sloppy weekend play. "The more time goes by and he doesn't win one, the more you'll see him push," Norman says. "Look at Tiger's putting stroke. It used to be rock solid. Now, it changes from Fridays to Saturdays. And that comes from pushing too hard, wanting to win that major so badly." Norman thinks Woods will keep winning his share of regular tour events -- he has won three this year -- but will keep struggling "at the next level." "The more you want something, the more you reach for it, the more it gets pushed away," Norman says. "I know all about that. I had that with the Masters. "Tiger's pushing himself harder and harder now because he's not the force he used to be, and he knows it."
Original Story:
http://msn.foxsports.com/golf/story/t...
THE BACKYARD
BEST OF MAXIM
RELATED ARTICLES
THE INTIMIDATOR
Tiger Woods and Rory McIlroy both responded to the comments from Greg Norman that Woods was intimidated by McIlroy.
Predictably, Tiger Woods resorted to humor to defuse Greg Norman's bombshell assertion that he's "really intimidated" by Rory McIlroy. And neither did it serve McIlroy to weigh in too earnestly on what is a sensitive subject for a young man who's both growing closer to, and rapidly eclipsing, his boyhood idol. Woods was quick to greet golf's crown prince...
Rory McIlroy is the best golfer in the world. Never has that been more evident than over the past couple of months, as McIlroy has dominated the sport and put himself in a prime position to win the FedEx Cup this weekend. One man who knows how it feels to own the game is Tiger Woods. McIlroy and Woods will once again be paired together on Thursday and Friday at the Tour Championship...
Rory McIlroy is No. 1 in the world, and Jim Furyk says that makes him a marked man at the Ryder Cup. McIlroy has won three of his last four tournaments, starting with an eight-shot win at the PGA Championship, and he is the favorite this week at the Tour Championship. The Ryder Cup is next week at Medinah, and while McIlroy is one of 12 players on the European team, Furyk says he...
With every week, and every win, Rory McIlroy gets a new moniker. Two-time major champion. The world No. 1. Heir apparent. The latest nickname was courtesy of none other than Tiger Woods. He jokingly said Woods calls him ''The Intimidator.'' What triggered his one-liner at East Lake were comments by Greg Norman that Woods is intimidated by McIlroy. The 23-year-old...
With every week, and every win, Rory McIlroy gets a new moniker. Two-time major champion. The world No. 1. Heir apparent. The latest nickname was courtesy of none other than Tiger Woods. He jokingly said Woods calls him ''The Intimidator.'' What triggered his one-liner at East Lake were comments by Greg Norman that Woods is intimidated by McIlroy. The 23-year-old...
Golf News

Delivered to your inbox

You'll also receive Yardbarker's daily Top 10, featuring the best sports stories from around the web. Customize your newsletter to get articles on your favorite sports and teams. And the best part? It's free!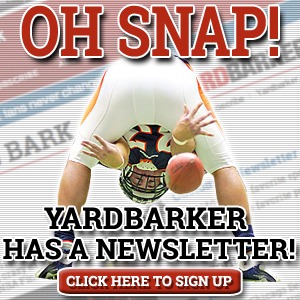 Latest Rumors
The Backyard

Today's Best Stuff

For Bloggers

Join the Yardbarker Network for more promotion, traffic, and money.

Company Info

Help

What is Yardbarker?

Yardbarker is the largest network of sports blogs and pro athlete blogs on the web. This site is the hub of the Yardbarker Network, where our editors and algorithms curate the best sports content from our network and beyond.