Found February 19, 2012 on StraitPinkie.com:
On Paper
Phil Mickelson goes for 2 in a Row
Lefty is back and looks to make it two in a row on the PGA Tour. This week he goes in to the final round of the Northern Trust Open tied with Keegan Bradley. Phil Mickelson is looking to become the first PGA player to win back to back events since Tiger Woods in 2009. He and Bradley are sitting at -7 under. Phil is coming off a huge victory at Pebble Beach last week but this week the magic may not be there. There are 8 players within 3 strokes including Jonathan Byrd, Dustin Johnson, and defending champ Aaron Baddeley. Mickelson struggled yesterday by spraying the ball around the golf course but his great ability to scramble, including a par from someone's short, showed that he again has confidence. The leaders tee off at 1:25 and coverage starts 3pm on CBS. If Lefty can reign in his wayward shots then he should come away with victory. If he shoots par he will not win today.
Phil Mickelson -10
Upset Potential
"***** in the Armor"
An ESPN headline stated, "***** in the Armor", after the Knicks lost to the Hornets. This is a regularly used phrase but in this case was it used as a reference to Lin's asian ethnicity? ESPN removed the post about 35 minutes after it's release, according to Yahoo Sports. Yet, is this something people should really worry about? I have to believe it was a play on words and most likely poor judgment. I am just hoping, in our ultra sensitive society where every word offends someone, which we can determine no one was hurt and the person who made the mistake learns a lesson. I am sure the very selective ACLU will be on the prowl but if you ask Jeremy Lin he will probably snicker.
Don't Bother
Referee Ego
Don't bother trying to figure out what is happening to referee's in the last few years. I think some of reaction is due to our ability to see instant replays and to be able to second guess their decisions immediately but there has been a decline in officiating consistency and an explosion on Refs in the limelight. The biggest and most notorious offender is Jim Burr, king of the bad hair and calls, but there are others. Yesterday was able to provide us another example at the NC State game. The official had big ears and couldn't handle the unknown words of Tom Gugliotta and Chris Corchiani. The refs have the ability to throw out fans but going direct to security is unheard of. I hope we find out what happened because if these two Wolfpack legends only criticized Karl Hess' job then there should be a referendum on referees. ACC released a statement that the referee handled it incorrectly but nothing on the actual event that made Hess take his action.
If you haven't seen it, here it is
Original Story:
http://www.straitpinkie.com/sports/pr...
THE BACKYARD
BEST OF MAXIM
RELATED ARTICLES
Phil Mickelson hit a ball that went wide left of the green on the 15th tee during the third round of today's Northern Trust Open golf tournament. The ball bounced off a tree and into the crowd, but ended up in an unusual spot: inside a man's shorts. The fan in the gallery was laying down on the ground at the time (for reasons yet unknown), which explains how the...
We've encountered some pretty strange moments on this site from the PGA tour but nothing more strange than this moment from yesterday's Northern Trust Open. Phil Mickelson was teeing off on the par-4 15th when he sliced his shot into the gallery of fans. As Mickelson went over to check on the fan's, he finds out that the ball landed in someone's shorts. ...
Phil Mickelson hit one tree, threaded a shot through five trees and hit a drive that wound up in a spectator's shorts. He somehow managed a 1-under 70 on Saturday to share the lead with PGA champion Keegan Bradley in the Northern Trust Open. Bradley, inspired by a Riviera course that is one of his favorites, took only five putts over the final five holes, including a 10-footer...
Phil Mickelson made the most out of his limited chances Friday to stay in the lead at the Northern Trust Open.
Phil Mickelson wasn't at his best Friday at Riviera. Two shots at least helped him stay in the lead.
Phil Mickelson hit into the trees and through the trees, and even hit one shot into a spectator's shorts. He still managed to stay atop the leaderboard Saturday in the Northern Trust Open.
Phil Mickelson hit into the trees and through the trees, and even hit one shot into a spectator's shorts. He still managed to stay atop the leaderboard Saturday in the Northern Trust Open.
Phil Mickelson's win at Pebble Beach wasn't just a huge personal boost. The people at Callaway were cheering a victory by an adjustable driver they hope will light a fire with the playing public.
Knicks News

Delivered to your inbox

You'll also receive Yardbarker's daily Top 10, featuring the best sports stories from around the web. Customize your newsletter to get articles on your favorite sports and teams. And the best part? It's free!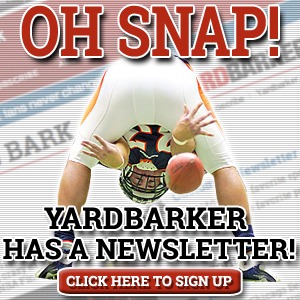 Latest Rumors
Best of Yardbarker

Today's Best Stuff

For Bloggers

Join the Yardbarker Network for more promotion, traffic, and money.

Company Info

Help

What is Yardbarker?

Yardbarker is the largest network of sports blogs and pro athlete blogs on the web. This site is the hub of the Yardbarker Network, where our editors and algorithms curate the best sports content from our network and beyond.