Posted February 05, 2013 on AP on Fox
(Eds: With AP Photos.) By DOUG FERGUSON AP Golf Writer What should be happy times for golf is being overshadowed by off-course controversy. Tiger Woods won for the 75th time on the PGA Tour and set a record with his eighth win at Torrey Pines. It was a command performance, the kind that made people think more about where he is going than where he went. The next week, Phil Mickelson had a chance at 59 until his 25-foot birdie putt on the last hole took a cruel spin around the cup. He thought he had golf's magic number and instead shot his tax rate in California. Lefty still sailed to a wire-to-wire win in the Phoenix Open. It was the first time since 2009 that golf's two biggest stars won in consecutive weeks. The trouble is, any discussion about golf these days goes beyond birdies and bogeys. Now it includes ''bifurcation.'' And the day after the buzz was about Tiger, the focus shifted to deer antlers. PGA Tour commissioner Tim Finchem might have seen this coming when he said two weeks ago that while he views the professional game as being the strongest it has ever been, ''I don't like to see distractions.'' There are too many of them right now. Vijay Singh was leaving the practice range at Pebble Beach on Tuesday when one of the few reporters that has a working relationship with the Fijian called out to him. Singh looked at him, said nothing, and kept walking. ''So that would be no comment?'' the reporter said. ''Yes,'' Singh replied. Sports Illustrated reported that Singh paid $9,000 to Sports With Alternative to Steroids in November for products that included deer-antler spray, which is said to have an insulin-like growth factor, which is on the PGA Tour's list of prohibited substances. Singh told the magazine he uses the spray ''every couple of hours ... every day.'' Singh might have been better off keeping quiet, as he often does. But he issued a statement confirming he used the spray, but was unaware it had a banned substance. ''I am absolutely shocked that deer-antler spray may contain a banned substance and am angry that I have put myself in this position,'' he said. ''I have been in contact with the PGA Tour and am cooperating fully with their review of this matter.'' The tour will not comment except to say it is looking into the matter, though it is backed into a corner. Singh's admission alone constitutes an anti-doping violation. The first violation is up to a one-year suspension. The tour has a minimum requirement to publish the name of the player, his anti-doping violation and the sanction. As long as Singh is in the field, that means the tour has not suspended him. He is playing this week. For now. That's not the kind of distraction Finchem was talking about, but it's a big one. The only other player suspended under the anti-doping policy was Doug Barron, the consummate journeyman. Singh is a three-time major champion who was inducted into the World Golf Hall of Fame in 2006. He hasn't won in more than four years, and he had made it to the Tour Championship only once since 2008. The distraction to which Finchem referred was about the proposed rule that would ban anchored strokes - the kind used with long putters and belly putters. It already was a mess because three of the last five major champions used a belly putter, and because the rule would not go into effect until 2016. But it's the debate over this proposed rule that has given some corners reason to bring up bifurcation - two sets of rules. PGA of America president Ted Bishop polled his 27,000 members on anchoring. Just over 15 percent of them responded, and he said 63 percent opposed the ban. The USGA and Royal & Ancient write the Rules of Golf. Bishop noted that the PGA Tour didn't exist when the USGA was founded in 1894, and that the tour has a ''powerful impact'' on the game. He suggested golf was at a point where two sets of rules should be considered as a potential solution. The CEO of TaylorMade suggested the USGA was ''obsolete'' and that the PGA of America, in conjunction with the PGA Tour, should be setting the rules. Maybe he forgot that the PGA Tour broke away from the PGA of America in 1968 because of the disconnect between tour pros and club pros. Finchem said he thought there were certain parts of the rules that could be bifurcated ''and it wouldn't hurt anything,'' though maybe not in the case of anchoring. Where will it all lead? Finchem said the tour's objective was to keep the rules together. Bishop said in an ''ideal world,'' golf would be played under one set of rules. Debate is healthy as long as it's about golf's best interest, and not financial interests. Don't get the idea that golf isn't growing because the game is too hard. That's one of its greatest appeals. ''The challenge was constant. And it never stopped being a challenge,'' Arnold Palmer once said. ''That was one of the things that really excited me as a kid.'' USGA president Glen Nager got to the heart of the bifurcation bluster during his speech at the USGA's annual meeting over the weekend in San Diego. ''There certainly are important issues for the golf industry to address, including economic issues, but revenue concerns arising during a broad economic slowdown should not lead us fundamentally to alter our approach to writing the rules and defining the game,'' Nager said. ''It is our obligation as a governing body to keep our eye on the long-term good of the game and to hold firm to what we know to be true about the essence of golf.'' In the meantime, Mickelson goes for his fifth win at Pebble Beach this week. All the stars get together for the first time in two weeks at the Match Play Championship. And the Masters is only two months away.
Original Story:
http://msn.foxsports.com/golf/story/T...
THE BACKYARD
BEST OF MAXIM
RELATED ARTICLES
Nike Golf dropped a new commercial today to market their latest driver – the Nike VR_S Covert. Of course, it wouldn't be a Nike Golf commercial without their marquee athlete Tiger Woods. The commercial depicts a bunch of average guys hitting their tee shots further than they ever have because of the Nike VR_S Covert driver. They continually hit it into the groups ahead of...
Tiger Woods isn't in the field this week at the AT&T Pebble Beach National Pro-Am. And it isn't because last year he was embarrassed by eventual champion Phil Mickelson in a final-round showdown. The reasons for Woods' absence are many -- he usually plays only once in California to start his season, and this year it was Torrey Pines, where he won -- but what doesn...
What should be happy times for golf is being overshadowed by off-course controversy. Tiger Woods won for the 75th time on the PGA Tour and set a record with his eighth win at Torrey Pines. It was a command performance, the kind that made people think more about where he is going than where he went. The next week, Phil Mickelson had a chance at 59 until his 25-foot birdie putt on...
Tiger Woods and Lindsey Vonn have reportedly been dating since November.  Poor Lindsay was just involved in a serious skiing accident where she tore ligaments in her knee when she fell in the super-G of the Alpine world championships (whatever that is).  Here's hoping Lindsey Vonn makes a speedy recovery.  In the meantime, check out Tiger's new dimepiece in this week's edition...
Lee Westwood still doesn't know why his father took him to the golf course. He played just about every other sport in England when he was 12, such as football, cricket and rugby. He used to go fishing with his father, but the fish weren't biting, mainly because Westwood kept throwing stones into the water. So off they went to a golf course called Kilton Forest, neither of...
Phil Mickelson may not move the needle like Tiger Woods, but he is a better TV draw than any other golfer on the PGA Tour. Final round coverage of the PGA Tour Phoenix Open, won [...]
Golf News

Delivered to your inbox

You'll also receive Yardbarker's daily Top 10, featuring the best sports stories from around the web. Customize your newsletter to get articles on your favorite sports and teams. And the best part? It's free!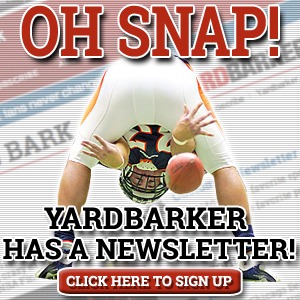 Latest Rumors
The Backyard

Today's Best Stuff

For Bloggers

Join the Yardbarker Network for more promotion, traffic, and money.

Company Info

Help

What is Yardbarker?

Yardbarker is the largest network of sports blogs and pro athlete blogs on the web. This site is the hub of the Yardbarker Network, where our editors and algorithms curate the best sports content from our network and beyond.