Found June 14, 2012 on The I in Team:
I'm a casual golf fan and I cheer for Tiger Woods.
I don't condone cheating on significant others. I don't condone lying. I don't condone bumping uglies in a Perkins' parking lot. I am, however, a proponent of Tiger Woods winning tournaments and majors.
Prior to his Thanksgiving day fiasco, liking Tiger and cheering for him was no big deal. The world was seemingly in love with him. He was the planet's most bankable star and one of the most dominant athletes (in his sport) of all time. Then a car crash and a golf club to the window came and everything came crashing down. Tiger became a villain. The media, whom Tiger always kept at an arm's length throughout his career, lambasted him with glee. Pretty soon, his career had been buried by writers and fans alike.
Despite all this turmoil, I still quietly rooted Tiger on. When he missed cuts, I cursed in my head. When he looked poised to compete, I kept frequent tabs on him, whether it be surreptitiously checking my phone or scanning AM stations to hear a radio broadcast. People have questioned why I still stick by Tiger. It's tough to describe why but I do know a big part of it has to do with greatness.
As a sports' fan, I enjoy seeing greatness. I love seeing legendary performance and record shattering feats. I think most people are wired like that. We watch the mundane for the chance to view history. When Tiger burst onto the scene, he represented lightning in a bottle, except this lightning struck over and over and over again. Youngest to win a Masters, biggest margin of victory in all majors, on and on and on the records went. The more he played, the more history I was able to witness.
That, I suppose, was the original motivation in cheering for him. Yes, I was, in effect, a front runner, but I had only a marginal interest in golf prior to that. I was vaguely aware of David Duval and Davis Love III. I knew Payne Stewart, mostly for the goofy garb, but I wasn't a fan of golf, really, at all. I never watched any tournaments; I simply absorbed facts as I pored over the Sports' page. In the pre-Internet days, the coverage of my favorite sports was finite. If I wanted to continue reading about sports, I'd have to settle on things like golf.
It was passive fanhood at its finest, and one of the few times where I followed a sport (however distantly) and had zero rooting interest. Tiger changed that. Tiger was a reason to pay closer attention. He was somebody to root for. There are no home team's in golf, so there really was no reason not to root for Tiger. He was and is supremely dedicated to his craft. He had a singular focus on winning which reminded me strongly of Michael Jordan. He was a minority, a mixed race minority at that, breaking into a primarily white man's game. Despite all that, he still portrayed a sense of joy and limitless possibility on the course. It's unreasonable to question why, at that time, so many jumped on his bandwagon from the get go.
Even though Tiger is a bit older and some of that youthful exuberance and innocence is gone. He still, on the course, represents many of the same qualities as when he first made his initial splash on the tour. There's still a singular focus on catching Jack. There's still the limitless possibilities each and every time he swings a club. There are still moments of sheer and utter magic.
I can appreciate the fact that some people want Tiger to fail. Morally, he is not a good man. No one knows if he's truly learned from his marital mistakes or not, but, for me, that misses the point. Tiger the person was never that interesting to me. Tiger the golfer, well, that's a different story. That sort of dichotomy is really quite familiar in the sports world. Michael Jordan has a psychotic thirst to win and be the best. He was a gambler and a philanderer, but on the court, there's never been anyone like him. Pele is a conceded, self promoting, angry man in retirement, but a wizard on the pitch. Frank Thomas was prickly with the media and management, but a legend on the field. Lance Armstrong, by many accounts, is an asshole, but no one's ridden a bike quite like him.
Supporting someone on the court, field, etc, doesn't mean you buy into their ideals off of it. It simply means, you want that individual to succeed at their job. If the individual turns out to be a saint, like Derrick Rose, all the better, but it's not a requisite, nor does it say anything about my character. I'll be cheering for Tiger Woods this weekend at the US Open. It doesn't mean I'm the type that wants to sleep with porn stars, it just means I want to see history. I want to see one more big Tiger fist pump, is that really so terrible?
Original Story:
http://theiinteamblog.com/2012/06/14/...
THE BACKYARD
BEST OF MAXIM
RELATED ARTICLES
FILET MIGNON?
If you aren't sick of "you da man!" and "get in the hole!" then you don't watch enough golf. Every shot from off the green on every hole of every tournament, some jerkwad has to be the guy to yell "get in the hole!" It doesn't work. It never has worked. And it never will work. You friends won't recognize that it was you on television and the players probably...
Tiger Woods can't stop talking about how the U.S. Open presents the toughest test of the year. If that's the case, then how he fares at The Olympic Club could go a long way in helping him learn how close he is to returning to the top of golf. Woods is coming off his second win of the year at the Memorial, where he rallied from a four-shot deficit in the final round. That...
Heading into the weekend at the Olympic Club out in San Francisco, Calif., 17-year-old Beau Hossler was just excited to be part of the nation's biggest golf event. But as the teen took the course on Friday, sitting at even par for the tournament, he surely didn't expect to take the lead. That's just what Hossler did on Friday afternoon, dropping to minus-2 through 10...
The last time the world saw Tiger Woods win a major championship, he beat Rocco Mediate in the summer of 2008 in the U.S. Open at Torrey Pines on essentially one leg for his 14th major, just four shy of Jack Nicklaus' record of 18. Plenty has happened on and off the course in Tiger's life since then, but once again Woods is the favorite to America's golf championship...
SAN FRANCISCO Not even Tiger Woods is immune from losing the U.S. Open lead. Nor is a teenager incapable of holding it. Amateur Beau Hossler who just completed his year in high school used two birdies around the Olympic Clubs turn to reach 2-under par and stand alone atop an anything-goes leaderboard. The 17-year-old Californian broke a tie with former Open champion Jim Furyk...
Tiger Woods is in the clubhouse with a share of the U.S. Open lead. Woods had three birdies in a five-hole stretch in the middle of his second round Friday, shooting an even-par 70 to match Jim Furyk at 1 under. Furyk shot a 69. David Toms also was 1 under with two holes left. No other player even had a par score for the tournament on another day The Olympic Club clobbered some...
As fans, I think we all presume that college football coaches have no lives, and spend their off-season's huddled up in dark film rooms, breaking down tape of future opponents, and ignoring their wives as effortlessly in June as they do in October. At least that's the vision I have anyway. And for some (yeah, we're looking at you Nick Saban), it's probably true, but for...
A quick look at the first round of the U.S. Open at The Olympic Club: Leading: Michael Thompson, playing in his first U.S. Open, shot a 4-under 66 and was three shots ahead of the field. Just behind: Tiger Woods shot 69, as did David Toms, Nick Watney, Justin Rose and Graeme McDowell. Tiger watch: Woods played in the featured pairing, beating Phil Mickelson by seven shots and...
Santa Margarita Director of Boys Golf, Chuck Morales, has been on campus this week along with the rest of the school administrators conducting meetings. On Thursday morning, he snapped a picture of the school marquee, which read "Good Luck Beau at the U.S. Open," and sent it to his pupil Beau Hossler. He thought it would be a nice gesture to show Hossler that the school...
While Tiger Woods tumbled down the leaderboard, Graeme McDowell and Jim Furyk shared the top spot heading into the final round of the U.S. Open. McDowell stuck his approach to 4-feet on the 18th hole to set up a birdie for a 2-under 68 on Saturday. Furyk followed moments later with a 15-foot putt on the 17th to regain a share of the lead, and closed with a par for a 70. At 1 under...
Golf News

Delivered to your inbox

You'll also receive Yardbarker's daily Top 10, featuring the best sports stories from around the web. Customize your newsletter to get articles on your favorite sports and teams. And the best part? It's free!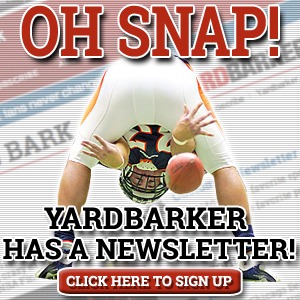 Latest Rumors
Best of Yardbarker

Today's Best Stuff

For Bloggers

Join the Yardbarker Network for more promotion, traffic, and money.

Company Info

Help

What is Yardbarker?

Yardbarker is the largest network of sports blogs and pro athlete blogs on the web. This site is the hub of the Yardbarker Network, where our editors and algorithms curate the best sports content from our network and beyond.