Found August 07, 2012 on Rumors and Rants:
Gymnastics team competition and all-around competition gold medalist Gabby Douglas's hair is not a controversy. It is if you're a complete idiot, aren't paying attention, or endorse Internet bullying. But otherwise, it's not a real controversy, so everyone shut the hell up. This girl should not have to comment on your stupid question just because some one found some ill-tempered tweets about her hair the night she won the damn gold medal in London. Finding things on Twitter does not count as discovering an actual controversy. It's f-ing Twitter, which last I checked is on the Internet. Being mean on the Internet isn't a reportable event. It's part of the freaking landscape like readily-available porn, the first comment on anything always being someone saying "First!", and the five comments after that using the N-word. Unless Jason Whitlock feels it's necessary to analyze the cultural significance of 45 N-bombs in the comment section of an open forum too, no one is allowed to cite ...
Original Story:
http://rumorsandrants.com/2012/08/gab...
THE BACKYARD
BEST OF MAXIM
RELATED ARTICLES
You know it must have been a slow news day, when FOX News targeted gold medal winning gymnast Gabby Douglas for her "un-patriotic" uniforms. Really. FOX News reporter Alisyn Camerota took issue with it when she said that the "famous flag-style outfits" of past Olympics have been replaced by "yellow shirts, grey track suits and pink leotards" Camerota...
Unfortunately, Gabby Douglas, this is the other side of fame. For the first time since capping her team gold medal with an all-around gold of her own, Douglas emerged Monday into a whole new world: One reshaped by fame, burdened by its exhausting relentlessness and capped with the first glimpse of how celebrity inevitably melds the personal with the public. Tired and worn down...
The men's and women's Olympic gymnastics competition comes to a close on Tuesday.  Here is what to watch: Women's Balance Beam  The U.S., Russia, Romania, and China will each feature two contenders in a battle of four major powerhouses in women's gymnastics.   The United States will have all-around gold and silver medalist Gabby Douglas, and Aly Raisman competing...
Gabby Douglas comes up short of third London win in uneven bars final.
Gabby Douglas was the most electric member of the U.S. Women's Gymnastics team at the London Olympics. At the conclusion of the gymnastics events in London, Douglas finished with a gold medal from the team competition and another one for being the best gymnast in the world after winning the all-around gold. Corn Flakes may be the first of her endorsements, but there should be...
Is the commercial racist? You are showing a monkey doing gymnastics right after Gabby Douglas was doing gymnastics. Anyone can plainly see the correlation, even if it is not meant. NBC knows that the commercial is controversial. I am sure they have had hate mail and calls about it. Who in the world choose to [...]
A.B. This is one of the strangest promotions I have ever seen – although coming from a vampire show on CW, I shouldn't be that surprised. "Hi Gabby, We heard your a big fan of The Vampire Diaries – all of us here are big fans of you too." Ya, and Mitt Romney is a fan of long underwear but you don't see Hanes on the campaign trail with him. In fact if athletes and public...
You know who is giving us a new perspective on the Olympics? Black guys on Twitter. Like clockwork, every day, they come out of the woodwork and spit knowledge on any and every sport of the London games. Today, a lot of time and effort went into ripping crying Olympians and the legless track star, Oscar Pistorius. Oh and one guy gets pissed at his dad for spoiling Gabby Douglas'...
Now it's time to turn those golds into some green. With gymnastics competition over, the Fierce Five got an idea of what life is going to be like now. The U.S. women's gymnastics team got a sneak peek at their Corn Flakes box Wednesday - coming soon to a grocery store near you! - and Procter & Gamble Co. created an ad to congratulate them. They're starting to hear...
It's a damn shame to say, but apparently, a bunch of black women across the nation agree with racist radio host Don Imus, who, in a 2007 on-air conversation with executive producer Bernard McGuirk, referred to Rutgers' women's basketball team as some "rough girls" that looked like "nappy-headed ho's".If you don't remember the conversation…here is the main excerpt...
Gymnastics News

Delivered to your inbox

You'll also receive Yardbarker's daily Top 10, featuring the best sports stories from around the web. Customize your newsletter to get articles on your favorite sports and teams. And the best part? It's free!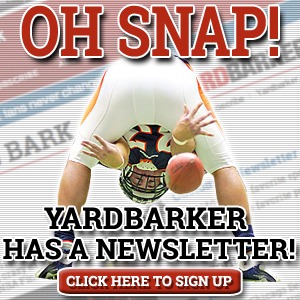 Latest Rumors
Best of Yardbarker

Today's Best Stuff

For Bloggers

Join the Yardbarker Network for more promotion, traffic, and money.

Company Info

Help

What is Yardbarker?

Yardbarker is the largest network of sports blogs and pro athlete blogs on the web. This site is the hub of the Yardbarker Network, where our editors and algorithms curate the best sports content from our network and beyond.