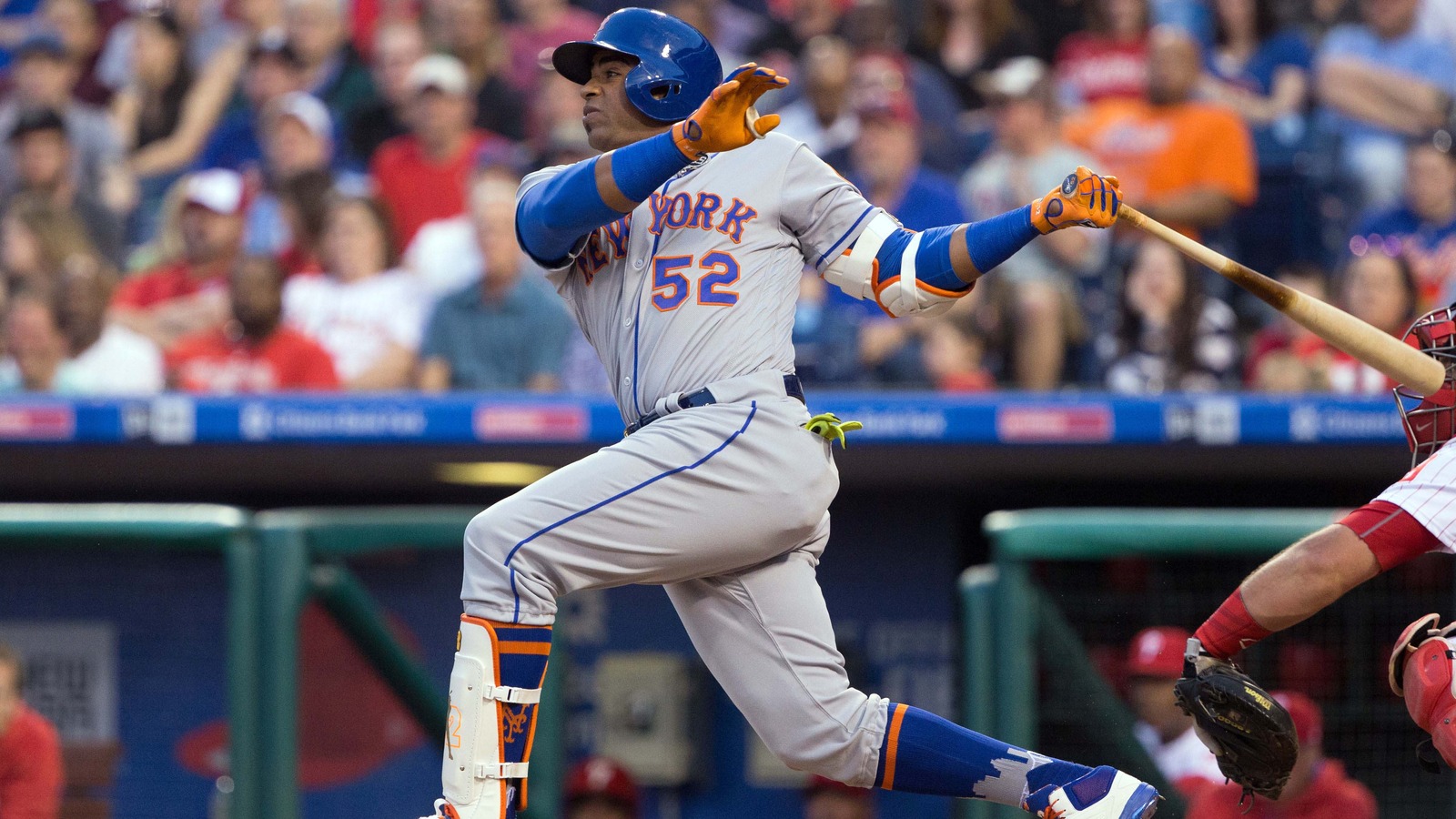 Apr 11, 2017; Philadelphia, PA, USA; New York Mets left fielder Yoenis Cespedes (52) hits a three RBI home run against the Philadelphia Phillies during the first inning at Citizens Bank Park. 
Bill Streicher-USA TODAY Sports
The 2017 MLB season isn't even two weeks old, yet some players have already separated themselves from the crowd by starting off the season on the right foot.
There are some batters hitting over .400 in the early going, while some pitchers have yet to register an ERA thanks to tossing scoreless innings.
Here's a look at the 10 hottest players so far this season.
1. Yoenis Cespedes, OF, Mets
When you hit three home runs in a baseball game, you're going to end up on a list of hottest players in MLB.
Cespedes hasn't been spraying balls all over the yard unlike some other batters who are hitting over .400 to start the season, but when he has made contact, he's gotten all of the pitches.
Six of the Cuban slugger's 11 hits in 2017 have left the yard, including three against the Phillies on Tuesday, and two against the Marlins on Thursday. The ones against the Marlins were even more impressive when you consider he was ill:
Yoenis Cespedes did not just hit two home runs last night. He hit two home runs with the flu. "By the end of the game … he was shot."

— Anthony DiComo (@AnthonyDiComo) April 14, 2017
Nine of his 11 hits have been for extra bases, as Cespedes also has three doubles. That leaves him with a slugging percentage nearing .800 for the season. He also has driven in 10 runs — 9 coming during a three-game stretch from Tuesday-Thursday.
After bouncing around from Oakland to Boston to Detroit, Cespedes has really found his home with the Mets. He clubbed 17 home runs in 57 games for them in 2015, and he smacked 31 more last season. The Mets wisely signed him to a 4-year, $110 million deal last fall. He certainly has been worth every penny so far.
2. Daniel Murphy, 2B, Nationals
Daniel Murphy picked up in 2017 right where he left off last year.
Murphy was signed to a 3-year, $37.5 million deal by the Nats prior to 2016 and delivered beyond their wildest dreams. The 32-year-old batted .347/.390/.595 with 47 doubles, 25 home runs and 104 RBIs — all career-best marks. He was phenomenal in the postseason too, as he went 7-for-16 (.438) with five walks and only one strikeout. That followed a 2015 postseason in which he bashed 7 home runs for the Mets.
Murphy has been just as hot — if not hotter — to start 2017.
Murphy is batting .444 on the season with six doubles, two homers and 10 RBIs. To put his awesome start into perspective, consider that he went 2-for-5 on Friday against the Phillies and saw his average DROP.
After being moved around the infield during his Mets career, Murphy played the majority of his games at second last season for Washington, and has made every start there this season. It's clear that he has taken ownership of the position and is rewarding the Nats with a hot stick.
3. Dallas Kuechel, SP, Astros
Dallas Keuchel is showing off the form from his Cy Young season in 2015.
After going 20-8 with a 2.48 ERA and 216 strikeouts in 2015, Keuchel slipped to 9-12 with a 4.55 ERA last season. He battled shoulder problems all season, but he seems to be back this year.
Keuchel is 2-0 after getting the win against Oakland on Friday night. The 29-year-old southpaw has pitched seven innings in all three of his starts, allowing just two runs on the year. He has surrendered no more than four hits in any of his outings, leaving him with an impressive 0.62 WHIP and 0.86 ERA.
One of the keys for Keuchel this season is that he's been keeping the ball down in the zone.
In first two starts of 2016, Keuchel left 44.9 % of pitches in upper 2/3 of zone/above. Through two starts in 2017, that number is 21.4 %

— Brian McTaggart (@brianmctaggart) April 15, 2017
He's also throwing his changeup more often this season, unlike last year, when he threw it just 9.3 percent of the time (per Fangraphs), possibly because of his shoulder issues. The change, which is among the best in the game, shows incredible screw action.
4. James Paxton, SP, Mariners
James Paxton has been one of the most promising players in the Mariners' franchise for the past several years, and he looks poised to enjoy the finest season of his career.
The hard-throwing lefty has gone 1-0 this season, allowing just six hits and no runs in 13 innings. He's only walked three and struck out 13 — some excellent peripheral numbers. His strikeouts per nine innings is at the highest of his career, and opposing batters have just a .358 OPS against him.
During his season debut against Houston, Paxton topped out at 98.2 MPH.
Paxton has been pitching well since the second half of last year, and a change in his mechanics seems to be a key to that success.
Paxton could be in for a breakout 2017 thanks to serious heat: Since changing his arm slot in mid-2016, his fastball's been in the upper 90s

— SEAGameday (@SEAGameday) April 5, 2017
Paxton averaged 96.8 MPH on his fastball last season according to Fangraphs. He's at 95.8 MPH through two starts this season, but the important thing is his results have been fantastic.
5. Wil Myers, 1B, Padres
The San Diego Padres have been more competitive than expected to start the 2017 season, and Wil Myers is a big reason why.
Myers is batting .386/.404/.773 to start the season. He's been racking up the extra-base hits too, as he has four doubles, two triples and three home runs. He even hit for the first cycle of 2017, doing so on Monday against the Rockies.
Myers leads the Padres in pretty much every offensive category.
One area where Myers still has room to improve is in his eye at the plate. Myers has just one walk compared to seven strikeouts, which leads to an on-base percentage just a hair higher than his batting average. Last season he walked 68 times, so he could stand to get back to that. But when you're as hot as he is, you might as well keep swinging.
One of GM AJ Preller's prized acquisitions, Myers is making San Diego look smart for locking him up through 2022 on a six-year, $83 million contract extension. Maybe the team will be ready to compete towards the end of his deal.
6. Mike Leake, SP, Cardinals
Mike Leake has been one of the few bright spots during a poor start to the season for the Cardinals.
The 29-year-old has made two starts and looked brilliant in both. Though he's just 1-1 (the team was shutout in his loss), Leake has a 0.60 ERA and 0.73 WHIP this year.
He went eight innings of one-run ball during his season debut, and then he pitched seven shutout innings in his second start. He also retired 17 in a row at one point during his start against the Nats on Wednesday.
One thing that jumps out immediately about Leake is that he's been hammering the strike zone and showing excellent control this season.
Take a look at this graphic from his first start of the season:
It's been all cutters and four-seam fastballs (most down in the zone) so far for Mike Leake, who is through two innings on 17 pitches. pic.twitter.com/jO0gsMu9Yn

— Jenifer Langosch (@LangoschMLB) April 8, 2017
Leake has only walked one while striking out 13 in 15 innings this year. Although his strikeouts to walk ratio was greater than four last year, it's on pace to be much better this season.
The Cardinals were disappointed with what they got out of Leake in his first year of a five-year, $80 million deal, but they have to be more than satisfied with what they've seen so far in 2017.
7. Miguel Sano, 3B, Twins
Although he's only 23, baseball fans have been hearing about Miguel Sano for years.
The Dominican Republic native signed with the Twins as a youngster in 2009, began playing in the minors when he was 17, and showed off incredible power for his young age at every step of the minors. He bashed 20 homers in 66 games as an 18-year-old in rookie ball; 28 as a 19-year-old in Single-A ball; and he hit 35 across two levels as a 20-year-old. When he made his debut in at age 22 in 2015, Sano smacked 18 homers in 80 games. He topped that with 25 last season, though his average slipped to .236.
But Sano may be putting it all together in 2017 and could find himself in the MVP conversation as the season goes along.
Batting cleanup for Minnesota, Sano has batted .290/.463/.742 this season. He is showing excellent patience at the plate, walking twice on Friday to give him 10 in 10 games. He has reached base in every game this season thanks in part to his good eye.
And though he only has nine hits on the year, seven have been for extra bases, including three doubles and three home runs. The Twins were not expected to compete in 2017. With the way Sano is swinging it, they could surprise.
8. Greg Holland, RP, Rockies
The Colorado Rockies took a big gamble on Greg Holland this offseason, and the move is paying off in the early going.
Holland was one of the best relievers in baseball from 2011-2014 with the Kansas City Royals. But he suffered an elbow injury in 2015 and underwent Tommy John surgery, which kept him out for all of 2016. Holland struggled in spring training but has come out of the gate strong for Colorado.
The 31-year-old leads the league with six saves and has converted each of his opportunities. He has been pretty awesome in all six of his appearances too, as he's allowed just two hits and three walks in six innings of work, while striking out eight. He didn't even allow a hit in his first five appearances.
Holland isn't throwing 95-96 like he did during his best years with the Royals, but he's averaging nearly 94 MPH on his fastball, and his slider has been sharp this season. He and the Rockies couldn't have asked for a better start.
9. Marcell Ozuna, OF, Marlins
Hopefully the Marlins are doing messing around with Ozuna.

Two years ago, the Marlins demoted Ozuna to the minor leagues even though he was hitting respectably, reportedly at the behest of owner Jeffrey Loria. Ozuna being demoted did not sit well with many of his Marlins teammates.

This year, Ozuna has opened the season as a main performer on the big club.
The 26-year-old is batting .375/.435/.675 through the first 10 games. Furthermore, his consistency has been especially impressive. Ozuna has hit safely in all but one game for the Marlins this season. He has also knocked in 16 runs, which leads the majors. He also has five walks against seven strikeouts, which are better marks than he's had in the past.
Ozuna hit 23 homers in both 2014 and 2016, posting a .772 and .773 OPS those seasons. He's shown the potential to become a big hitter. Maybe this is the year that he turns the corner.
10. Adam Warren, RP, Yankees
Are we really including a middle reliever on the list of hottest players in MLB? Why yes, yes we are.
Warren has had an interesting career path. He came up with the Yankees and spent 2012-2015 with the team. They then traded him to the Chicago Cubs in the Starlin Castro deal after the 2015 season. But the Yankees liked him enough that they got him back upon trading Aroldis Chapman to the Chicago Cubs last season. Interestingly, the Yankees ended up signing Chapman back during the offseason.
Warren started 17 games for the Yanks in 2015 but has mostly been a reliever. He was contending for a spot in their rotation this season but didn't perform well enough to win it in spring training. Instead, the Yanks have used him to eat some innings during losses this season. He's performed admirably.
Warren has thrown six spotless innings this season. He hasn't allowed a hit or walk this year. He's also struck out seven in his six innings of work. Sure, he's been pitching in some non-pressure situations, but anyone who throws six perfect innings merits our attention.
PLAYERS:
Daniel Murphy
,
Dallas Keuchel
,
James Paxton
,
Wil Myers
,
Mike Leake
,
Miguel Sano
,
Greg Holland
,
Marcell Ozuna
,
Jeffrey Loria
,
Adam Warren
,
Starlin Castro
,
Aroldis Chapman
TEAMS:
Washington Nationals
,
Houston Astros
,
Seattle Mariners
,
San Diego Padres
,
St. Louis Cardinals
,
Minnesota Twins
,
Colorado Rockies
,
Miami Marlins
,
New York Yankees
,
New York Mets
,
Chicago Cubs
,
Kansas City Royals
MORE FROM YARDBARKER
MLB News

Delivered to your inbox

You'll also receive Yardbarker's daily Top 10, featuring the best sports stories from around the web. Customize your newsletter to get articles on your favorite sports and teams. And the best part? It's free!