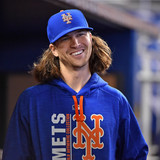 Recently, I have been discussing some of the higher-profile upcoming arbitration cases as part of MLBTR's Arbitration Breakdown series. I rely partly on my arbitration model developed exclusively for MLB Trade Rumors, but will also break out some interesting comparables and determine where the model might be wrong. Full arbitration projections for 2018 are also available.Jacob deGrom...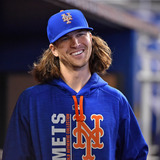 On the heels of a disappointing season, the New York Mets may be looking to lock down one of their few standout players.According to Jon Heyman of FanRag, the Mets will likely explore the possibility of a contract extension with pitcher Jacob deGrom. The right-hander has three years of arbitration remaining, but the Mets could look to lock him down long-term.Any deal New York makes...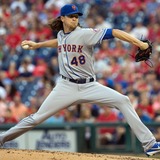 Jacob deGrom left his start for the New York Mets against the Philadelphia Phillies on Thursday after being hit by a comebacker. Luckily he seems to have escaped without serious injury.DeGrom was throwing a shutout through 6.2 innings against the Phillies when he was struck by a line drive in the side. The ball left Nick Williams' bat at 99 mph, which means it could have easily done...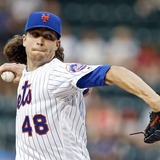 With the MLB trade deadline fast approaching, expect rumors and speculation to ramp up significantly. And it looks like one of the best teams in baseball is looking to make a big splash before the July 31 deadline.The Houston Astros (60-29) own the second-best record in baseball (tops in the AL by a wide margin) and have essentially punched their ticket to the postseason, barring...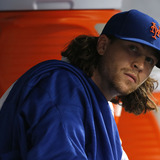 Jacob deGrom's bid for a no-hitter came to unfortunate end after Curtis Granderson lost a flyball in the sky.With two outs during the fifth inning of Friday's game against the Phillies, Andrew Knapp hit a ball to center field that for all the world looked like it would be a routine play. That, however, was not the case. Granderson had trouble finding the ball, which landed behind...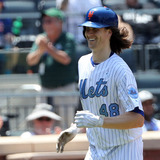 Jacob deGrom is know for his beautiful long locks and his dominant left arm. But one thing the New York Mets pitcher isn't know for his hitting home runs.That all changed on Sunday when deGrom blasted a 379-foot shot over the left-centerfield wall in the third inning — his first career home run and just the second extra-base hit of his season. This home run gave the Mets a 1-1 tie...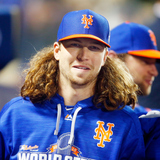 Jacob deGrom's son is reportedly on his way to health after scary "complications" following his birth Monday. Manager Terry Collins spoke about this encouraging development, via ESPN's Adam Rubin: "Last night I talked to him," Collins said Sunday morning. "The baby is doing better. That was a good sign. I just told Jake he needs to get some rest and mix in a meal." Not surprisingly...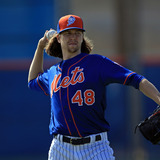 Jacob deGrom will miss Monday's scheduled spring training start due to back stiffness, something the New York Mets pitcher is blaming on the lack of support from an overly soft mattress. The 27-year-old right-hander is slated to throw a bullpen session instead and indicated arrangements have been made to rectify the issue, as he's already in possession of a more supportive mattress...
Jacob deGrom will be playing for relative peanuts compared to many of his contemporaries during the 2016 season, and he's made something of a statement in protest of it. As MLB rules work, players in their first three years of service time who are not yet eligible for arbitration have next to no say in what they get paid. As such, the Mets can offer deGrom any salary above the league...
New York Mets pitcher Jacob deGrom may be known to the casual baseball fan as much for his long hair than his sizzling stuff. And while that may be unfortunate given the pitching prowess of the 2014 National League Rookie of the Year and 2015 All-Star, the reason the 27-year-old has been so dominant may be attributable in part to his wild, flowing locks, despite how they once confused...
MORE STORIES >>
Mets News

Delivered to your inbox

You'll also receive Yardbarker's daily Top 10, featuring the best sports stories from around the web. Customize your newsletter to get articles on your favorite sports and teams. And the best part? It's free!