Found June 24, 2013 on The Roosevelts:
PLAYERS:
Alex Rodriguez
,
Manny Ramirez
,
Kevin Brown
,
Mike Piazza
,
Albert Belle
,
Ken Griffey
,
Roger Clemens
,
Nolan Ryan
,
Babe Ruth
TEAMS:
New York Yankees
,
Texas Rangers
,
Oakland Athletics
,
Boston Red Sox
,
Chicago White Sox
,
Seattle Mariners
,
Minnesota Twins
,
Houston Astros
,
Los Angeles Dodgers
,
New York Mets
Baseball players are among the highest paid professional athletes—salaries that allow the leagues' brightest stars to earn astronomical salaries. Currently, the league's highest paid player is Alex Rodriguez, who will make $29.5 million before the conclusion of the 2013 Major League Season. But, according to the folks at baseball almanac, Rodriguez's current contract—while mammoth—is not unprecedented. And, while Rodriguez is the highest paid player in the history of the Big Leagues, there were other players that predate Rodriguez who—for their time—made unthinkable amounts of money. The players on this list are all players who became some of the most affluent players in sports history due to their teams demand for their talents. Before beginning, a reminder is needed to re-establish the fact that this is an article that contracts record-breaking contracts—it is not an article chronicling the largest contracts in Major League Baseball history. 10. Alex Rodriguez with the Texas Rangers, signed on December 11, 2000 It is hard to believe. But, taking inflation into account, the current New York Yankee made more money back in 2000 when he signed with the Texas Rangers. A-Rod's current contract was previously stated at 29.5 million annually. But, back around the turn of the millennium, Rodriguez inked a deal with the Rangers that was worth 27,000,000 annually. With elapsing of time-induced inflation taken into account, A-Rod made an annual $35,551,749 while he was with the Rangers—an amount of money that any reader of this list would certainly like to have. 9. Manny Ramirez with the Boston Red Sox, signed on December 11, 2000 It is a popular trend among Red Sox fans to taboo their hated New York Yankees rivals as being the "best team that money can buy". But, anybody who follows the business portion of athletics knows that the Red Sox have a comparable ability to dish out the cash. On the same day as A-Rod, Ramirez signed a contract with the Red Sox that was worth $20,000,000 annually. Why is that significant? Well, because Ramirez became the first player to break a twenty million dollar annual salary. In today's coinage, Ramirez's 2000 salary is worth approximately $26,334,629. 8. Kevin Brown with the Los Angeles Dodgers, signed on December 12, 1998 Back in the late nineties, Kevin Brown was among the big leagues' reigning aces. In 1998, Brown became the first player to sign a contract that was worth at least $100,000,000 collectively, and the first player to break $15,000,000 annually. By today's standards, Brown's annual salary is worth $20,973,912. 7. Mike Piazza with the New York Mets, signed on October 26, 1998 It was a time when the steroid era was at its peak. And, one of the best catchers in Major League history just signed a new contract with the Mets in the wake of a trade. Piazza, who was making $13,000,000 annually, was the first player in MLB history to crack the 90,000,000 mark. In today's money, Piazza was earning $18,177,390 on a yearly basis. 6. Albert Belle with the Chicago White Sox, signed on November 19, 1996 Completing the initial half of the list is the one of the most feared sluggers of the nineties. Belle, who was coming off another MVP caliber season, signed a five-year, $55 Million contract with the White Sox. Annually, the contract was worth $11 Million. Today, Belle would have been making $15,892,621. 5. Ken Griffey Jr. with the Seattle Mariners, signed on January 31, 1996 Ken Griffey Jr. was once one of the most feared fielders and hitters in the Major Leagues. In 1996, he was paid like it when he received an $8,500,000 salary—the first to break such a mark. Today, the salary would be $12,280,662. 4. Roger Clemens with the Boston Red Sox, signed on February 8, 1991 As much as Red sox fans want to disown Roger Clemens—also known as The Rocket—history shows that he spent longest amount of time during his career on the baseball team of Boston fame. In 1991, Clemens signed a contract that saw him earning over five millions dollars yearly– $5,380,250, to be precise. Today, Clemens would have been making $8,932,812 annually. 3. Kirby Puckett with the Minnesota Twins, signed on November 22, 1989 Puckett was one of the brightest stars in baseball, and he earned a salary of $3,000,000 annually—the first player to earn such a high amount of money. Today, Puckett would have been making $5,470,352. 2. Nolan Ryan with the Houston Astros, signed on November 19, 1979 The most legendary fireballer of all time was coincidentally the big league's first one million dollar man. Ryan, who now has an executive role with the Texas Rangers, signed the deal in 1979. The reason why this contract is notable is because not only was Ryan baseball's first million dollar earner, but he was also the first athlete in all four major sports to earn a yearly salary of the aforementioned amount. Now, $1,000,000 is pocket change to many pro athletes—a salary reserved for the mediocre players of all four major sports. But, for the latter days of the seventies, it was a contract that was truly groundbreaking. Today, Ryan would have been earning roughly $3,113,577. 1. Babe Ruth with the New York Yankees, signed on March 5, 1922 Babe Ruth was traded from the Boston Red Sox to the New York Yankees on December 26, 1919. And, a few years later, the Yankees made Babe Ruth the highest paid player in professional baseball—signing him to a contract that was worth $50,000. While this is far below the contemporary baseball player's veteran minimum, it was a contract that was worth $6,77,195 in today's money. A little over a half of a decade later Ruth would be questioned about how his salary was greater than that of the American President's. Ruth would respond: "I know, I had a better year than him." Sources:   Baseball-almanac.com
Original Story:
http://www.rsvlts.com/2013/06/24/reco...
THE BACKYARD
BEST OF MAXIM
RELATED ARTICLES
New York Yankees third baseman Alex Rodriguez has been given medical clearance by doctors to begin rehab games beginning July 1.  Rodriguez hasn't played at all in 2013, having undergone surgery on his left hip in January.It was projected that he could return after the All-Star break, and that timeline seems to be accurate at this point.He would likely need 20 or so games of rehab...
Alex Rodriguez sent out his first tweet on May 31.  back to basics. http://t.co/MFCHhwdiC1 — Alex Rodriguez (@AROD) May 31, 2013 Somehow, almost a month has passed without us realizing his presence on the site. His handle is appropriately AROD, but that can only lead to the people who hate him modifiying it to AROID or AFRAUD or something along those lines...
Alex Rodriguez met Friday with Major League Baseball officials probing the distribution of banned performance-enhancing drugs. The meeting took place before the New York Yankees third baseman's latest injury rehabilitation game in the minor leagues was rained out. While A-Rod didn't speak with reporters Friday, the meeting was confirmed by a person who spoke on condition...
New York Yankees third baseman Alex Rodriguez has been medically cleared to begin a minor league rehab assignment on July 1, the New York Daily News reports. Rodriguez has yet to play this season following surgery on his left hip in January, at which time he was projected to be sidelined until after the All-Star break. Although A-Rod is on the comeback trail, the injury isn'...
The Guru Contributing Writer There was good news and bad news for Yankees third baseman Alex Rodriguez Tuesday. First the good news. A-Rod has been cleared to play again. Visit from Dr. Kelly over the weekend, who gave me the best news - the green light to play games again! http://t.co/RuzfXOJjHI — Alex Rodriguez (@AROD) June 25, 2013 Now for the bad news. Yankees general...
  We reported the news last night of the rather umm… direct way New York Yankees GM Brian Cashman responded to Alex Rodriguez tweeting out that he had been cleared by doctors to resume playing baseball. Taking into account the way Cashman responded, we knew it would only be a matter of time before A-Rod decided to issue a statement in regards to what Cashman had to say. "I will...
Besides battling back from hip surgery and fedning off rumors of using performance-enhancing drugs, we all missed another important development involving New York Yankees third baseman Alex Rodriguez. He joined Twitter. Yup, his Twitter account is already popping with the same personality as he shows in real life. We had no idea that he was on Twitter going all the way back to May...
  New York Yankees third baseman Alex Rodriguez joined twitter recently (to not much fanfare) and decided to update the twitter world on his progress rehabbing the injury that his kept him out of the lineup all season. Visit from Dr. Kelly over the weekend, who gave me the best news – the green light to play games again! http://t.co/RuzfXOJjHI — Alex Rodriguez (@AROD) June 25...
(via Getty Image)As soon as New York Yankees paycheck collector Alex Rodriguez joined Twitter on May 31, I'm sure a lot of people shared a similar version of the thought: "Dude, this is a terrible idea." I'm not sure what the once-beloved baseball star thought he had to gain by creating an account on the world's third most hate-filled place, behind YouTube comments and...
Sometime on Tuesday New York Yankees superstar Alex Rodriguez sent a simple tweet; nothing big or dirty or vulgar. It was something that Twitter was made for really. However, when word got to Yankees GM Brian Cashman he was mad. Very mad. Keith Allison/Flickr All A-Rod tweeted was that he had seen the doctor and was finally cleared to start playing games. Cashman took...
Even from Tampa, Alex Rodriguez has figured out a way to anger the Yankees. While the Yankees have repeatedly said the third baseman has not been cleared to begin a rehab assignment, Rodriguez said he was set to start playing games in Tampa this Monday. On Tuesday, Rodriguez went to Twitter to say that the surgeon who performed his offseason hip surgery, Dr. Bryan Kelly, gave him...
New York Yankees general manager is pissed that third baseman Alex Rodriguez tweeted out an update on his rehab process, according to ESPNNewYork.com. "You know what, when the Yankees want to announce something, [we will]," Cashman told ESPN New York. "Alex 
MLB News

Delivered to your inbox

You'll also receive Yardbarker's daily Top 10, featuring the best sports stories from around the web. Customize your newsletter to get articles on your favorite sports and teams. And the best part? It's free!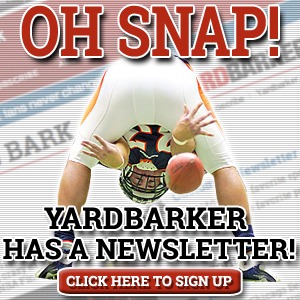 Latest Rumors
The Backyard

Today's Best Stuff

For Bloggers

Join the Yardbarker Network for more promotion, traffic, and money.

Company Info

Help

What is Yardbarker?

Yardbarker is the largest network of sports blogs and pro athlete blogs on the web. This site is the hub of the Yardbarker Network, where our editors and algorithms curate the best sports content from our network and beyond.