Found April 09, 2012 on Fox Sports North:
PLAYERS:
LaTroy Hawkins
,
Ron Gardenhire
,
Torii Hunter
,
Jacque Jones
,
Doug Mientkiewicz
,
Brad Radke
,
Eddie Guardado
,
Bud Selig
,
Michael Cuddyer
,
Kyle Lohse
,
JC Romero
,
AJ Pierzynski
,
Johan Santana
TEAMS:
Los Angeles Angels
,
Minnesota Twins
,
Oakland Athletics
,
Colorado Rockies
,
St. Louis Cardinals
,
Chicago White Sox
,
New York Mets
,
San Diego Padres
MINNEAPOLIS LaTroy Hawkins still remembers the call he got from manager Tom Kelly after the Twins' 2001 season. Minnesota finished the year with an 85-77 record, good for second in the American League Central. Despite the Twins' success that season, however, Kelly called to tell Hawkins that he wasn't returning as Minnesota's manager for 2002. "I felt bad. I was like, 'Did we do something wrong?'" said Hawkins, now a reliever with the Los Angeles Angels, who are in town this week to face the current-day Twins. "We had no inclination that he wasn't coming back." In Kelly's place stepped a young Ron Gardenhire, who inherited a team that was slowly on the rise after plenty of lean years in the 1990s -- and a team that was nearly contracted in 2001. Terry Ryan, the Twins' general manager, knew the team had to hire a new manager with the 2002 season quickly approaching. Minnesota chose Gardenhire, who had previously served as the team's third base coach. "I said to (owner) Carl (Pohlad), 'We need to get a manager here. We're about ready to go to spring training,'" Ryan said. "So it was a little awkward. As it turns out, he was the ideal guy. It worked out great. We had a good club, a lot of things fell into place." Gardenhire's first season as the Twins' manager would end up being perhaps his most memorable, as Minnesota finished 94-67 and advanced to the American League Championship Series. That 2002 Twins squad was honored Monday before Minnesota's 2012 home opener, the 10-year anniversary of that memorable season. Hawkins and former Twins outfielder Torii Hunter were both in Angels uniforms Monday, but several of their former Minnesota teammates were also in attendance at Target Field. The list of players from that ALCS team included outfielder Jacque Jones, infielder Doug Mientkiewicz, pitcher Brad Radke and closer Eddie Guardado, among others. "All those guys on the team were like family," said Hunter, who batted fifth and played right field Monday for the visiting Angels. "We came up together. We knew each other. We knew what we could and couldn't do, on and off the field. We were like brothers, man. We had a lot of fun." So much fun, in fact, that many of the players from that 2002 team still keep in touch with each other a decade later. Hunter, Hawkins, Jones and Guardado had breakfast together downtown Minneapolis on Monday morning, catching up on old times. Hunter and Hawkins live near each other in Texas and work out together in the offseason. Both saw Jones during spring training as Jones is currently a coach in the San Diego Padres' system. "It's a special group. We're always going to have a special bond," Jones said. "It's always fun to be around these guys." After the 2002 team won the division and beat the Oakland Athletics in the ALDS, the Twins went on to win five more AL Central titles over the next eight seasons. Considering where Minnesota was following the 2001 season, the fact that the Twins were still playing was a victory in itself. MLB commissioner Bud Selig threatened to contract Twins that year, as well as the Montreal Expos. But despite all the contraction talks, Minnesota went out and won 94 games. "We didn't think much of it," Hawkins said of contraction. "We were only worried about what we could control that year. That was playing baseball and winning games." And having fun. Nearly every player in attendance Monday talked about how loose the Twins' clubhouse was that year. They developed that chemistry off the field and carried it with them on the field. "I have not played with that kind of group in my 17-year career. That's pretty special," said Guardado, who also spent time with Seattle, Texas and Cincinnati after leaving the Twins in 2003. "I loved the winning, no question. But really, I think it was just the team chemistry that we had. We had so many different personalities. But when we came between the lines, we had one heartbeat. And that's why we went so far." No members of that 2002 team remain on the current Twins roster, but two were in the opposing dugout Monday. Others are still in the league -- Michael Cuddyer is with the Rockies, Kyle Lohse and J.C. Romero are with the Cardinals, A.J. Pierzynski is the White Sox's catcher, David Ortiz is in Boston and Johan Santana is pitching for the Mets. The Twins have yet to return to the ALCS since 2002. Ten years later, the memories from that special season still remain. "They came to play hard and that's what those guys did. A special group, we had a lot of fun that summer," Gardenhire said. "Unfortunately we couldn't get to the World Series and finish it. We had a lot of fun. It was an enjoyable group. Like I said, they really played hard. They rooted for each other and managing that group, like I said as a coach, it was a good group. We had a lot of fun." Follow Tyler Mason on Twitter.
Original Story:
http://www.foxsportsnorth.com/04/09/1...
THE BACKYARD
BEST OF MAXIM
RELATED ARTICLES
MINNEAPOLIS The Minnesota Twins entered this season hoping right-hander Scott Baker would be starting their home-opener today. Instead, Baker was preparing to travel to New York to get a second opinion on his troublesome right elbow from Dr. David Altchek. A recent MRI showed the same flexor strain that bothered Baker at times last season, and the Twins are worried about the continual...
MINNEAPOLIS Twins manager Ron Gardenhire talked before his team's home opener Monday about Minnesota's lack of offense through its first three games. The Twins scored just five total runs in the season-opening series against the Baltimore Orioles and failed to score more than two runs in a game. Gardenhire delivered a similar message following Monday's 5-1 loss to the...
Ten years ago, the Minnesota Twins were nearly eliminated as part of baseball's plan to fold two franchises for financial reasons. The court intervened, and the Twins came together to win their division and reach the American League championship series on a bargain budget with a bunch of scrappy young players that came up together in the minors. The Twins will honor that popular...
BALTIMORE (AP) Minnesota Twins right-hander Liam Hendriks remained hospitalized Sunday with an apparent case of food poisoning. Hendriks was slated to be released after spending Saturday in a Baltimore-area hospital. Twins manager Ron Gardenhire said doctors at the hospital recommended the pitcher stay another night, leaving open the possibility that Hendriks would not accompany...
In the marathon that is a 162-game baseball season, a three-game losing streak is barely reason to panic. But after Minnesota was swept in their three-game season-opening series against the Baltimore Orioles, Twins fans seem to believe that not much has changed from last year's 99-loss season. Indeed, it was a rough opening series for the Twins, who scored just five runs in...
One of my favorite movies of all-time has to be the Big Lebowski and I have to say that when I heard about this Minnesota Twins ad parodying it, I was quite excited. The commercial features former Twins pitcher Kent Hrbek as "The Big Hrboswski" and it is an instant classic:
- Sources within WWE and outside of WWE have confirmed that as of now, The Bella Twins are scheduled to leave the company when their contracts expire at the end of April. Speculation is that they just want to move on to other things. The Twins wrote the following last night during RAW: "Don't believe what you hear #! Tune into WWE Superstars this week you won't be disappointed...
Minnesota Twins right-hander Liam Hendriks remained hospitalized Sunday with an apparent case of food poisoning.
The Orioles have already won their first series of 2012, and go for the sweep today. The Twins (2012 stats): Pos Batting UZR fWAR Denard Span CF .375/.375/.375 0 0.1 Jamey Carroll SS .000/.125/.000 0 -0.1 Joe Mauer CF .167/.375/.167 0 0.0 Justin Morneau DH .375/.375/.500 0 0.1 Josh Willingham LF .286/.375/.714 0 0.1...
MLB News

Delivered to your inbox

You'll also receive Yardbarker's daily Top 10, featuring the best sports stories from around the web. Customize your newsletter to get articles on your favorite sports and teams. And the best part? It's free!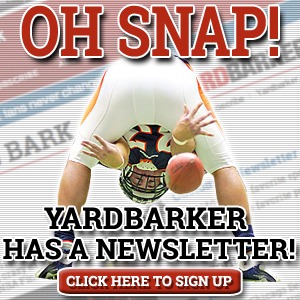 Latest Rumors
The Backyard

Today's Best Stuff

For Bloggers

Join the Yardbarker Network for more promotion, traffic, and money.

Company Info

Help

What is Yardbarker?

Yardbarker is the largest network of sports blogs and pro athlete blogs on the web. This site is the hub of the Yardbarker Network, where our editors and algorithms curate the best sports content from our network and beyond.