It's official.
The Rangers have been eliminated after their 3-2 loss to the Devils in Game 6 of the Eastern Conference Finals.
The Blueshirts have nothing to be ashamed about. They played hard every night and put their bodies on the line. They gave the fans a great run and outstanding sports memories they will cherish forever. Despite the fact the Yankees and Randy Levine tell us falling short of a championship means failure, the pragmatic fan knows otherwise.
I discussed the other day how this city has fallen in love with teams that have come up short. See the '06 Mets, 2010 and 2011 Jets, '94 Knicks and 2001 Yankees as recent examples. If you go back in history the Brooklyn Dodgers broke their fans hearts and was the genesis of the "wait till next year" cry.
The Rangers have a good core of young players, arguably the best goaltender in the league, outstanding management and perhaps the best North American hockey coach in history. It's hard not to see more opportunities for this club in the next five years. I believe they are in a better position to be successful going forward than any of the other disappointing examples I previously mentioned. That's why today, despite being an ending, doesn't mean there are better beginnings for this hockey club in the near future.
Still, when you come so close and fall short, it hurts. A hockey season starts before Halloween and ends after Memorial Day. You read about them in the papers, listen to talk radio and interact on Twitter. It's a significant amount of time invested so it's natural for the end to hurt.
So where does this loss rank in terms of NY Sports disappointment? I have listed some teams that have "fallen short" in this city's history.
I am Curious to hear what you think.

Biggest NY Heartbreak
***
The Stanley Cup Finals begins on Wednesday night at The Rock in New Jersey.
Is there a better trophy in sports than the Stanley Cup? Winning a championship is special in any sport, but no other trophy has a connection with an athlete than Lord Stanley's cup.
It's the oldest trophy, as it's been associated with hockey since 1892. Players get their names engraved on it; get a chance to take it home and the commissioner passes it directly to the winning team's captain, instead of ownership, after victory.
The cup does make it way around town. The Rangers had a ton of fun with it in 1994. Mark Messier and Brian Leetch brought in on the Dave Letterman Show. In addition, it made appearances on MTV, at Belmont, Scores and took in a game in George Steinbrenner's box at the old Yankee Stadium.
Could you imagine Bud Selig's reaction if the World Series trophy was at the bottom of a player's swimming pool? The Stanley Cup has been, multiple times, including Montreal goaltender Patrick Roy's after the Canadians won in 1993.
Is there a better trophy in sports? Hard to imagine.
Check out this piece at the Bleacher Report which shares other great stories about the Stanley Cup.
Original Story:
http://mikejsilva.com/2012/05/26/2011...
MORE FROM YARDBARKER
Yankees News

Delivered to your inbox

You'll also receive Yardbarker's daily Top 10, featuring the best sports stories from around the web. Customize your newsletter to get articles on your favorite sports and teams. And the best part? It's free!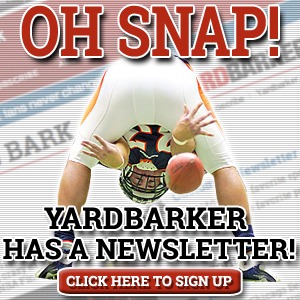 Latest Rumors
Best of Yardbarker

Today's Best Stuff

For Bloggers

Join the Yardbarker Network for more promotion, traffic, and money.

Company Info

Help

What is Yardbarker?

Yardbarker is the largest network of sports blogs and pro athlete blogs on the web. This site is the hub of the Yardbarker Network, where our editors and algorithms curate the best sports content from our network and beyond.