Found September 09, 2012 on Fox Sports North:
MINNEAPOLIS Minnesota Twins first baseman Justin Morneau hit two homers in Sunday's win over the Cleveland Indians, including the walk-off game winner in the bottom of the ninth inning. In the grand scheme of things, the home runs weren't the important part. What mattered most, at least in a big-picture sense, was that Morneau was on the field and producing in September for the first time in a long time. This season marks the first time since 2009 that Morneau has played a game in September -- but even in 2009, he didn't finish the season. As the Minnesota Twins were making a playoff push late in the 2009 season, Morneau was going stir crazy as he was relegated to watch from the bench. The Twins' first baseman was shut down for the final few weeks of that season with a stress fracture in his back. It was frustrating for Minnesota's iron man who, just one year earlier, played in all 162 regular-season games, plus a one-game playoff with the Chicago White Sox. Since 2008, however, Morneau has not finished out a season for the Twins. In 2010, he suffered a concussion on July 7 in Toronto and watched from the dugout for the rest of the year as the Twins won the American League Central. Last season, Morneau didn't play a game in September due to recurring concussion symptoms, as well as minor knee surgery. But the end of the 2012 season has been different for Morneau -- knock on wood. He's been able to stay on the field for much of the year, including nine games so far in the month of September. Morneau was in the Twins' lineup again for Sunday's series finale against Cleveland and has now played in 116 games this season, 47 more games than a season ago. "That's what I expect going in. That's what I expected last year. That's what I expected the year before," Morneau said. ". . . Each year's new and you don't really anticipate anything. Obviously different things happen each year, but the goal every year is to go in and be healthy and play 162 games. Obviously there's bumps along the road that you go through. This is hopefully the middle part of my career as opposed to it didn't look as promising the last few years. Morneau wasn't the only Twins star sidelined for the end of the 2011 season. Catcher Joe Mauer played in just 82 games last year and missed the last two weeks after he was diagnosed with pneumonia. In 2012, both Mauer and Morneau -- the Twins' "M&M Boys" -- have been healthy for nearly the entire season. "It's nice to see him out there. It's been a battle for him the last three years," Mauer said of Morneau. "I can relate to him a little bit, but I haven't missed that much time. It's not fun when you have to sit out and watch and try to do everything you can to get back out on the field." As Morneau struggled with the concussion in 2010 and again in 2011, there were questions as to whether he would ever be the same player again. There were also times when retirement crept in as a possibility if Morneau couldn't overcome the head injury. But Sunday's two-homer performance is a sign that Morneau is getting close to being the player he was earlier this decade, when he went to four All-Star games and won the American League MVP in 2006. Clearly, Morneau is not back at that level yet. Through Sunday, though, he has 19 home runs and 73 RBI (both of which rank third on the team) while batting .277. At the beginning of July, he was hitting just .239 as he dealt with a sore left wrist. "I feel better than I did in April and better than I did in May. I think I felt better in August than I did in July, so it's been building as the season's gone on just as far as confidence level, comfort level has been improving the whole way," Morneau said. "Hopefully I'll have a good month of September and go into the offseason feeling good about where my swing's at." That's the key for Morneau: the offseason. Because of his injuries the past three seasons, his winter workouts have been abbreviated. Morneau said he usually will start swinging a bat right after New Years, giving himself about six weeks of workouts before heading down to Florida for spring training. Last winter, the concussion symptoms and knee surgery meant Morneau didn't pick up a bat until February. As a result, he was still working on fine-tuning his swing during the early months of this season rather than during spring training. "That's probably the thing I'm looking forward to the most, actually, is going in and not rehabbing from the week the season ends in October until two weeks before I leave for spring training," Morneau said. "That's something that really wears on you when you don't have that time off. Just to mentally unwind and just get a little bit of time to yourself to regroup and recharge your batteries, all that kind of stuff." For the most part, Morneau has seen regular time at first base this season, with the occasional day sprinkled in where manager Ron Gardenhire will pencil him into the lineup as the Twins' designated hitter. As Minnesota looks to see what some of its younger players can provide during the season's final three weeks, Morneau may get a few days off. Yet for the first time in four years, Morneau should be finishing the season on the field instead of watching on the bench. "Obviously I've had some rough finishes the last couple years," Morneau said. "I'd prefer to be playing in a pennant race and more important games like we had in '09 that I missed and 2010 that I missed. Those kill you when you're hurt. "To play more games than I've played the last two years and just to finish strong is something that's important to me." Follow Tyler Mason on Twitter.
Original Story:
http://www.foxsportsnorth.com/09/09/1...
THE BACKYARD
BEST OF MAXIM
RELATED ARTICLES
MINNEAPOLIS Pedro Florimon made things look easy on Monday night as he patrolled shortstop for the Minnesota Twins. The 25-year-old Florimon, playing in just his 26th career big league game, turned in a pair of nifty defensive plays in Minnesota's 7-2 win over visiting Cleveland. The first of the two ended the top of the sixth inning as Florimon chased down a ground ball deep...
Justin Morneau hit his second homer of the game in the bottom of the ninth inning to lift the Minnesota Twins to an 8-7 win over the Cleveland Indians on Sunday. With one out in the ninth, Morneau hit the first pitch from Indians reliever Vinnie Pestano (3-2) just inside the right field foul pole for his 19th homer of the season. Morneau, who has four two-homer games this season...
MINNEAPOLIS The list of names kept rolling. Former players. Former teammates. Retired numbers. Every one of them holds a place in the hearts of Twins fans, but for one evening, it wasn't about them. It could have been monotonous, this name after name after name, long walk after long walk across the same stretch of outfield that current players cover so quickly. But it wasn&...
The Minnesota Twins made a lot of conspicuous moves last offseason; signing six-year free agent right-hander Samuel Deduno wasn't one of them. But even if Deduno's arrival didn't make the same splash as, say, signing left fielder Josh Willingham or catcher Ryan Doumit, it's becoming increasingly apparent that, perhaps, it was just as important. Deduno, a 29-year...
Samuel Deduno struck out six in seven innings and Pedro Florimon made two stellar defensive plays to go with a double and a triple, lifting the Minnesota Twins to a 7-2 win over the Cleveland Indians on Monday night. Deduno (6-3) gave up just three hits and walked three, Ryan Doumit homered and Justin Morneau drove in two runs for the Twins, who took the final three games of the...
What happened to the Twins? Seth S. Saint Paul, MN __________________________ Ah, yes, the Minnesota Twins. What did happen to those paragons of fundamentally sound baseball? An analysis of such depth requires patience, dedication and an insatiable hunger for the truth, so I put the RSBS interns to the task and they have provided the following slide show: 2010 New ballpark! Yay...
The Indians dropped the second game of their weekend series in Minnesota on Saturday night, falling 3-0 at Target Field. The Tribe lineup managed just four measly hits off a combination of Cole De Vries and three Twins relievers. Cleveland AB R H RBI HR BB K SB LOB Season Avg S. Choo rf 4 0 2 0 0 0 2 0 0 .283 J. Kipnis dh 3 0 0 0 0 1 0 0 1 .256 A. Cabrera ss...
Happy afternoon. Nothing better than college football. Well, I guess wat until tomorrow. A very scary incident from from the Tulane-Tulsa game, where safety Devon Walker had to be resuscitated and given a tracheotomy on the field. Hey good news! The Twins aren't raising ticket prices!\ Who will have the first pick in 2013?  SCOREBOARD MLB Kansas City 7, Chicago 5 – If they...
While the Browns were busy blowing it against the Eagles, the Indians dropped the third game of their four-game set in Minnesota on Sunday. With the game tied in the bottom of the ninth, Justin Morneau took Vinnie Pestano deep to walk off with the Twins win. Cleveland AB R H RBI HR BB K SB LOB Season Avg S. Choo rf 2 0 0 1 0 2 0 0 0 .282 J. Kipnis 2b 4 0 0 0...
MLB News

Delivered to your inbox

You'll also receive Yardbarker's daily Top 10, featuring the best sports stories from around the web. Customize your newsletter to get articles on your favorite sports and teams. And the best part? It's free!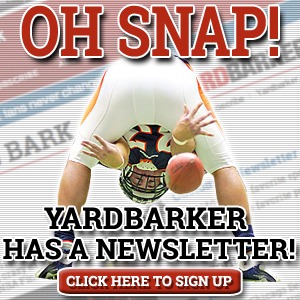 Latest Rumors
The Backyard

Today's Best Stuff

For Bloggers

Join the Yardbarker Network for more promotion, traffic, and money.

Company Info

Help

What is Yardbarker?

Yardbarker is the largest network of sports blogs and pro athlete blogs on the web. This site is the hub of the Yardbarker Network, where our editors and algorithms curate the best sports content from our network and beyond.