Found November 19, 2012 on ChadMoriyama.com:
Left field has been, is, and will in all likelihood continue to be, a vast wasteland for the Dodgers. That is, unless Carl Crawford returns to his Tampa Bay form in 2013 or the Yasiel Puig era — whenever that actually begins — proves to be worth the wait. But we're getting ahead of ourselves. Let's review 2012, which was a comedy of mediocrity flanking Matt Kemp's right side. Shane Victorino I start with Shane Victorino, not because he was any good, but because he carries with him name value. Coming off a career year in 2011, he dropped off significantly in 2012. Following a campaign in which he slashed .279/.355/.491/.846 with a .368 wOBA, The Flyin' Hawaiian hit just .255/.321/.383/.704 with a .310 wOBA this past season. That line fell even further after he was dealt to the Dodgers, as he hit a putrid .245/.316/.351/.667 with a .297 wOBA in Dodger Blue. Known as an elite baserunner with a great glove in center, some pop, and decent on-base skills, Victorino's offensive numbers crashed across the board in 2012 from his 2011 and career marks. He set or tied career worsts in ISO (.128), OBP (.321), wOBA (.310), wRC+ (94), and SLG% (.383). Shane still managed to provide some value through his legs (~5.0 baserunning) and glove (~2.5 fielding), and he ended up posting a ~3.0 WAR in 2012, but only ~1.0 WAR after the trade. Reports have Shane seeking a long-term deal this year as he hits free agency, and though he's intimated at returning only as a starter, with the aforementioned Crawford and Puig signed to long-term deals themselves — not to mention the fact that heading into his age-32 season — there's no place in a crowded Los Angeles outfield for the three-time Dodger. Bobby Abreu After being released by the Angels and qualifying to be a Dodger based on his "veteranness", Bobby Abreu started 42 games in left for the Dodgers in 2012, the second-most of any player on the team behind the previously-discussed Victorino. After a splashy start to his Dodger stint (.318/.430/.424/.854 in his first 24 games, buoyed by a .438 BABIP, no less), Abreu was right back to the player that he was at the end of his Angels career, the one that got him DFA'd: .209/.325/.302/.627 over his final 68 games as a Dodger, which included a trip to the minors. He won't be back. Please listen to that, Ned Colletti. No. Juan Rivera Juan Rivera started 30 games in left, hitting .282/.313/.376/.689 in the process. As he started more games at first than in left in 2012, he'll get a more depressing detailed write-up in that Season Review. Let's just say his WAR was ~-0.3 and move on to other, less predictable matters. ===== Greg Zakwin is the founder of the site Plaschke Thy Sweater Is Argyle. Follow him on Twitter @ArgyledPlaschke.
Original Story:
http://feedproxy.google.com/~r/ChadMo...
THE BACKYARD
BEST OF MAXIM
RELATED ARTICLES
The Arizona Fall League wrapped up this week with the Mesa Solar Sox — the team with eight Dodger prospects — finishing in last place with a 10-20 record. Now, it wasn't all the Dodger prospects fault, but there were some, shall we say, not-so-great performances from some of the fellas. I'm going to keep my eye on the Puerto Rican Winter League now, as Yasiel Puig made his...
The Dodgers should have a strong infield heading into 2013, and I'm basing that solely on the fact the Dodgers have two potentially elite offensive talents at shortstop and third base. This season, they acquired those guys later, so their impact wasn't felt as much. The team also has found its starting catcher for the next couple of years (at least) and should be in the...
When you think about bad contracts the Dodgers have made, you seem to pin point Juan Uribe. The Dodgers will have paid him by the end of his contract $21 million dollars. He is one of the most expensive bench players around the league. Honestly this guy is out of his golden days, and really was not worth $21 million, nor half of that. Let's just hope the Ned doesn't make another...
By SBRForum.com While many have been talking about how barren the Los Angeles Dodgers' pitching staff looked near the end of the season, the team had not made any major moves towards getting a fresh face for the lineup.  That is, until this past week when they secured the rights to negotiated with one Ryu Hyun-jin.  By securing Hyun-jin, the Dodgers could solidify themselves...
In an unsurprising move, the Dodgers today added right-handed pitchers Matt Magill and Steve Ames to their 40-man roster, thus protecting them from December's Rule 5 Draft. Both were members of the Chattanooga Lookouts this season and both performed well. I named Magill my Dodgers' Minor League Pitcher of the Year in September after he was the Lookouts' best starting...
TIJUANA Drawing an estimated 4,000 people to a field dedication ceremony in his former hometown Saturday, Adrian Gonzalez said he gained an appreciation for what it would mean to be the captain of Mexico's team at the World Baseball Classic in the spring. "You see how special it is and how much it means," Gonzalez said. Dodgers third baseman Luis Cruz and Gonzalez...
So you may or may not have noticed but over the last few weeks Dodgers Rumors has been rather quiet. Well three weeks ago, during an update install, one little file didn't get updated properly causing the admin portion of the site to crash. After hours upon hours of troubleshooting I figured out the problem. So I am thinking, no big deal, 20 hours down the drain, but no biggie...
In less than three months, players will be telling us how theyre all in the best shape of their lives and think this will be the season they can win the World Series. Like in any other year. Pitchers and catchers are scheduled to report to the Dodgers spring training camp in Phoenix on Feb. 12, the team announced on Monday. The first full-squad workout will be Feb. 16. Workouts...
The Dodgers met Monday with Korean left-hander Ryu Hyun-Jin and his agent, Scott Boras. There is no love lost between Boras and the Dodgers. As a matter of fact there is a lot of bitterness towards Boras among a lot of Dodgers executives. The Dodgers have been very reluctant to work with Boras over the last couple of years, perhaps with the new owners around, the Dodgers are could...
News Corp, the behemoth company that owns Fox and formerly owned the Los Angeles Dodgers, has purchased 49% of the YES Network, which exclusively airs New York Yankee games in the New York area media market. This is flying under the radar, but it's a pretty big deal. With News Corp now as the majority owner in YES, purchasing shares from Yankees Global Enterprises, Goldman...
Dodgers News

Delivered to your inbox

You'll also receive Yardbarker's daily Top 10, featuring the best sports stories from around the web. Customize your newsletter to get articles on your favorite sports and teams. And the best part? It's free!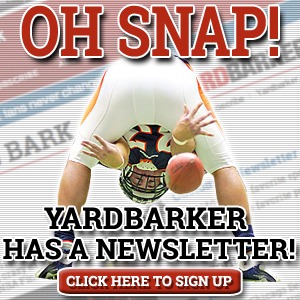 Latest Rumors
Best of Yardbarker

Today's Best Stuff

For Bloggers

Join the Yardbarker Network for more promotion, traffic, and money.

Company Info

Help

What is Yardbarker?

Yardbarker is the largest network of sports blogs and pro athlete blogs on the web. This site is the hub of the Yardbarker Network, where our editors and algorithms curate the best sports content from our network and beyond.