Found February 06, 2012 on Chop-N-Change:
Time for a guy who could be a factor for the Braves this season, but not in his current role: Erik Cordier. The 25 (26 this month) year-old Cordier was acquired from the Braves way back in March of 2007 from the Royals in exchange for Tony Pena Jr, then a shortstop. He missed all of the 2007 following Tommy John surgery, and only threw 45 innings in 2008 for the GCL and Rome. In those 45 innings, Cordier struck out 36 and walked 22.
In his first full season following the surgery, 2009, Cordier played the whole year at Myrtle Beach. The control problems that present themselves following Tommy John were still quite prevalent, as Cordier walked 74 (while only striking out 88) in 121 innings. He also allowed 13 homers, which is a little high. In 2010, Cordier was at Mississippi, and he improved a little bit, throwing 143 2/3 innings. There were positive signs from that year, as his strikeout rate increased to 7.33 from 6.55, and his walk rate fell to 4.76 from 5.50, but that mark is still way too high. On a good note, he only allowed three homers on the season, curbing his issue from 2009.
2011 was Cordier's first year at Gwinnett, and it didn't go too well at all. For the season, which includes one start at Mississippi, Cordier only threw 91 innings over 20 starts, walking 51 and striking out 65 with ten homers. His walk rate split the last two years at 5.04, his strikeout rate was the worst it's been in his career at 6.42, and the ten homers he allowed resulted in a step back in homer rate, to 0.99 per nine innings. Cordier had two appearances in the AFL this spring, throwing 2 2/3 innings, walking three, and striking out two.
At this point in time, I'm wondering if it's time to try Cordier out of the bullpen. He's only made five relief appearances (excluding the AFL) over his career, and his stuff may actually profile a bit better there. I mean, look at what happened with Jonny Venters: he turned from a non-prospect as a starter to a dominant late-game reliever. With the extreme logjam of young starting pitching at the upper levels of the Braves system, I don't see how Cordier could possibly crack the top five of Gwinnett's rotation. However, he could crack the top seven of the bullpen, which could give his career new life. If he wants to stay in the organization, that might be the best role for him.
One final note for the road. In 2009, Jonny Venters' final year as a starter, he threw 156 2/3 innings for Mississippi and Gwinnett with a 4.42 walk rate and a 5.63 strikeout rate. In 2010 and 2011, he has thrown 171 innings of relief for the Braves in Atlanta, with a 9.95 strikeout rate and a 4.32 walk rate while allowing just three homers. The conversion worked well for him, so why couldn't Cordier follow in the same path?
Check out THT's player projection for Cordier here
Photo courtesy of Daylife.com 
Original Story:
http://www.chop-n-change.com/2012-art...
THE BACKYARD
BEST OF MAXIM
RELATED ARTICLES
During a press conference this morning at Turner Field, the Braves officially unveiled yet another alternate jersey. The jerseys are identical to the ones we initially linked to last month. Here's a closeup view of the patch on the sleeve.My initial thoughts? NEEDS MORE TOMAHAWKS. No tomahawk on the front of the jersey makes me a sad panda, and takes the team down another small...
The Atlanta Braves have unveiled a new alternate home uniform that is based on the attire worn when the team moved from Milwaukee in 1966. The Braves held a ceremony Monday for Chipper Jones, Brian McCann and Dan Uggla to model the new look. Hank Aaron was also on hand. The cream-colored uniforms feature the customary Braves script across the front, but without the tomahawk that...
Eric OFlaherty made 895,000 last year, when he led major league relievers with a 0.98 ERA and became the first reliever in MLB history to finish with an ERA below 1.00 in at least 70 appearances. Backed by his incredible 2011 numbers, which included 67 strikeouts in 73 23 innings, OFlaherty signed a one-year deal worth 2.49 million in January. Andy Johnston recently chatted with...
This year the Atlanta Braves will sport new home alternate jerseys that are something of a throwback.  The cream colored alts feature blue piping, a number on the front, and lack the tomahawk under the script "Braves".  The left sleeve features a patch with two crossed tomahawks, and the year 1876, the year of the team's inception.  The unis are designed to be evocative...
The Atlanta Braves introduced new alternate jerseys today, which is their third alternate jersey (and fifth overall) that the team wears in game action. That doesn't include their batting practice/spring training jersey. But enough about the inane concept of making another jersey. The press conference that the jerseys were introduced during was laughable in its own right. First...
What else can baseball fans do in January but dream of October? In You May Say I'm a Dreamer, the Outside Corner staff will imagine the route to a World Series in 2012 title for all 30 teams. After falling criminally short of making the playoffs last season, the Atlanta Braves made up for it in a big way in 2012 by winning the whole damn thing, knocking off the three-time...
Todd Cunningham was the second round pick of the Atlanta Braves (53rd overall) out of Jacksonville State University in the 2010 draft. Upon being drafted, Cunningham was sent to Rome, where he OPSed .679 in 65 games. In those 65 games, Cunningham showed decent plate discipline (14 walks, 30 strikeouts) and minimal power (.078 ISO). He went to Lynchburg for the 2011 season, and including...
Tommy Hanson, who dealt with shoulder issues in the second half last season, is reportedly feeling good as spring training approaches. Hanson has the talent to be a top NL pitcher, but injury concerns have and will continue to plague him. Even though he pitched just 130 innings last season, his K/9 rose to almost 10, however his walk rate isn't improving like we'd expect from...
By Jim Pratt Major League Baseball is in that early-February lull that comes each offseason between the whirlwind of trade activity, but prior to pitchers/catchers reporting. With the current roster basically set heading into Spring Training, this would be a good time to fill that seasonal void by discussing what the future holds for the Atlanta Braves. The front office has made...
ATLANTA (AP) -- The Atlanta Braves have unveiled a new alternate home uniform that is based on the attire worn when the team moved from Milwaukee in 1966.
Atlanta might be known for pitching more than any other organization in the last two decades. Right now, the Braves fully intend to make the right-handed trio of Julio Teheran, Arodys Viczaino and Randall Delgado -- the team's top three prospects -- a part of their future plans, not someone else's.
Braves News

Delivered to your inbox

You'll also receive Yardbarker's daily Top 10, featuring the best sports stories from around the web. Customize your newsletter to get articles on your favorite sports and teams. And the best part? It's free!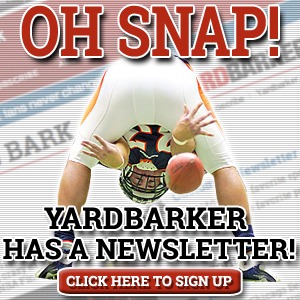 Latest Rumors
Best of Yardbarker

Today's Best Stuff

For Bloggers

Join the Yardbarker Network for more promotion, traffic, and money.

Company Info

Help

What is Yardbarker?

Yardbarker is the largest network of sports blogs and pro athlete blogs on the web. This site is the hub of the Yardbarker Network, where our editors and algorithms curate the best sports content from our network and beyond.