Found February 04, 2012 on Chop-N-Change:
Jose Constanza is a very polarizing figure among Braves fans. Some erroneously believe that he should have gotten more playing time down the stretch. Some correctly believe that all he can be is an extra outfielder due to his good speed and little else in his game. Constanza will go into camp competing for the fifth outfielder slot (yes, fifth outfielder....remember, Matt Diaz and his guaranteed contract have the fourth spot locked down), but should Braves fans expect anything higher than a replacement level performance from him?
When Constanza was called up at the end of July, he got three starts that month. A majority of his playing time came in August, where he hit .342/.392/.452. Now, a couple of things. He had a .371 BABIP during that hot stint during the month. Despite the sexy numbers across the board, his ISO was only .110 (good for a center fielder, unacceptable for a corner outfielder, where he was getting a majority of his starts), and his walk rate was an average 7.3%.
The wheels came off in September, but fans kept begging for him to get playing time. Here's a fact about Constanza's September: it was awful. He hit .174/.174/.174, going without a walk or an extra base hit in 24 plate appearances over 12 games, as he was reduced to a pinch hitting role. For what it's worth, he also went 0/2 on the bases in September after going 7/9 in August.
I'll admit it: he had a hot month of August. Good for him. But to claim that Constanza deserves a starting role is completely ludicrous. Constanza is a guy that over his entire minor league career, has a career best ISO of .109, which came in a 76 game stint in high-A back in 2006. He is the definition of a pinch runner off the bench, and not the type of guy who should be playing every day.
But honestly, he *could* be better than Matt Diaz coming off the bench. Diaz's claim to fame is that he kills lefties. Last season, his OPS against lefties was just .692. Granted, that's better than his OPS against righties of .550, but I digress. It's still really not good. Constanza on the other hand, had an OPS against lefties of .799, though he didn't have an extra base hit and was ridiculous lucky with a .441 BABIP. Personally, I wouldn't want either on my team, but if I had to choose between them....I'd rather have Constanza. I think that carrying both would be a critical mistake for this team, as it would really stifle the options that Fredi Gonzalez has.
Original Story:
http://www.chop-n-change.com/2012-art...
THE BACKYARD
BEST OF MAXIM
RELATED ARTICLES
Injured reliever Peter Moylan and four of the Braves' top prospects are among the 21 non-roster players who have invited to spring training this month. Moylan, who had back and shoulder surgery in 2011, is expected to return to the team sometime this summer. Top catching prospect Christian Bethancourt and shortstop Andrelton Simmons are among the players not on the 40-man...
5. Sean GilmartinI criticized the Gilmartin draft pick immediately when it happened because I saw no reason for a team with a glut of near major league ready pitching prospects to take a college arm that would zip through the system. Well, his performance hasn't warranted me to be irritated at him, but the point still remains: he's going to go through the system ridiculously...
Michael Bourn is a shining example of what I like most in a player in fantasy sports: consistency. His situation was greatly upgraded last season when he was traded from the lowly Astros to the Atlanta Braves at the trade deadline. However, Bourn's production (runs, average, stolen bases) remained the same after the trade. In a time where just changing teams makes players forget...
Key Stats: Craig Kimbrel had one of the most impressive rookie seasons in history. He led the NL with 46 saves, posted the 6th highest mark for K/9 in the history of baseball (with at least 25 IP) at 14.84 and won the NL Rookie of the Year Award. He did it with a fastball that averaged 96.2 mph and a slider, excuse me power curve the leaves batters looking stupid. Skeptics Say...
In 2010, Jason Heyward turned heads with a very solid season as a 20-year-old rookie. His PSR was even in the top 100, so many thought we were looking at the next big thing in fantasy baseball. Well, a combination of injuries and regression hurt his 2011 value, and he ended up ranking a very poor 376th. The good news is that Heyward is still only 21 years old and has plenty of time...
According to Mark Bowman of MLB.com, Tommy Hanson will be ready for spring training. Hanson was on his way to another strong season when a small tear in his rotator cuff was discovered in August. The tear did not require surgery, and the team shut down Hanson for the remainder of the season. Had the Atlanta Braves made the playoffs last season, there was some speculation that Hanson...
Here's a look at a few pics posted to Twitter by Braves players' themselves over the winter: Bullpen Coach, Eddie Perez, and RHP Kris Medlen.   Right Fielder, Jason Heyward, chillin' at home   Braves right-handed pitchers, Peter Moylan and Kris Medlen   RHP Peter Moylan getting inked   1B Freddie Freeman   A tribute to Braves closer, Craig Kimbrel Before you go, check...
Braves right-hander Tommy Hanson said Thursday his right shoulder is feeling good and he expects to be on a regular routine for the start of spring training.
Braves News

Delivered to your inbox

You'll also receive Yardbarker's daily Top 10, featuring the best sports stories from around the web. Customize your newsletter to get articles on your favorite sports and teams. And the best part? It's free!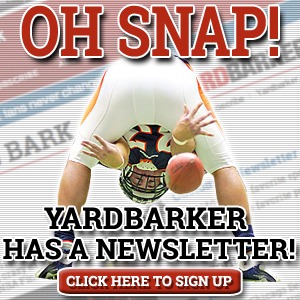 Latest Rumors
Best of Yardbarker

Today's Best Stuff

For Bloggers

Join the Yardbarker Network for more promotion, traffic, and money.

Company Info

Help

What is Yardbarker?

Yardbarker is the largest network of sports blogs and pro athlete blogs on the web. This site is the hub of the Yardbarker Network, where our editors and algorithms curate the best sports content from our network and beyond.