Found January 31, 2012 on Monkey with a Halo:
2011 was far from Torii Hunter's best season, but he did finish in a fashion that gives us hope that his old age hasn't taken too much of a toll on his abilties.  Can 2012 be the year Hunter revives his career or will it be not only his last as an Angel, but last in the majors?
(EDITOR'S NOTE: Due to the early start, not all stat projection systems are available yet, but I will update the player preview pages after the fact once they do become available)
2011 Stats: 580 AB, .262 AVG, .336 OBP, .429 SLG, 80 R, 23 HR, 82 RBI, 5 SB, 7 CS, 125 K
2012 ZiPS Projections: 513 AB, .261 AVG, .329 OBP, .331 SLG, 69 R, 20 HR, 78 RBI, 9 SB, 7 CS, 107 K
2012 Bill James Projections: 584 AB, .264 AVG, .333 OBP, .440 SLG, 80 R, 23 HR, 88 RBI, 8 SB, 5 CS, 124 K
2012 CAIRO Projections: 550 AB, .270 AVG, .344 OBP, .435 SLG, 78 R, 20 HR, 84 RBI, 9 SB, 7 CS, 110 K
2012 MWaH Projections*: 535 AB, .272 AVG, .340 OBP, .453 SLG, 88 R, 21 HR, 92 RBI, 6 SB, 6 CS, 118 K
*The MWaH projections are simply my best guess based off my own personal opinion and research
2011 in Review: Torii Hunter's 2011 season was just like Hunter's 2010 season, only in reverse... allow me to explain.
In 2010, Torii started showing signs of age taking a toll on his production.  He still was one of the Angels' best hitters, but his power output began to dip and his season really fell off a cliff during the second half of the season when he seemed positively mentally and physically exhausted.
In 2011, Torii continued showing signs of getting old.  He again was one of the Angels' best hitters (which is more of an indictment on the Angel lineup than a compliment to Torii) but his power numbers took another dip, this time with Torii posting an ISO of .167, his lowest since his first two years in the league.  But unlike 2010, Hunter started the season in a slump only to see him surge in the second half of the season.  It was almost as if Hunter was still hungover from his 2010 exhaustion as he posted a .250/.321/.396 slash line before the All-Star break.  However, he came alive after the break by way of a .278/.356/.472 line, with much of that production coming in August and September.
That secodn half line is significant because it is actually slightly above his career line of .274/.332/..467, suggesting that at age 36, this old dog still has some fight left in him.  Even more encouraging is that Torii also had a line drive rate of 21%, which is easily a career-best and yet another indication that he still has plenty of bat speed left.
Of course, the biggest development is that this was Hunter's first full season as a right fielder, a move that created room for Peter Bourjos while also hopefully allowing Hunter to put less wear and tear on his legs.  UZR (-0.7) pretty much hated his work in right, but Defensive Runs Saved actually suggests that he was the best right fielder in baseball with his +15.  The answer probably lies somewhere in between.
Three Lingering Questions for 2012:
How much does Torii have left in the tank? Torii will be 37 years old by the end of the season, but he is also a guy who has remained remarkably fit and injury-free over the course of his career.  Can he defy old age and remain quality player for one more full season?
Will this being a contract year have any affect on Hunter?  Hunter may be old, but he still thinks he has a few years left in him, years that he would prefer to spend in Anaheim.  Will that prompt Hunter to put too much pressure on himself to perform and earn a new contract?  Or will he embrace the fact that his career is nearing its end and throw caution to the wind?
How will Hunter and Pujols blend their leadership skills in the clubhouse? This shouldn't impact performance in anyway, but seeing how Torii, the jovial incumbent clubhouse leader, will mesh with the presence of the stoic, but wildly respected Albert Pujols.  If anything, it should be an interesting social experiment to see how quickly Hunter begins to defer to Pujols as the new top dog.
What to Expect in 2012: One of the biggest issues that Hunter faced in 2011 was that, even with the move to right field, he just seemed to be overworked.  That's easy to see when you note that he played 156 games and got 649 plate appearances, both of which were the second-highest totals of his career.  At his age, that was probably a bad idea.  Quite simply, Torii needs more rest if he wants to remain productive.  Last year the Angels didn't have the depth to allow for that, but they do this year and I expect Mike Scioscia to take advantage.  How do I know this?  Because Scioscia gave Hunter 14 of his 19 starts at DH after the All-Star break, which coincided with his surge.  I promise you Sosh didn't let that go unnoticed and will make sure that Hunter gets sufficient time off his legs.  That alone should give Hunter something of a dead cat bounce this year.
The other big factor will obviously be the presence of Albert Pujols.  Barring a drastic shift in thinking from Scioscia, Torii will spend his entire 2012 campaign batting directly before or, more likely, directly after Albert Pujols.  Even if Torii continues to decline, just having Albert next to him in the batting order should give him an artificial boost in runs and RBIs.  Whether or not it means he recovers some of his power is hard to predict.  That spike in line drive percentage is really throwing me.  More line drives should have meant more base hits and power, yet Hunter still hit for one of the worst averages of his career with one of the lowest ISOs of his career.  His BABIP was right on par with normal too.  Something in this whole equation just doesn't fit.
My best guess is that he can still hit the ball with authority, but his raw strength just isn't quite there anymore.  As such, a little rest and a little lineup protection will allow Torii to rebound close to his career norms, minus a little bit of power.
[follow]
Original Story:
http://www.monkeywithahalo.com/2012-a...
THE BACKYARD
BEST OF MAXIM
RELATED ARTICLES
The February 1st, 2012 edition of daily news for the Los Angeles Angels of Anaheim including yet another Trumbo...
In just under three weeks, the first of the Angels will begin reporting to Spring Training.  Despite having spent more money than the gross domestic product of the nation of Tonga on new contracts this off-season (not an exaggeration, by the way), the Angels still might have a few items on their off-season shopping list to check off before they head to the Tempe Diablo Stadium complex...
What else can baseball fans do in January but dream of October? In You May Say I'm a Dreamer, the Outside Corner staff will imagine the route to a World Series in 2012 title for all 30 teams. Dream?  The Angels don't need no stinking dream.  Reality seems to be suiting them just fine. While I would love to dream up some fantastical scenario like we have done for many...
When will life let us move on from hearing or seeing the name "Albert Pujols"? Despite being fans of the World Series Champions, life still hates us. Any time something Albert Pujols-related comes across our eyes or ears, it feels like a continuous nightmare that we can't wake up from. Sorry for dragging you into hell with us, but check out a little bit of this song...
I just got through telling you about how I think Chris Young should be a top-100 player but George, my co-contributor, doesn't value him as highly. The inverse is true for Howie Kendrick. Who knows which of us is right, but either way they're definitely two of the most polarizing players in fantasy. Kendrick will give you a good average, some useful stolen base totals and a good...
It's not unusual in the world of professional sports to hear that a parent has produced a childor childrenwho will follow them into that arena. Sometimes it's Ken Griffey watching his son Ken Jr. become one of baseball's all-time greats, even getting a chance to play on the same team and debut in the same Seattle Mariners' outfield (on August 31, 1990), hitting back...
Later this month, every team in baseball will be deploying to their Spring Training facilities to make key decisions toward their 25-man rosters. But most critical this spring for the Angels -- by far -- are the decisions Mark Trumbo and Kendrys Morales can help make for them.
Los Angeles Angels minor-league pitcher Daniel Reynolds has been suspended 50 games for a second drug violation.
Angels News

Delivered to your inbox

You'll also receive Yardbarker's daily Top 10, featuring the best sports stories from around the web. Customize your newsletter to get articles on your favorite sports and teams. And the best part? It's free!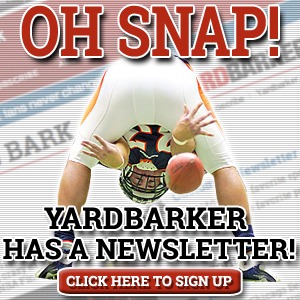 Latest Rumors
The Backyard

Today's Best Stuff

For Bloggers

Join the Yardbarker Network for more promotion, traffic, and money.

Company Info

Help

What is Yardbarker?

Yardbarker is the largest network of sports blogs and pro athlete blogs on the web. This site is the hub of the Yardbarker Network, where our editors and algorithms curate the best sports content from our network and beyond.