Found November 01, 2012 on The Southpaw:
As the ongoing speculation rages over the Jays manager position, about which I have not enough information to add anything worthwhile except as already stated regarding the coaches, I will get back to my series and in so doing I come to the position which is likely the weakest in the system, in terms of depth of potential major leaguers. Nevertheless, it must be addressed so let's dig in.1. Matt Dean (12/22/92) - A year ago, Dean was considered to be quite the coup for the Blue Jays. A "hard sign" - so it was believed - he fell down the draft boards all the way to the 13th round where the Jays took a gamble and made it pay off by getting Dean's name on a contract. A power-potential 3B who was said to have good contact skills and solid or better defense. John Sickels ranked him the Blue Jays 16th best prospect last spring. Funny thing is, that guy kinda didn't show up this season. The power was nothing remarkable, the contact was worse, and the defense was awful. He made 24 errors in short season ball and eye-on reports insist the total is not at all deceptive. That said, you cannot simply dismiss a guy's glamorous prospect status over a shaky debut season as a pro. On tools and ability, he's well ahead of the next guy on this list. Check with me again a year from now.2. Mike McDade (5/8/89) - I'll get some grief for not listing him #1, and in truth I'm going to regret not listing him #3 I fear. McDade has impressed some fans, in some respects - but ask any professional evaluator (at least those who comment publicly like Keith law or Kevin Goldstien) and they will tell you the guy's not a major leaguer. I remember when Brian Dopirak impressed a lot of us, to some degree, for a time, and we were told repeatedly he was a non-prospect. That evaluation was correct. McDade will have to prove the doubters wrong. Maybe he will.3. Mitch Nay (9/20/93) - in some ways he brings a rep similar to the one Dean brought to his signing. While Dean signed too late to play in 2011, Nay signed earlier - thanks to the new rules - but promptly suffered an ankle injury that kept him off the field through the end of the rookie league season.  So we've seen nothing professional from him yet and this ranking is based entirely on the scouting reputation he brought into draft day.4. Kellen Sweeney (9/14/91) - Sweeney was drafted in 2010 with a reputation as a guy with had a very good bat tool and a solid to plus glove, but perhaps would lack the power usually expected from a third baseman. The defense has been as advertised, but the bat has been slow to appear. He started 2012 in Lansing and played his way back to short season ball when those teams got started. Initially, nothing changed as he continued to struggle into Late July. Then something clicked in. August was far and away his best month as a pro. His numbers soared across the board and his K rate fell by half from it's July figure. He posted an .802 OPS for the month. If Sweeney has ironed out his offensive issues he could still end up rebuilding his status.5. Gustavo Pierre (12/28/91) - last year it was Pierre who played himself out of Lansing. Shipped back to short season ball he continued to struggle horribly both on offense and defense. He did begin to recover with the bat a bit towards the end of the season, but the progress was tempered by the fact that he was at Bluefield, and by the reality that he was clearly never going to cut it as a shortstop. He opened 2012back at Lansing, and playing 3B. While he learned to handle the new defensive position, his offensive struggles continued into the new season. He missed April, was abysmal in May, and bad in June. By the first days of July it was growing near impossible to consider him even a fringe prospect anymore, tools or no tools. But then, as with Sweeney, something clicked in. From July 1 to the end of the season he posted an OPS of .779 which was far better than he'd shown himself capable of before. There's still a major hole in his game when it comes to BB:K ratios (an area where Sweeney is MUCH better). But it's no longer completely silly to think he might recover his once highly regarded status.6. Gaberiel Cenas (10/16/93) - still looking to find his bat as a pro, but played the year as an 18 year old when some prospects are just getting drafted. He was paid well enough to sign as an international free agent that we should with caution give up on him.7. Art Charles (11/10/90) - low average, lots of sexy homers, seems to have a knack for good timing. So why isn't he higher? Because he's older than everyone on this list but McDade (who's in AAA) and he spent the year in short season ball. The sort of guy who'll be quickly exposed at higher levels.8. KC Hobson (8/22/90) - I really want to be able to list this guy higher, and he did improve his offense substantially this year (from weak to below average) but he as repeating Low-A and his age is catching up with him. More importantly than that, however, is that he seems to be an absolute butcher at 1B (he made 25 errors in 2011, 18 in 2012 - horrid for 1B). If he's going to be a DH he has to have an eye-popping bat at this level and it's just not there so far.9. Jon Talley (2/18/89) - this was the year Talley pretty much had to step up big time or be regulated to organizational soldier. He didn't. In  fact, his HR total fel by over 50% despite having more at bats.------------------------------------------------------------------------------------------------------On an entirely different note - and frankly one deserving of it's own post, except that I've posted so irregularly that I simply HAD to get another installment of the series in, things are changing at The Southpaw. Due to the fact that this summer has seen my post rate fall dramatically as real life considerations have intruded on my time (which given my tendency toward procrastination is magnified) I've decided to add a "junior partner." It has not escaped my notice that as the post frequency has declined, so has the readership and the comments in response. This is to be expected but is nonetheless regrettable.When Martin Klayman approached me about possibly doing some writing for the site it was a welcome solution to the dilemma. In the next few days you will see the first of what will hopefully be many fine entries from his keyboard and i hope that you will make him feel welcome. We may not always agree, but the work I've seen in the early going seems to reflect my general take on the Toronto Blue Jays. You all know that my specialty is realistic optimism. I refuse to surrender to the chronic cynacism and negativism I see in so many of my fellow fans. As long as Martin stays clear of that cancer, we should get along famously. I hope you agree that he's a valuable addition here.Look for his first post in the next couple of days.
Original Story:
http://thesouthpawbaseball.blogspot.c...
THE BACKYARD
BEST OF MAXIM
RELATED ARTICLES
The Toronto Blue Jays have exercised their $3 million option on left-hander Darren Oliver and have signed outfielder Rajai Davis to a one-year, $2.5 million contract after declining the option on his previous two-year deal. Davis hit .257 with 24 doubles, eight home runs, 43 RBIs and 46 stolen bases last year. The Blue Jays held a $3 million option for 2013 with a $500,000 buyout...
Ricky Romero had arthroscopic surgery on his throwing elbow and platelet-rich plasma injections to his ailing knees according to Sportsnet.  Romero did admit that he pitched with pain throughout the season thus leading to an MRI at the end of the year. Doesn't this make you wonder that things were worse than what people led on?  If your elbow is hurting that much that it...
Toronto Blue Jays pitcher Ricky Romero had arthroscopic surgery on his left elbow Tuesday. The lefty went 9-14 last season for the Blue Jays, while posting a 5.77 in 181 innings. The 27-year-old will need six weeks of recovery time. He also received platelet-rich plasma injections in both knees to help his recovery from quad tendinitis.
As you might have read in the addendum to the previous post, I'm the new guy around here. I just wanted to say that I'm very excited to have the opportunity to be a writer for this blog and I look forward to sharing ideas and opinions with Blue Jays fans worldwide. Of course, discussion is always more fun than monologues, so comments are always welcome and encouraged. Below...
Only three times in their 36-year history have the Toronto Blue Jays hired managers with previous major-league experience. That may be about to change. The Blue Jays are leaning toward hiring a manager who already has done the job, according to major-league sources. Several of their reported candidates - notably, Cleveland Indians bench coach Sandy Alomar Jr. - remain secondary...
Just when Darren Oliver is out, he pulls himself back in. And he keeps getting better.
The Toronto Blue Jays are casting a wide net in their search for rotation upgrades, already showing interest in free agents Zack Greinke, Anibal Sanchez, Kyle Lohse and Ryan Dempster, among others, according to major-league sources. Toronto was a surprising contender in the American League East – much like Baltimore, the eventual wild card-winner – but fell out of the race after...
Blue Jays News

Delivered to your inbox

You'll also receive Yardbarker's daily Top 10, featuring the best sports stories from around the web. Customize your newsletter to get articles on your favorite sports and teams. And the best part? It's free!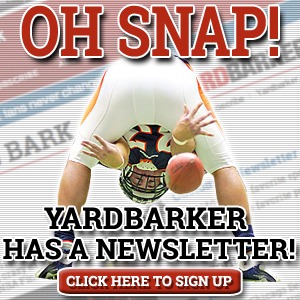 Latest Rumors
Best of Yardbarker

Today's Best Stuff

For Bloggers

Join the Yardbarker Network for more promotion, traffic, and money.

Company Info

Help

What is Yardbarker?

Yardbarker is the largest network of sports blogs and pro athlete blogs on the web. This site is the hub of the Yardbarker Network, where our editors and algorithms curate the best sports content from our network and beyond.