Found October 04, 2012 on NorthWest Sports Beat:
PLAYERS:
Felix Hernandez
,
Charlie Furbush
,
Kyle Seager
,
Michael Saunders
,
Michael Pineda
,
Jesus Montero
,
Hector Noesi
,
Danny Hultzen
,
Nick Franklin
,
Franklin Gutierrez
,
Dustin Ackley
,
Justin Smoak
,
Ichiro Suzuki
TEAMS:
Seattle Mariners
,
New York Yankees
,
Oakland Athletics
,
Baltimore Orioles
,
Tampa Bay Rays
Finding the good in the bad It's been a long season for the Seattle Mariners, and personally a long season for this pundit. I've done a lot of these "love 'em & hate 'em" pieces for a lot of games. Some were fun, some were horribly depressing. That's pretty indicative of the 2012 Seattle Mariners. At times they were a joy to watch. Other times, it was all you could do to look away. Here are a few of the best, and worst, points of the 2012 season. Love 'em Felix Hernandez Throws a Perfect Game By far the biggest highlight of the year. Perhaps even one of the biggest moments of the franchise. August 15, 2012, Safeco Field, the Seattle Mariners versus the Tampa Bay Rays. Starting for the M's would be Felix Hernandez.
He stepped onto the mound one of the best pitchers in Mariners history. Nine frames later and he stepped off as the best.
Nine innings, 12 strikeouts, zero hits, zero walks and zero errors. Not only was this the first perfect game of Hernandez's career, but the first in Mariner history. It was certainly a huge highlight on the season, and one it seemed Felix was destined to make. This moment was the pinnacle of Mariners baseball in 2012 The perfecto came in the middle of an August stretch that would see the King go 4-0 with a 1.08 ERA, 0.576 WHIP, 6.20 K/BB ratio and three complete game shutouts. Breakout Seasons When things are going rough you can always turn to the future. And despite the final standings, Seattle has a bright road ahead. That came through with a lot of breakout seasons by different Mariners. These three I found to be the biggest. 1. Charlie Furbush: the 26-year old lefty posted a 5-2 record with a 2.72 ERA, 0.950 WHIP and 10.3 K/9 in 46.1 innings of relief. Nearly 30% of his appearances would span more than one inning, making him Seattle's most reliable reliever all season long. 2. Kyle Seager: playing in his second season with the club, the 24-year old lead the team in home runs (20), RBI (86) and OPS (.738). He was a beast on the road, posting a .835 OPS with 15 of his home runs coming away from Safeco Field. 3. Michael Saunders: finally given a starters gig, Saunders ran away with it in 2012. He finished the season hitting .247/.306/.432—tying Seager for OPS—with 19 home runs and 21 stolen bases. Internal Building Becomes the Focus In continuation with Jack Z's bottom line, the Mariners continued to build internally in 2012. Before the season even started they traded starter Michael Pineda to the New York Yankees for Jesus Montero and Hector Noesi. This gave them the middle of the order bat they desperately needed, and a reliable back-end of the rotation starter. This season's amateur draft was a huge success, with the Mariners taking catcher Mike Zunino with their first round pick. Zunino was considered the best college prospect in the draft, and finished the season with a 1.137 OPS and 13 home runs in the minors. A major focus was turned towards the Mariners slew of top prospects. The biggest attention grabbers were pitcher Danny Hultzen and shortstop Nick Franklin, both of whom made it to AAA Tacoma on June 19th. Hate 'em Another Tough Year to Swallow The Mariners didn't come into 2012 with huge expectations. But as the season went on it seemed anything was possible, especially with the success of teams such as the Oakland Athletics and Baltimore Orioles. While Seattle had some major hot streaks, they never lasted. The team constantly took one step forward, and two steps back. This season's 75-87 record is Seattle's third losing season in a row, though it is their best mark since 2009. The season was mired in injuries and inconsistent play. Several players couldn't do anything at home, while others completely fizzled down the stretch. All-in-all it was just another losing season for the Seattle Mariners. Disappointments While the Mariners enjoyed several breakout campaigns, there were also several disappointing ones. Guys who needed to take that next step in their baseball development, and failed. It was painful, but the right move for everybody. 1. Franklin Gutierrez: after taking a major step back in 2011, the Mariners needed a big year from Guti. While his stats finished strong, the center fielder only played in 40 games for the M's because of constant injuries. 2. Dustin Ackley: after a great rookie season in 2011, Seattle had big hopes for Ackley. He ended the season hitting a mere .226/.294/.328. 3. Justin Smoak: many saw this as Smoak's last chance with the team, and while he blazed through September it doesn't erase the entirety of his disappointing season. He finished the year with a .654 OPS—the lowest of his career. Saying Farewell in Right While the July 23rd trade of Ichiro Suzuki was the right thing for both parties, it was still a sad thing to see.
Ichiro seemed constantly out of place for the 2012 Mariners, and was a weight on that lineup. After hitting a mere .261 on the year he requested a trade, and was shipped off to New York.
Seattle relieved itself of financial responsibilities, while Ichiro is headed to the playoffs for the second time in his career. It is still sad to see the once face of the franchise in pinstripes. His 10 and a half seasons in Seattle will never be forgotten. When he's inducted into the hall of fame, I have no doubt it'll be wearing No. 51. CLICK HERE TO CHECK OUT THE MARINERS BLOG IN OUR CLUBHOUSE TODAY AT NWSB! © Jonathan Irwin for North West Sports Beat, 2012. | Permalink | No comment | Follow NWSB on Twitter or join US on Facebook for real-time updates OR... | Share This on Twitter | Share NWSportsBeat.com on Facebook Post tags: Charlie Furbush, Danny Hultzen, Dustin Ackley, Felix Hernadez, Franklin Gutierrez, Hector Noesi, Ichiro trade, Jesus Montero, Justin Smoak, Kyle Seager, Love Em Hate Em, Mariners blog, Michael Saunders, Mike Zunino, Moments In Time, Nick Franklin, Seattle Mariners
Original Story:
http://www.nwsportsbeat.com/mariners/...
THE BACKYARD
BEST OF MAXIM
RELATED ARTICLES
Apparently, Mariners utility player Chone Figgins doesn't want to be with the team anymore. He told John Hickey of SportsPressNW.com that "I can't take 2 more years of this." Well Chone, I'm sure the feeling is mutual from your employers. They've paid you $28 million over the last three seasons (which includes a $2 million signing bonus), and you've...
The Seattle Mariners recently concluded the 2012 campaign with a record of 75-87, an eight game improvement from last season (67-95).  With the rest of the A.L. West playing well above .500 baseball, they still finished in last, their seventh last place finish in the last nine years.  Of course, with the Houston Astros coming to the A.L. West, the Mariners should snap their last...
With a debate settled over whether the Seattle Mariners will move in their fences in 2013, the question now is whether that will make any difference for one of the worst offensive teams in baseball. There is no question the Mariners are an improving ballclub, as evidenced by their eight-win jump to 75 victories in 2012. Their pitching remains a strength, led by Felix Hernandez,...
The Seattle Mariners will not retain hitting coach Chris Chambliss for 2013 after another season during which their offense was among the worst in baseball. The Mariners made the announcement on Thursday. The rest of Seattle's coaching staff will return next season. Chambliss was Seattle's hitting coach the past two seasons. The 63-year-old previously was the hitting coach...
On Wednesday night, the New York Yankees, as is baseball tradition, celebrated their American League East title with some champagne-dumping shenanigans in the clubhouse. Ichiro, who joined the Yankees on July 23 after he requested a trade from the Seattle Mariners after 11+ highly productive seasons with the team, was the victim of a champagne [...]
Things have improved for the Seattle Mariners offensively in the last 12 months, indeed in the last 24 months, but they haven't improved nearly enough to rid general manager Jack Zduriencik of the notion that he's got to rework the lineup options he gives to manager Eric Wedge going forward. Seattle finished last in the league in batting average, runs, hits and on-base...
The Seattle Mariners announced they will not renew the contract of hitting coach Chris Chambliss. "We will begin an immediate search for a new hitting coach,'' Mariners general manager Jack Zduriencik said in a statement released Thursday. "As we go through the process of getting this team where we want it to be, the coaches are a big part of it.'' Chambliss...
The Seattle Mariners had one of their worst weeks in these past two September series against AL West rivals Los Angeles Angels (88-71) and Oakland A's (91-68). This was when we wanted them to break some hearts—cause some tears—since they aren't going to be competing in the playoffs. However, even though the Mariners lost 2 of 3 to the Angels, they outscored them in the 3...
Casper Wells tied a career-high with five RBIs including a three-run homer in Seattle's six-run seventh inning, and the Mariners closed out the season with a 12-0 rout of the Los Angeles Angels on Wednesday. Angels' star rookie Mike Trout went 2-for-3 at the plate with a double leading off the sixth and a single in the eighth to finish the season with a .326 average. That...
I think we can all agree the most surprising thing here is that there were actually people attending a Seattle Mariners home game. The good news for all the fans here is that because of their 'derp'... [[ Read More ]]
MLB News

Delivered to your inbox

You'll also receive Yardbarker's daily Top 10, featuring the best sports stories from around the web. Customize your newsletter to get articles on your favorite sports and teams. And the best part? It's free!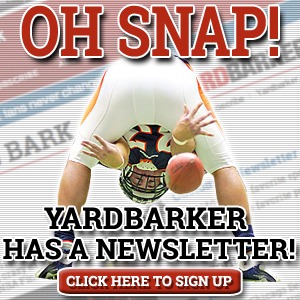 Latest Rumors
Best of Yardbarker

Today's Best Stuff

For Bloggers

Join the Yardbarker Network for more promotion, traffic, and money.

Company Info

Help

What is Yardbarker?

Yardbarker is the largest network of sports blogs and pro athlete blogs on the web. This site is the hub of the Yardbarker Network, where our editors and algorithms curate the best sports content from our network and beyond.