Found January 14, 2013 on Monkey with a Halo:
The MWAH prospect countdown marches on with yet another left-handed reliever but one who hasn't even thrown a pitch in the Angels organization yet. Brandon Sisk Position: Relief Pitcher  Highest Level: Triple-A Throws: Left  Height: 6'2" Weight: 220 lbs. Age: 27  Born: 7/13/85 2012 Season Stats Triple-A: 67.1 IP, 3-2, 8 SV, 2.54 ERA, 59 H, 32 BB, 8 HR, 73 SO, 0.61 GO/AO, 4.05 FIP, .297 BABIP Fastball – B-.  It isn't necessarily Sisk's velocity that makes his fastball a good pitch.  It generally sits at 90-91 mph, but Sisk's deceptive delivery, the movement of the ball, the aggressiveness with which he uses it and his ability to spot it wherever he wants.  Sisk won't overpower hitters, but he will induce his fair share of batted balls that aren't squared up, especially against lefties.  Off-speed Pitches – B-.  Sisk offers a very good change-up.  He uses the same arm angle, and while his arm speed slows down slightly, his deceptive delivery prevents hitters from being able to pick it up.  Sisk also throws a slider, but this is nothing more than an average pitch that serves the purpose of keeping hitters honest and keying on his change up. Control – B.  Sisk's career 3.6 BB/9 is rather solid for a reliever.  Unfortunately he posted a somewhat unsightly BB/9 in AAA last season, but not nearly as bad as most Angel relievers.           Command – B+.  Before 2012, Sisk proved he had the ability to pound the zone and consistently shut down opposing offenses.  It isn't as if he didn't do this in AAA in 2012, he was utterly dominant most times, but he walked more hitters than preferred.  Still, Sisk rarely missed his spots and didn't leave the ball up or out over the middle of the plate.   Mechanics – B+.  Sisk has extremely simple "drop & drive" mechanics.  Meaning it's a repeatable, easy delivery that involves a high leg kick, good use of his legs and very good reach of his throwing arm toward the plate.  The only thing really preventing this from being an "A" grade is the fact that he puts quite a lot of effort into it, it isn't as free and easy as many starters.   Performance – A-.  The man posted a 2.54 ERA in the most difficult pitching environment in the world (Pacific Coast League).  He owns a 2.59 career ERA in the minors and owns a 9.9 K/9.  There's quite literally nothing left to prove in the minors, yet I get the feeling that given the Angels recent acquisitions, that's exactly where he's headed. Projection – C.  Sisk doesn't project to be anything more than a lefty reliever in the major leagues.  But as we've seen, those can be TREMENDOUSLY valuable.  Still, Scott Downs didn't project to be anything more than a lefty reliever and across the last few years he's been one of the best relievers in baseball.     Estimated MLB Arrival Date – 2013. (*As always, the above scouting report is provided by Scotty Allen of LA Angels Insider) Season Summary: As of right now, Brandon Sisk is known to Angel fans merely as "the scrub they got from KC for Ervin Santana."  However, Sisk does have a chance at some day being known as "the decent lefty reliever they got from KC for Ervin Santana."  Lofty aspirations, I know.  It is easy to see why people were not at all excited about getting Sisk from the Royals.  He's 27 years old and has never pitched in the majors even though he has been in the Kansas City organization.  Of course, that might actually be why he hasn't reached the pros yet.  The Royals big league club stinks, but their farm system is bursting with talent, which makes it hard for a low-ceiling guy to break through.  Nor does it help that the Royals major league bullpen is actually very good and very deep.  That has all conspired against Sisk to make him look like less of a prospect than he really is. Sisk may have been toiling in the minors for five years, but his stats have been pretty good the whole time.  If you compare him to Andrew Taylor, who is one spot behind him on this prospect list, Sisk has the stats you wish Taylor did.  Sisk has missed bats at every level (close to 9.00 K/9 every season) and has only had one year where his ERA was higher than 2.54.  Like Taylor, Sisk has also been facing more righties than lefties in his time, which makes his numbers all the more impressive since he does profile as a left-handed specialist in the majors.  What's encouraging about Sisk though is that his platoon splits aren't wildly out of whack.  His K/9 rate in Triple-A last season is practically identical against lefties and righties as is his batting average allowed.  Even his walk rate isn't all that much worse against righties for his career.  The biggest issue seems to be how hard righties hit him.  In his minor league career his his HR/9 allowed against lefties is a stingy 0.19 but a discouraging 1.16 against righties.  Overall his lefty-righty OPS split is .545 versus .713.  That is a big gap, but it isn't like he is totally useless against righties, which suggests that he could actually have a slightly higher ceiling than LOOGY.  But even if he isn't, he is so deadly against left-handed hitters, he could make for a very good LOOGY. What to Expect in 2013: Like the aforementioned Taylor, Sisk is blocked at the big league level by Downs and Burnett.  As such, he will be spending the season in Triple-A where he will have to show that his stuff can still play at the high altitude.  If it does, he should be the first one to get the call if/when Downs or Burnett goes down to injury.  Right now, Sisk has the inside track since the organization obviously liked him enough to trade for him, but they could sour on him once they get their eyes on him, especially if his control issues get exacerbated by the thin air. [follow]
Original Story:
http://www.monkeywithahalo.com/prospe...
THE BACKYARD
BEST OF MAXIM
RELATED ARTICLES
THAT'S A HUGE FISH!
Over the weekend we noticed that Mike Trout, his family, and most importantly his girlfriend Jessica Cox were heading to Key West for a little vacation. They seem like a rather tame bunch so we weren't expecting much, especially with the whole family joining them. We checked his Twitter account this morning anyways, just doing our due dilligence, and what we saw was even better...
Every offseason you've been accustomed to our long winded season preview of the Los Angeles Angels -- and while you're still going to get one from AngelsWin.com in the upcoming weeks -- here's a different twist on what's to come from the Los Angeles Angels in 2013, from Rafael Rodriguez - AngelsWin.com's Video Producer.  Enjoy!
Baseball fans have been waiting for the day when Mike Trout would come back from an ocean expedition with a giant aquatic animal at the end of a pole. It would be a day for wordplay and wittiness, of puns and potshots. What else can you ask for when you have a great outfielder named Trout? But alas, Trout has caught his first fish, and it's so big that we can only tip our hats...
Ladies and Gentlemen, here are the winners of our 'Best Of 2012' series voted on by the fans and members at AngelsWin.com. A GREAT job all around to everyone involved and BIG thank you to all you who participated in the voting. There was incredible moments and contributions from our writing staff this past here. Here's some of the best of 2012 below.   Best AngelsWin...
The Angels avoided arbitration with pitcher Jerome Williams on Tuesday, agreeing to terms with the right-hander on a 2-million contract for 2013. Four other Angels -- pitchers Jason Vargas, Tommy Hanson and Kevin Jepsen and third baseman Alberto Callaspo -- filed for salary arbitration Tuesday and are set to exchange figures Friday. If the team and players can't come to terms...
By Gregory Bird - AngelsWin.com Columnist Can our new number two hitter be as productive as Hunter was for the Halos last year? Can the Angels fill the hole left by Torii's departure or will it be a black hole? How can the Angels maximize their production and fulfill their preseason billing as the most dynamic offense in the Majors? In trying to tackle this I discovered it was...
Is it just me, or does it seem as if Mark Trumbo is destined to find himself in the hot seat every off-season? At this time last year there were questions floating about regarding Mark Trumbo and his ability to play third base every day. Mark Trumbo proved his critics right, playing terrible defense at the hot corner for only 8 games before finding refuge in the outfield. Trumbo...
Right-hander Jerome Williams has avoided arbitration with the Los Angeles Angels on Tuesday, agreeing to a one-year deal. The veteran went 6-8 with a 4.58 ERA for the Angels last season, making 15 starts and spending long stretches in the bullpen. Williams likely will start the season as a long reliever for Los Angeles this spring, with Jered Weaver, C.J. Wilson and new arrivals...
After a quick glance at the Top 15 list it should be fairly clear that this is one of the weakest minor league systems in Major League Baseball. Poor drafts (mainly due to lost draft picks from free agent acquisitions) and trades have decimated the system, which has almost no starting pitcher depth to speak of.   #1 Kaleb Cowart (3B) Age PA H 2B HR BB SO SB AVG OBP SLG wOBA...
The January 15th, 2013 edition of daily news for the Los Angeles Angels of Anaheim including Angels announce spring training invitees, Trout catches 550-pound fish and much more... The Story: The Angels released their full list of non-roster invitees for training camp. The Monkey Says: Most of them were already known, none of them are very exciting.  Luis Rodriguez and Brendan...
The Single-A affiliate of the Los Angeles Angels are rolling out a tasty promotion this season.On Friday, April 5, the Inland 66ers will hold Farewell to Twinkies Night on the heels of the announcement that Hostess is shutting down their operations.The organization has also extended an offer to actor Woody Harrelson, who in 2009, starred as the Twinkie obsessed Tallahassee in the...
Mike DiGiovanna of the Los Angeles times reports that reigning American League Rookie of the Year and MVP runner-up Mike Trout will not accept an invitation from the United States officials to play in the World Baseball Classic.  Even more telling, the source was his agent: [Trout's Agent Craig] Landis said that Trout "just wanted a regular spring-training preparation,"...
MLB News

Delivered to your inbox

You'll also receive Yardbarker's daily Top 10, featuring the best sports stories from around the web. Customize your newsletter to get articles on your favorite sports and teams. And the best part? It's free!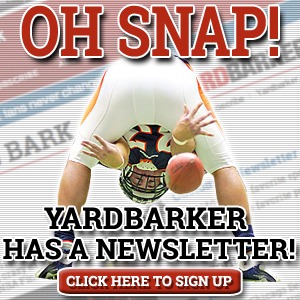 Latest Rumors
Best of Yardbarker

Today's Best Stuff

For Bloggers

Join the Yardbarker Network for more promotion, traffic, and money.

Company Info

Help

What is Yardbarker?

Yardbarker is the largest network of sports blogs and pro athlete blogs on the web. This site is the hub of the Yardbarker Network, where our editors and algorithms curate the best sports content from our network and beyond.