Found January 09, 2013 on Monkey with a Halo:
The MWAH prospect countdown marches on with a former first-rounder looking to rebuild his prospect stock after nearly two years after losing nearly two years to Tommy John surgery. Cam Bedrosian Position: Pitcher  Highest Level: Low-A Throws: Right  Height: 6'0" Weight: 205 lbs. Age: 21  Born: 10/2/91 2012 Season Stats Low-A: 82.2 IP, 3-11, 6.31 ERA, 91 H, 52 BB, 5 HR, 48 SO, 1.11 GO/AO, 5.00 FIP, .313 BABIP Fastball – A-.  Bedrosian's fastball routinely clocks in 92-97 and sits around 94-95.  It has what I call a "jump" to it, which means it isn't a straight mid-90's heater, it tends to rise at times and fools the human eye into thinking the ball is gaining velocity as it reaches the hitter (it is the other way round).  This is very similar to Kevin Jepsen, who also has a "jump" in his fastball, but the opposite of Jordan Walden, who's downhill plane and angle of the fastball are completely straight. Off-speed Pitches – B.  Bedrosian has a major league quality slider.  He throws it in the mid 80's and it gives no real "loop" before diving down and away from right handed hitters. This pitch can be particularly deceptive.  He also offers a slow looping curve that was his go-to off-speed pitch in high school.  He's since abandoned the curve but will more than likely use it later on if he remains in the rotation.  I'm told he has a change-up as well, but I have not seen it.     Control – D.  As you can imagine, coming off Tommy John surgery and having never really pitched professionally, Bedrosian would have a rocky start to his career.  His BB/9 is currently sitting at 5.7.  Not the worst, but also not anywhere near acceptable.       Command – D+.  Again, this grade changes from pitch to pitch.  From what I can tell, Bedrosian has pin-point control with his fastball. But his slider rarely stays in the zone (which isn't always a bad thing, you normally want to bury this pitch when ahead in the count) and he lacks a feel for the curve.   Mechanics -  B-.  Bedrosian's short-arm delivery is both beneficial and harmful.  It helps in that he hides the ball well, doesn't have an overly complicated delivery and can hold runners on.  It hurts in that it puts extra tension on the elbow and shoulder and could lead to health issues.  His delivery is very repeatable, but he struggles with point of release. However, when you look at his windup, it has "RELIEVER" written all over it, which can be disconcerting for those hoping he'll be a starter.  It is rushed and requires a bit of energy.  I do like that he stands straight ad is very balanced throughout the process though.       Performance – I (incomplete).  I wouldn't look into this grade too much.  Simply put, we haven't seen the real Cam Bedrosian yet.  He was a 1st round pick in 2010, which means two things in this case.  1. He has upside.  2. The fact that we're headed into 2013 and still have no idea who this kid is, is probably a pretty bad thing.   Projection – B.  That's all Bedrosian is at this point, projection.  If his change-up develops, his command/control progresses at each level and he stays healthy, he could be a mid-rotation starter.  If not, he still has the fastball/slider combo to be a lethal late inning reliever. Estimated MLB Arrival Date – As a starter: 2017, as a reliever: 2015. (*As always, the above scouting report is provided by Scotty Allen of LA Angels Insider) Season Summary: Way back when he was drafted, Bedrosian was supposed to be a top ten Angel prospect, but that was before his pitching elbow imploded.  The end results was Cam having to go under the knife for Tommy John surgery.  As a result, he sat out just shy of two years getting his elbow healthy again.  With that in mind, one probably shouldn't put too much stock in his numbers this last year.  That's probably a good thing because his numbers are pretty ugly.  If there is any thing to take away from his stats, it is that they did not really improve from month-to-month, which is what one would expect to see from someone recovering from TJ surgery. The good news for Bedrock Jr. is that his velocity seems to be all the way back.  That is the biggest concern after major surgery, so he appears to have cleared that hurdle.  However, that velocity hasn't helped him miss any bats, which is something to keep an eye on going forward.  His control was also pretty lousy, but it was never that good to begin with, so it remains to be seen if this was a side effect of his recovery or not. What to Expect in 2013: Cam just turned 21 and doesn't even have 100 professional innings under his belt yet, but 2013 is starting to shape up as something of a make-or-break year for him, at least as a starting pitcher candidate.  Bedrosian isn't going to be able to hide behind the Tommy John surgery excuse next season, so he is actually going to have to deliver with some good looking on-field statistics.  As mentioned before, his strikeout rate is pathetic for a guy with his velocity in the low minors.  If he can't figure out a way to start generating whiffs, it wouldn't be the least bit surprising to see him transitioned into a relief role where he can hopefully produce better results since he'll be able to cut loose and throw in the high-90's all the time and not worry quite so much about his poor (but hopefully improving) command. One key thing to remember though is Bedrosian is still very young, so the organization can afford to be patient with him.  Having him repeat Low-A ball might not be encouraging for a guy drafted in the first round, but he clearly has a lot to work on to get his career back on track and needs to be in an environment where he can make those adjustments without risking his confidence being shattered in the process. [follow]
Original Story:
http://www.monkeywithahalo.com/prospe...
THE BACKYARD
BEST OF MAXIM
RELATED ARTICLES
The January 8th, 2013 edition of daily news for the Los Angeles Angels of Anaheim including ZiPS projects the Angels, thoughts on Bourjos' job security and much more... The Story: The 2013 ZiPS projections are now available for the Angels. The Monkey Says: The good news is that the rotation shapes up a bit better than most expect.  The bad news is that ZiPS does not...
While Albert Pujols is hitting home runs for the Los Angeles Angels...his wife Deidre is swinging for the fences in the kitchen.Sorry.  I had to go there.What apparently began as a "hobby" in 2008 is now a full-fledged business.  Introducing...Pujols Kichen cookware!  No, seriously, the Pujols family is in the business of selling pots and pans.From the website:Pujols...
The January 11th, 2013 edition of daily news for the Los Angeles Angels of Anaheim including Trout named the best player under 25 years old, finding a home for Vernon Wells, Jerry Dipoto responds to fan's letter and much more... The Story: Mike Trout tops Keith Law's list of the 25 best players under the age of 25. The Monkey Says: Well, he is the best player in all...
The winter of 2011 brought a wave of new beginnings for the Angels.  After two consecutive years without a post-season appearance, Tony Reagins resigned.  Jerry "JeDi" Dipoto came in and somehow managed to pick up the two biggest free agents on the market: Albert Pujols and C.J. Wilson.  Analysts and fans alike made their predictions: the Angels were to be the...
By Greg Bird - AngelsWin.com Columnist This began as a single article about who should hit number 2 in the line-up and as I looked into the stats I figured we first needed to talk about the most successful Angels' two-hole hitter last year, Torii Hunter. As I researched Torii's performance last year this article developed into two parts, both of which, I believe, are necessary...
The January 9th, 2013 edition of daily news for the Los Angeles Angels of Anaheim including getting excited about Mike Trout, Pujols now selling a line of cookware and much more... The Story: Getting excited about Mike Trout's improvement in 2013. The Monkey Says: You know what's weird?  Everyone writes about how Trout will regress.  Nobody is talking about the...
With the new year off to a jump-start, the gyms are packed, the e-cigarettes are flying off the shelves and self-improvement is on everyone's mind. Every new year brings a clean slate. It can be seen as a 365-day chance for people to re-evaluate and improve themselves. Professional athletes are no exception. Far from it, the pinnacle of human ability is only achieved by continuing...
The January 10th, 2013 edition of daily news for the Los Angeles Angels of Anaheim including Grichuk invited to training camp, wondering when an Angel will get into the Hall of Fame and much more... The Story: Randal Grichuk has been invited to major league spring training camp. The Monkey Says: This is a very nice honor for a prospect who has worked hard to overcome a slew...
MLB News

Delivered to your inbox

You'll also receive Yardbarker's daily Top 10, featuring the best sports stories from around the web. Customize your newsletter to get articles on your favorite sports and teams. And the best part? It's free!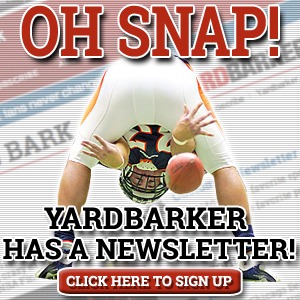 Latest Rumors
The Backyard

Today's Best Stuff

For Bloggers

Join the Yardbarker Network for more promotion, traffic, and money.

Company Info

Help

What is Yardbarker?

Yardbarker is the largest network of sports blogs and pro athlete blogs on the web. This site is the hub of the Yardbarker Network, where our editors and algorithms curate the best sports content from our network and beyond.