Found February 25, 2013 on Monkey with a Halo:
The MWAH prospect countdown marches on with a third baseman who deserves a shot in the majors but probably won't get one, at least not with the Angels. Luis Jimenez Position: 3B  Highest Level: Triple-A Bats: Right Throws: Right  Height: 6'1" Weight: 205 lbs. Age: 25  Born: 1/18/88 2012 Season Stats Triple-A: 517 PA, .309 AVG, .334 OBP, .495 SLG, 38 2B, 2 3B, 16 HR, 85 RBI, 70 SO, 17 SB, 7 CS, .331 BABIP   Contact – A. As they say, no player walks off the island.  Luis Jimenez is a free swinging hitter, in much the same way Vlad Guerrero was.  And thankfully for Jimenez and the Angels, Lucho has terrific hand-eye coordination and makes consistent contact.  He's a hard player to strike out.  Power – B.  Jimenez undoubtedly has the best "gap power" of any hitter in the system.  It doesn't hurt that when he turns on the ball it can go a long way.  30+ doubles at 15-20 HR's on an annual basis shouldn't be out of the question.  For a third baseman, it isn't prodigious power, but he certainly has some pop.   Discipline – D. In the minors, Jimenez has no problem punishing pitchers that make a mistake.  But in the major leagues, without good strike zone judgment or ability to work a walk, Jimenez will find himself working behind in the count and will more than likely be forced to hit pitches he can't necessarily do anything with.   Speed – B. Lucho has above average speed for a third baseman and slightly above average speed in general.  Although he steals around 20 bases a year in the minors, I wouldn't be surprised to see that number to fall around 10 SB in the majors if he ever finds a full time position. Arm – B+.  Like any good prototypical 3B, Jimenez has a strong, accurate arm.  It isn't as good as fellow 3B prospect Cowart's, but he has a quick release and enough arm strength to make any throw on the diamond.  Make no mistake, Jimenez isn't a polished defender, but he's good enough and the arm makes up for any deficiencies.    Performance – B.  As usual, Jimenez put up fantastic numbers, he does so every year.  However, this season, he did so in AAA, which wasn't necessarily as impressive as what he did in AA, given the environment.  After the season, he managed to hit .260 in the Dominican Winter League and was somewhat of a hero in the Caribbean World Series.  "Lucho" has done everything necessary to earn a spot at the major league level.  Projection – C+. Jimenez's tools don't jump off the page.  Not a perfect defender, no plate discipline, power, but not a lot considering he's a middle infielder.  But I believe Jimenez is going to be one of those players that just battles and eventually earns a starting spot in the majors.  I think he can be a passable defender at 3B at the Major League level that hits .250+ with 30+ doubles and 15+ homeruns every year.  Not a superstar, but I think he can hold as much value if not more than Alberto Callaspo, who is a capable enough Major League third baseman. Estimated MLB Arrival Date – 2013 (*As always, the above scouting report is provided by Scotty Allen of LA Angels Insider) Season Summary: Jimenez did just about everything that could possibly be asked of him in 2013, only he didn't really get asked to do as much as one would've expected. Lucho put up strong numbers in Salt Lake as he did his usual lots of contact/very little walks act while mixing in a fair amount of power. We obviously have to factor in the hitting environment here, which actually makes his power output a little underwhelming, but there is no doubt that Jimenez can put the bat on the ball. I really can't say enough about the fact that Lucho swings at everything but still only struck out 70 times. To top it all off, Jimenez put together a solid defensive season as well. It was nothing special, but it was good enough to put to bed the notion that he doesn't have a big league glove. And therein lies the rub. Luis just doesn't do anything well enough to overcome his free-swinging ways, especially under the Dipoto regime. It was a big surprise, to me at least, that Jimenez didn't even get tapped for a September call-up. That was a shock on two levels in that Jimenez seemed more than ready for such a promotion but also that Alberto Callaspo hasn't exactly been knocking people's socks off with his play. If ever there was a position to introduce some competition in Anaheim, it is third base, yet the front office chose to punt instead. If there is a bigger indictment on Lucho's future with the Halos, I don't know what it is. What to Expect in 2013: In theory, Jimenez will get a chance at competing for a bench spot this spring. He probably won't win it since he isn't left-handed and doesn't play anything other than third. That means it is back to Salt Lake for Lucho where he will undoubtedly put up similarly good numbers and get similarly ignored barring an injury to Callaspo. He'll just bide his time hoping for a chance, but by the time it comes, Kaleb Cowart will be nearly ready enough to leapfrog straight passed him. Such is Lucho's lot in life, or at least in the Angels organization. All he can really do is keep being a good soldier and hope that he either gets a chance in Anaheim or gets the attention of some other organization who will pry him loose to see what he can do even though he doesn't fit the mold of hitters that teams are looking for nowadays. [follow]
Original Story:
http://www.monkeywithahalo.com/prospe...
THE BACKYARD
BEST OF MAXIM
RELATED ARTICLES
  By Geoff Stoddart, AngelsWin.com Director of Social Media The AngelsWin.com Spring Training Fanfest is now less than 3 weeks away!  This year's event is going to be absolutely amazing! Our scheduled* special guest include Angels owner Arte Moreno, GM Jerry Dipoto, TV announcer Victor Rojas, Tim Mead, Kole Calhoun, Randal Grichuk, Travis Witherspoon and more. You won't...
The February 25th, 2013 edition of daily news for the Los Angeles Angels including Weaver "doesn't give a (expletive)" about lost money, Burnett and Madson to ramp up throwing programs and much more... The Story: Jered Weaver "doesn't give a (expletive)" about the money he left on the table when signing a contract extension. The Monkey Says: He...
Albert Pujols is in the starting lineup to make his 2013 spring training debut for the Los Angeles Angels, about 10 days ahead of schedule following offseason knee surgery. Pujols was down to be the designated hitter and bat third against Cincinnati on Tuesday, saying he wanted to ''see some live pitching,'' Angels manager Mike Scioscia says Pujols ''feels...
By David Saltzer, AngelsWin.com Senior Writer --  It takes a lot to make a successful Little League baseball season. It starts with the dedication from the people who organize the league, includes all the hard work from the coaches who run the teams, and ends with all the hours donated by the parents who make it all happen (especially the team moms!). It's a labor of...
The Los Angeles Angels 2013 Spring Training season is underway, and now so is the 2013 AngelsWin.com Internet Podcast season! Listen in as hosts Adam Dodge and Geoff Stoddart welcome AngelsWin.com Founder, Chuck Richter, to discuss … * The new AngelsWin.com site * The 2013 AngelsWin Spring Training Fanfest * Their thoughts on the 2013 Los Angels Angels team AngelsWin.com...
TEMPE, Ariz. (AP) -- Josh Hamilton wants to turn over a new leaf with his new team. The free-swinging slugger is planning to practice better plate discipline in his first spring with the Los Angeles Angels. Hamilton then swung at the first pitch he faced in an Angels uniform Tuesday, grounding out to short in Los Angeles' 7-7, nine-inning tie with an Arizona Diamondbacks split...
Prepare yourself for some heartbreak, baseball fans. You now have two seasons to steel your emotions for the retirement of Vernon Wells. Please try to hold back the tears. Yes, according to Alden Gonzalez of MLB.com, Vernon Wells plans on retiring after the 2014 season when his albatross of a contract expires. The stated reason behind this decision is to spend more time with...
TEMPE, Ariz. (AP) -- Albert Pujols is nearly ready to start running on the field in the Los Angeles Angels slugger's deliberate recovery from offseason surgery on his right knee. Pujols is taking batting practice and running on a treadmill at spring training, and he participated in fielding drills Tuesday. He's expected to start running on the field later this week. The...
The Los Angeles Angels enter the 2013 season with a roster filled with superstars, but none may be more popular than Mike Trout. The 21-year-old burst onto the scene last year and was one of the best players in baseball. Had it not been for Miguel Cabrera winning the Triple Crown, Trout could have easily taken home the American League MVP award. How popular is Trout in LA? Of the...
The February 25th, 2013 edition of daily news for the Los Angeles Angels including Wells to retire after 2014, Wells not likely to be traded to the Yankees and much more... The Story: Vernon Wells intends to retire and buy a minor league franchise after the 2014 season. The Monkey Says: It is good that Vernon is planning this because he was probably going to be forced into...
C.J. Wilson got his wish by getting a big fat contract to return to Southern California to pitch. But that dream turned into a nightmare by the end of the season. Will everyone's favorite straightedger be able to redeem himself in 2013? 2012 Stats: 202.1 IP, 13-10, 3.83 ERA. 4.04 FIP, 181 H, 91 BB, 19 HR, 173 SO, 1.68 GB/FB, 2.5 fWAR 2013 ZiPS Projections: 193.1 IP, 3...
By David Saltzer, AngelsWin.com Senior Writer -- One of the things that I love most about baseball is that it constantly teaches me something new every day. As a child, it taught me how to play hard and fair play. As a teenager, it taught me how to work hard to achieve greatness. As a young adult, it taught me to maintain my faith in my team through challenges and triumphs. ...
Angels News

Delivered to your inbox

You'll also receive Yardbarker's daily Top 10, featuring the best sports stories from around the web. Customize your newsletter to get articles on your favorite sports and teams. And the best part? It's free!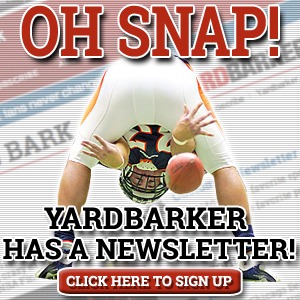 Latest Rumors
Best of Yardbarker

Today's Best Stuff

For Bloggers

Join the Yardbarker Network for more promotion, traffic, and money.

Company Info

Help

What is Yardbarker?

Yardbarker is the largest network of sports blogs and pro athlete blogs on the web. This site is the hub of the Yardbarker Network, where our editors and algorithms curate the best sports content from our network and beyond.