Found April 03, 2013 on Pirates Prospects:
PLAYERS:
Alen Hanson
,
Gregory Polanco
,
Eric Avila
,
Taylor Lewis
,
Willy Garcia
,
Dan Grovatt
,
Robby Rowland
,
Brett Lorin
,
Justin Wilson
,
Gerrit Cole
,
Jhonathan Ramos
,
Zach Thornton
TEAMS:
Pittsburgh Pirates
The 2013 minor league season begins on Thursday. In the days leading up to the opener, I will be previewing the full season affiliates of the Pittsburgh Pirates. Here is a look at the 2013 Bradenton Marauders, who will feature 2012 breakout prospects Alen Hanson and Gregory Polanco on their Opening Day roster. Lineup C – Jacob Stallings 1B – Jose Osuna 2B – Dan Gamache SS – Alen Hanson 3B – Eric Avila LF – Taylor Lewis CF – Gregory Polanco RF – Willy Garcia DH – Carlos Mesa Last year the West Virginia Power was the team to watch, mostly due to the talent on offense. That talent has taken a jump to Bradenton this year, making the Marauders one of the most interesting teams in the system. The group is led by Alen Hanson and Gregory Polanco. The two hitters were not only the biggest breakout prospects in the system last year, but some of the biggest breakout prospects in baseball. They were both consistently placed on top 100 lists this year, with both of them cracking a few top 50 lists. Polanco is a five tool center fielder. He's got a ton of speed, mostly coming from his long legs which allow him to glide across the outfield, or from base to base. He's got a strong arm, which will keep him in center. At the plate he has good plate patience, which is rare from guys coming out of the Dominican Republic. He also hits for average, and the big thing is his power. Polanco added some bulk last year, and his power exploded. He looks to have added some more, to the point where we could see even more power from him in the future. The big question surrounding Alen Hanson is whether he can stick at shortstop. Alen Hanson gets a lot of his value from being a plus hitter who can hit for power from the shortstop position. Hanson is one of the best pure hitters in the system, and can hit for power, as evident by his 16 homers and .219 ISO last year. The big question is whether he can stick at shortstop. His hitting is so good that he'll be a valuable prospect, even if he has to move to second base. For now he's got a shot at sticking at short, if only because the Pirates don't have a lot of options to push him over to second. Hanson also has the tools to stick at short. His arm is good enough, and he's got range. The glove could use some work, as that's been the root of all the errors so far. That should be the focus for Hanson in the next year or two. Jose Osuna and Willy Garcia didn't have the big breakout seasons that Hanson and Polanco had, but both put up good power numbers. Osuna hit for a .280 average with 16 homers. Garcia hit 18 homers, but had a .240 average and a lot of strikeouts. Plate patience is going to be an issue for either guy. Osuna doesn't strike out a lot, but doesn't draw a lot of walks. Garcia's strikeouts are too high, and his walks are low. But these are common issues with young guys coming out of the international leagues. Guys like Hanson and Polanco are rare. Both guys will need power as their main tool to make it to the majors, and they already have that. But they'll also need improvements on their plate patience, and that's not an easy improvement to make. Speaking of power and plate patience, one guy to watch this year is Eric Avila. We were high on him for his power potential entering the 2011 season. The third baseman struggled in West Virginia, then didn't get much playing time in the first half of the 2012 season. In the second half he exploded, hitting for a .291/.328/.564 line with 11 homers in 165 at-bats. That comes with the disclaimer that he was repeating the level, so we'll have to see how he does at a higher level in 2013. The rest of the guys in the lineup have upsides as bench players in the majors. Dan Gamache is a strong defender at second and third. He's also a good hitter, but doesn't hit for enough power to be a starter. Jacob Stallings is a good defender behind the plate, and great at working with pitching staffs. He's tall and skinny, and doesn't have the normal catcher's body, which could hurt him in the upper levels. If he makes it to the majors, it would be as a backup catcher. Taylor Lewis is a speedy outfielder who got off to a hot start with West Virginia last year, only to cool after his first month. He doesn't have the arm strength for center, so he'll need to add some power to his game to have value in left. Carlos Mesa is an interesting story. He signed out of Cuba for $490,000 as a 23-year-old. He was a pitcher, but the Pirates switched him to right field, where he displayed a plus arm. I didn't see a lot that I liked out of Mesa in his first two years, and was surprised when I learned his bonus was so high. Then, during instructs last year, I noticed what I thought was a new international hitter. Turns out it was a slimmed down Carlos Mesa. He was looking more like a prospect, hitting the ball well and showing some speed. I don't know if he's going to make it, but I do know that I had him as a non-prospect his first two years, and now I'd at least give him a shot to eventually be something. He needs to do it quick, since he'll be 25 this year. Bench Elias Diaz, Benji Gonzalez, Chris Lashmet, Dan Grovatt Stallings will get more time behind the plate, but Elias Diaz will get his share of the catching duties. He's got a plus arm, a good frame, and has some raw hitting skills, but hasn't put things together yet. Benji Gonzalez is a strong defensive middle infielder who doesn't do much at the plate. Chris Lashmet played a lot of third base this Spring, and could be an option to fill in for Avila. He's built like a linebacker, but hasn't used his size to hit for power yet. Dan Grovatt has a plus arm and is a good defensive outfielder. He's also been a good hitter, but doesn't hit for the power you'd want to see from a corner outfielder. He could get some time as the DH. Starting Rotation Nick Kingham, Robby Rowland, Adrian Sampson, Matt Benedict, Eliecer Navarro/Zack Von Rosenberg Nick Kingham is a sleeper prospect in the Pirates' system, although more people are taking notice. Kingham throws in the low-to-mid 90s, topping out at 96 now. He has a curveball and a changeup which can both be above average pitches when he's got his command. The command of those pitches escaped him in parts of the first two seasons, mostly because he was focusing so much on the fastball. Kingham has great control, and put up some quietly dominant numbers last year, especially in the second half. He's got the build and the stuff to be a 200 inning per year number three starter. A year ago around this time, Robby Rowland had just joined the organization. He was acquired for 2011 Rule 5 pick Brett Lorin, who was kept by the Diamondbacks. Rowland was coming off two horrible years in rookie ball, and didn't look like much of a prospect based on his numbers. He lowered his arm slot to three quarters and started throwing a sinker, and as a result he went from horrible rookie ball numbers to some strong numbers in full season A-ball. His sinker led to a 55% ground ball percentage, and should help him at McKechnie Field, where the Gulf Coast breezes can turn routine fly balls into home runs. Seeing Adrian Sampson here is a bit of a surprise. He was drafted in the fifth round last year out of college, and pitched in the New York Penn League. It's not a surprise in the sense that Sampson isn't ready. He was a college pitcher who can get his fastball up to 94 MPH. He also throws a sharp curveball with good depth, leading to a lot of strikeouts. There's a reason why we had him as our number 17 prospect this year. The surprise is that the Pirates went with this aggressive push for a fifth round pick. In the five years worth of drafts, the only starting pitchers the Pirates have sent straight to high-A in their first seasons have been Justin Wilson and Gerrit Cole. That says a lot about how the Pirates feel about Sampson. Matt Benedict is another sinkerball pitcher, although he doesn't have the control Rowland has, and doesn't get as many strikeouts. Benedict made the jump to high-A last year, but struggled with an 8.08 ERA in 49 innings. Some of that was due to a poor defense behind him. He had better numbers in West Virginia, but was also a college pitcher playing in low-A. Zack Von Rosenberg will make the jump to high-A this year after struggling for two seasons in low-A. He's had a problem leaving the fastball up in the zone, and the solution seems to be switching to a two-seam fastball. Von Rosenberg throws the ball down in the zone, but was only in the 80-85 MPH range during Spring Training. He mentioned that he can throw the pitch at 86-87 MPH, but the jury is still out on how effective he will be with this new approach. He will be piggybacking starts with Eliecer Navarro, who is a lefty starter with a good curveball. Bullpen Zac Fuesser, Robbie Kilcrease, Quinton Miller, Joan Montero, Jhonathan Ramos, Zach Thornton Quinton Miller was the first of many big bonus prep pitchers to sign with the Pirates. He used to throw in the mid-90s, but was throwing a two-seam fastball this Spring, working in the upper 80s. The hope when he was drafted was that he could be a mid-rotation starter or better in the majors, but it looks like his only path now will be as a reliever. Zac Fuesser has posted good numbers the last few years working in the swingman role in West Virginia. The lefty has good off-speed stuff, and good location on his fastball. He should return to the same role in Bradenton, pitching 2-3 innings after the starter comes out. Joan Montero is an interesting arm to follow. He throws 93-95 with good downward movement, although he's dealt with control problems. The fastball is lively, and he pairs it with a slider that has led to a career 7.9 K/9 in the minors.
Original Story:
http://feedproxy.google.com/~r/Pirate...
THE BACKYARD
BEST OF MAXIM
RELATED ARTICLES
Last season the Pittsburgh Pirates finished last in the National League with 73 stolen bases. Andrew McCutchen led the club with 20 stolen bases, but that was down from 23 in 2011. So far this season, McCutchen has two stolen bases in as many games and said being more aggressive while on base has been a point of emphasis for him entering the 2013 season. Andrew McCutchen has two...
Today is Opening Day for the 2013 Minor League Baseball season. All four full-season Pirates affiliates play this evening, and the starting pitchers can be found on the daily schedule. This week we've been previewing the four affiliates who will be starting their season, along with some analysis for each level of the system. The links to all of those write-ups can be found below...
Gregory Polanco (left) and Alen Hanson (right) will try to repeat their 2012 seasons at the next level, and eventually try to make the successful jump to the upper levels. Today I previewed the 2013 Indianapolis Indians and Altoona Curve. Tomorrow I'll go over the Bradenton Marauders and the West Virginia Power. In writing the previews, there's one thing I noticed about the talent...
On Opening Day the Pittsburgh Pirates offense could not get anything to go right, spoiling a 10-strikeout performance by starting pitcher A.J. Burnett. Wednesday the team got another stellar performance from its starting pitcher and this time the bats did just enough to push Pittsburgh to their first win of the season. Wandy Rodriguez allowed just two hits in 5 2/3 innings and got...
Pittsburgh Pirates manager Clint Hurdle addressed the status of several of the team's injured pitchers prior to today's game against the Chicago Cubs. Francisco Liriano threw off a mound yesterday and Charlie Morton threw a simulated game today, Hurdle said. "All our guys are making progress," he said. Jeff Karstens is still nursing an inflamed right shoulder. Hurdle said...
The 2013 minor league season begins on Thursday. In the days leading up to the opener, I will be previewing the full season affiliates of the Pittsburgh Pirates. Here is a look at the 2013 Indianapolis Indians, who will feature top prospect Gerrit Cole on their Opening Day roster. Lineup C – Tony Sanchez 1B – Matt Hague 2B – Ivan De Jesus Jr. SS – Jordy Mercer 3B – Jared...
Yesterday was Opening Day of the 2013 Pittsburgh Pirates minor league season. All four full-season affiliates opened their schedule  last night and all four ended up on the losing end. Tonight marks the season debut for top prospect Gerrit Cole, but he isn't the only interesting pitcher going today. Nick Kingham and Clay Holmes will also get their first start today, they were...
AJ Burnett pitched well and lost in the first game of 2013. Wandy Rodriguez pitched well in the second game and won. The most important pitcher in the rotation for the season's first two months is not Burnett, nor is it Rodriguez. It's today's starter, James McDonald. McDonald had a Jeckyll and Hyde 2012 season with an All-Star worthy first half and a brutal second half...
Cubs (1-0) at Pirates (0-1) 7:05 PM–PNC Park, Pittsburgh MLB.com Gameday TV: ROOT The Bucs look to break into the win column tonight as they take on the Cubs in the first night game of the season. Attendance will certainly be down quite a bit compared to Monday, but the team is trying its best to attract fans by maintaining this annual tradition: Coming down to PNC tonight? Remember...
I know that this is a bit of a leftover from the really bad times of being a Pirate fan, but whenever the Pirates start out the season 0-1 there's a voice in the back of my head that says, "If the Pirates can't win this game, they might never get to .500 again!" I don't really think that's true this year (nojinxnojinxnojinx), but the voice is still there...
The list of things that I don't really understand in baseball is infinite, but somewhere near the top of it is this: the veteran pitcher who's out on the mound and not quite pitching like himself, but still has things so completely under control that you never really doubt him. That was Wandy Rodriguez on Wednesday night against the Cubs. Rodriguez is mostly a ground ball...
Last night was a good night to be a Pirates fan.  Two hits! Shutout!  Scoring more than a run!  Frankly I can't think of too many awful things from last night. As you guys know, when a Pirates fan has very few awful things to talk about it was a good game. One awful thing…
Pirates News

Delivered to your inbox

You'll also receive Yardbarker's daily Top 10, featuring the best sports stories from around the web. Customize your newsletter to get articles on your favorite sports and teams. And the best part? It's free!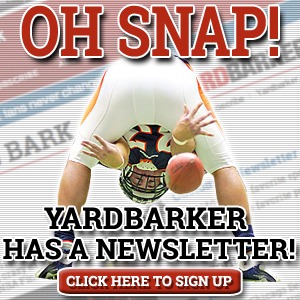 Latest Rumors
Best of Yardbarker

Today's Best Stuff

For Bloggers

Join the Yardbarker Network for more promotion, traffic, and money.

Company Info

Help

What is Yardbarker?

Yardbarker is the largest network of sports blogs and pro athlete blogs on the web. This site is the hub of the Yardbarker Network, where our editors and algorithms curate the best sports content from our network and beyond.