Found February 10, 2013 on Obstructed View OLD:
A little over a week ago, we started our 2013 Cubs projections series by looking at Welington Castillo. The plan is to just go from catcher to 1st to 2nd and so on. Up today is Anthony Rizzo. For more than half a decade the Cubs got a .385 wOBA out of their 1st baseman. Derrek Lee was traded midseason in 2010, but from 2004 through 2010 he posted a .385 wOBA, put up a couple MVP caliber seasons, helped the Cubs to multiple playoffs and was generally one of the better 1st basemen in baseball. Lee wasn't a great player, but he was a very good ballplayer for the Cubs and not too surprisingly, they've yet to fill those big shoes. The Cubs are hopeful that Anthony Rizzo can do it. In 2011 Rizzo showed that he was simply overmatched. In 368 plate appearances with the Cubs in 2013, he hit .349 with a 116 wRC+. Those aren't great numbers, but for someone his age they're awfully good. However, we can't just ignore 2011. His career wOBA is .320, which is league average (99 wRC+). He hasn't been able to figure out left-handed pitching. He has only a .265 wOBA vs lefties over 140 plate appearances. That's 38% worse than league average (62 wRC+). This can't be blamed on an awful 2011 season. He was actually better vs lefties in 2011 than he was in 2012. He's a good candidate to beat his projections below, but he also has a couple holes in his game that will need to be fixed in order to do so. Rizzo PA H 2B 3B HR BB SO AVG OBP SLG wOBA CAIRO 604 143 37 1 25 53 134 .261 .334 .469 .348 ZiPS 642 160 32 2 31 56 132 .279 .349 .503 .362 Average 623 151 35 2 28 55 133 .270 .341 .486 .355 If Rizzo hits 31 home runs like ZiPS projects, I'm going to be thrilled. There's a rather small sample available for Rizzo's defense, but CAIRO projects +1 run saved. My guess is that he's better than that defensively and it's only +1 due to the regression. I don't know for sure, but scouts seem to rave about his defense. ZiPS projects 3.7 offensive WAR (oWAR) while CAIRO projects 1.7. If you're curious, the Steamer projections have the same exact .362 wOBA projection as ZiPS, but I'm not sure what the league average of either system is. It's clear CAIRO is weighting the minor league seasons less than ZiPS and Steamer. It also might be because they're weighting the most recent season differently. I'm not confident in either of the WAR projections. I'd be surprised if he's as good as the 4 WAR ZiPS is projecting and I'd be equally surprised if he's only worth around 1.8 WAR like CAIRO is projecting. Using only his CAIRO projections, the percentile forecasts for Anthony Rizzo are below. Anthony Rizzo % PA AB R H 2B 3B HR RBI SB CS BB SO GDP HBP AVG OBP SLG wOBA 80% 725 656 97 186 52 2 36 114 12 2 72 147 9 10 .283 .370 .534 .392 65% 664 602 84 164 44 2 30 100 9 3 62 141 10 8 .272 .352 .502 .370 Baseline 604 547 72 143 37 1 25 86 7 4 53 134 11 6 .261 .334 .470 .349 35% 544 492 61 123 31 0 20 73 5 5 44 126 11 4 .250 .316 .438 .328 20% 483 438 51 105 25 0 16 61 3 5 37 116 11 3 .240 .299 .406 .306 You can see from here that ZiPS and Steamer are more comparable to the 65th percentile forecast using CAIRO. There's a lot we don't know about Rizzo. He started off really well in 2012, but then the pitchers made some adjustments. He struggled against lefties, which could prevent him from being as good as any of the projections. Other 2013 Cubs projections Welington Castillo Dioner Navarro Steve Clevenger The post 2013 Cubs projections: Anthony Rizzo appeared first on Obstructed View.
Original Story:
http://www.obstructedview.net/project...
THE BACKYARD
BEST OF MAXIM
RELATED ARTICLES
Neither of these players are very good so I'm not going to discuss them. Here are the 2013 Cubs projections for Steve Clevenger and Dioner Navarro. Clevenger PA H 2B 3B HR SB avg obp slg wOBA CAIRO 385 92 21 2 5 2 .260 .323 .376 .312 ZiPS 357 86 20 2 3 1 .261 .309 .361 .291 Average 371 89 21 2 4 2 .261 .316 .368 .301                       Navarro PA...
The deal between Scott Hairston and the Chicago Cubs has been formally announced. Hariston and the Cubs agreed to a two-year deal worth $5 million nearly two weeks ago. Hairston can earn another $1 million in incentives and expects to platoon with Nate Schierholtz in right field. The Cubs outfield hardly seems set in stone and it is reasonable to expect Hairston to accumulate a large...
Chicago Cubs pitcher Carlos Marmol is fighting his way through very serious accusations.  A 24-year old woman in the Dominican Republic is claiming that he abused her. The case was upsold to a higher court within the country according to the Chicago Sun Times. Please Click Here To Read This Story. The post Carlos Marmol watches his domestic abuse case go to a higher court appeared...
Cubs pitchers and catchers report today so we can finally get down to talking about some serious baseball stuff like bunting tournaments and if there is any purpose at all for Steve Clevenger. But for now, this is the time on Sprockets when we dance! The post Mesa, Arizona, Cubs Pitchers and Catchers are In You appeared first on Obstructed View.
The Chicago Cubs added a little depth to their roster on Sunday when the team announced they reached a two-year agreement with OF Scott Hairston. The deal is worth a reported $5 million for two years. In order to clear a roster spot for Hairston, the team made a move with OF Tony Campana, who was designated for assignment. Chicago general manager Jed Hoyer told reporters that he...
News out of Mesa, Arizona today on the first day that pitchers and catchers report. The Chicago Cubs and outfielder Scott Hairston agreed to terms: two-years, $5 million contract. To make room for Hairston on the 40-man roster, outfielder Tony Campana was designated for assignment. The deal was reported last month and is now finalized. Scott Hairston, who can earn an additional ...
The Cubs finalized a deal with newly-acquired outfielder Scott Hairston, who they signed as a free agent last month.   That they got Hairston, who signed a two-year deal, into the fold isn't necessarily the real story in Chicago. Yes, he hit 20 home runs with the New York Mets last season, and yes, he [...]
Just about every media outlet that matters, including Carrie Muskat, has reported that Tony Campana has been designated for assignment to make room for Scott Hairston.  The Cubs 40-man roster is now full up again, but just replace Campana's name with Hairston's.  At this point the Cubs have 10 days to waive, trade or release Campana.  But I think there's a good chance that...
The Buntfest is returning!  This time, with a twist: This spring, the Cubs will have their second bunting tournament, with a slight tweak. The front office will compete for a spot in the field of 64, and Theo Epstein was expected to square off against GM Jed Hoyer in their first round match. David DeJesus won the tourney last year. There are a number of other staffers in the new...
Outfielder Scott Hairston and the Chicago Cubs have finalized a two-year contract. The 32-year-old Hairston hit .263 with a career-high 20 homers, 57 RBIs and 25 doubles last year in his second season with the New York Mets. He also has played for Arizona (2004-07), San Diego (2007-09, 2010) and Oakland (2009) during a nine-year big league career. Hairston has a .247 career average...
The devastating news du jour as pitchers and catchers reported today was that Cubs legend (TM) Tony Campana was designated for assignment and thus likely exposed to waivers assuming that the Cubs can't trade him.  There is actually a good chance that some random team (my guess is the Atlanta Braves) will use one of their open spots to claim Tony, and then the cycle of Cubs fan...
One of the benefits of being a parent is being able to watch television shows that you would otherwise feel guilty about watching by yourself. My daughter has become a fan of the most recent version of the Teenage Mutant Ninja Turtles. The new version has made numerous changes to the cartoon and movies that I watched as a child, but the same basic premise of the main characters is...
MLB News

Delivered to your inbox

You'll also receive Yardbarker's daily Top 10, featuring the best sports stories from around the web. Customize your newsletter to get articles on your favorite sports and teams. And the best part? It's free!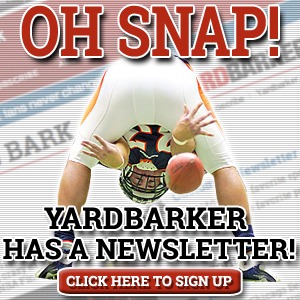 Latest Rumors
The Backyard

Today's Best Stuff

For Bloggers

Join the Yardbarker Network for more promotion, traffic, and money.

Company Info

Help

What is Yardbarker?

Yardbarker is the largest network of sports blogs and pro athlete blogs on the web. This site is the hub of the Yardbarker Network, where our editors and algorithms curate the best sports content from our network and beyond.