Found February 14, 2013 on Obstructed View OLD:
Continuing our series, it's time to look at the 2013 Cubs Projections for Darwin Barney. Last spring Barney talked about hitting for more power. We knew he wouldn't be a power hitter or anything, but it was clear he and the Cubs wanted him to hit for a little more than he had. He did to some extent. He hit 7 home runs, which was 5 more than the previous season. He had a few more doubles too. His ISO was up from .078 in 2011 to .100 last year, but his overall slugging percentage remained the same. That's becasue his batting average took a hit last season. Barney isn't much of a hitter. He had an 80 wRC+ in 2011 and last year it was just 75. He's not going to wow anyone with his bat and is best left in the 8th spot in the National League and if he's to play in the AL, the 9th spot. He does do two things very well and those things are what make him valuable. It's his defense and baserunning that leads Jed Hoyer and other Cubs front office executives to talk about Darwin Barney, not as an afterthought, but as someone who is going to help build the Cubs into a contender. And his defense is good. Really good. In 2011 his UZR was 6.1 and it was 13 last year. That's a bit misleading. He didn't get much playing time in 2010 and if you add his +4 UZR to last year, you get a more similar 10.1. He played 1164.2 defensive innings in 2010 and 2011 combined and last year he played in 1270.1. UZR likes Darwin Barney a lot, but not as much as Baseball Reference's fielding. BRef had him worth +7 in 2010 and 2011 (combined) and then a ridiculous 29 last year. Baseball Prospectus' FRAA had him worth 8.6 over 2010 and 2011 and 11.3 last year. It's safe to say there was something wrong in the way BRef was evaluating Barney's defense. Maybe it was the positioning. I don't really know, but it's very safe to say he wasn't worth 30 runs defensively last year. It's rather absurd to suggest it. He's essentially been a +10 defender per season over his two full seasons (including 2010's small amount of playing time). That's a full win defensively, which he needs because of his bat. He didn't only add value in that way though. He added more than 6 baserunning runs from 2010 to 2011 and added over 4 last year. He's adding nearly a win and a half in ways that his bat cannot. It's not exactly exciting looking at his 2013 Cubs projections, but here they are anyway. Darwin Barney PA H 2B 3B HR BB SO AVG OBP SLG wOBA CAIRO 524 127 23 3 4 28 64 .259 .303 .346 .289 ZiPS 607 153 26 5 5 29 69 .270 .308 .360 .292 Average 566 140 25 4 5 29 67 .265 .305 .353 .291 ZiPS projects +10 runs defensively and CAIRO projects an average defensive runs saved of +9 (13 DRS, 7 UZR and 8 ZR). We'll call it average of 10 because, as you know, I'm an optimist. We can probably put him down for about 5 runs on the bases. Offensively, he's worth about half a win, Add in the 10 runs defensively and 5 runs on the bases and you get about 2 WAR. Below are his percentile forecasts using CAIRO. Darwin Barney % PA AB R H 2B 3B HR RBI SB CS BB SO GDP HBP AVG OBP SLG wOBA 80% 629 586 85 166 33 6 7 59 13 1 40 67 8 7 .283 .339 .397 .328 65% 576 537 74 146 28 4 6 51 10 1 34 66 9 6 .272 .321 .370 .308 Baseline 524 488 63 127 23 3 4 43 8 2 28 64 10 4 .260 .303 .344 .289 35% 472 439 53 109 19 2 3 36 6 2 23 61 10 3 .249 .286 .318 .270 20% 419 390 44 93 15 1 2 29 4 3 18 58 11 2 .237 .268 .292 .250 Other 2013 Cubs projections Welington Castillo Dioner Navarro Steve Clevenger Anthony Rizzo The post 2013 Cubs Projections: Darwin Barney appeared first on Obstructed View.
Original Story:
http://www.obstructedview.net/project...
THE BACKYARD
BEST OF MAXIM
RELATED ARTICLES
Dale Sveum said yesterday that Scott Feldman will be the 4th starter for the Cubs. He also confirmed what we already knew in that Scott Baker won't be ready to start the season. Cubs manager Dale Sveum said Scott Baker, coming back from Tommy John surgery last year, most likely will not be ready by Opening Day, and that Scott Feldman will start and won't need to multi-task...
My Cubs unrequited love is one that should have never been.  It was truly love at first sight when he made his debut, but the fact that it is now unrequited is a tragedy of Lou Brock proportions.  The recently DFA'd Tony Campana is the source of my one way love affair.  This scrappy little white guy stole my heart like so many other Cubs fan with his blazing speed and his blazing...
The 2013 PECOTA projections are out and I thought I'd post some of the Cubs below. Since you have to be a subscriber in order to download the spreadsheet, I'm only going to include PA and wOBA, which I calculated using the basic formula. For pitchers I'll only show IP and FIP (I calculated this too). 2013 PECOTA Projections for Cubs Batters Name PA wOBA Starlin Castro...
The 2013 Cubs playoff odds are now available on Baseball Prospectus. These odds are based on preliminary depth charts, with teams still having many roster moves to make before the season starts. Thus, they aren't etched in stone, they're etched in sand. And these are PECOTA's estimates of what would happen if the season were played thousands of times. PECOTA is not infallible...
As in our last article, we learned that Jeff Samardzija turned down a five-year contract extension of unknown dollars this offseason in favor of going year-to-year in arbitration…for now.  We've written before about how an extension probably isn't the best idea from the Cubs' standpoint unless they can get Samardzija on the cheap.  Here, it seems like Samardzija realizes...
The Chicago Cubs took a chance when they signed Scott Baker to a one-year, $5.5 million deal this offseason.  Baker was still recovering from Tommy John surgery.  He's still recovering, in fact.  However, the Cubs hope he can help bolster their starting rotation.  He just may not be able to do it starting on Opening Day. According to Carrie Muskat of MLB.com, the Cubs...
Last season Joe Mather was signed to a minor league contract and then made the team. Joe Mather was not any good. Not before he signed with the Cubs and especially not with the Cubs. Despite this, he still had nearly 250 plate appearances. Joe Mather was the worst player in baseball last year. Baseball Reference only thought he was the 5th worst player in baseball. In four seasons...
With Spring Training starting this week, here is a look ahead at what could be the Cubs 2013 Opening Day roster & lineup. Tags: Cubs Roster ConstructionRead more about A Prognosticursion into 2013
Valentine's Day is upon us, and as such we have to deal with all the commercialism, the bajillions of different chocolate varieties (because nothing says "I love you" more than a box full of diabetes-inducing fat bombs for your honey), the Hallmark cards full of saccharin sappiness, and reservations at your local White Castle.  For us Cubs fans, Valentine's Day also represents...
…you guys get a rare bullets post from us.  Because seriously, I can't wait for spring training to get underway so we can begin a countdown to Opening Day.  There are a bunch of Cactus League games to play, of course, and some of them are on TV and radio too.  Position players report to camp on Saturday. I began the day at the gym, shooting free throws under an assumed name...
ith the Oregon State men's basketball team floundering near the .500 mark , I am seeking positive reinforcement. Where do I go to feel good about my sports passion? My enthusiasm has dampened as the dreary NW winter months (otherwise known as basketball season) have grabbed hold of any hope or inspiration I might have had looking toward the NCAA Basketball Tournament. The Beavs...
MLB News

Delivered to your inbox

You'll also receive Yardbarker's daily Top 10, featuring the best sports stories from around the web. Customize your newsletter to get articles on your favorite sports and teams. And the best part? It's free!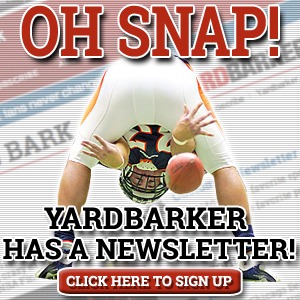 Latest Rumors
The Backyard

Today's Best Stuff

For Bloggers

Join the Yardbarker Network for more promotion, traffic, and money.

Company Info

Help

What is Yardbarker?

Yardbarker is the largest network of sports blogs and pro athlete blogs on the web. This site is the hub of the Yardbarker Network, where our editors and algorithms curate the best sports content from our network and beyond.