Found April 01, 2013 on MetsZilla:
PLAYERS:
Johan Santana
,
Jordany Valdespin
,
Aaron Laffey
,
Shaun Marcum
,
Alonzo Harris
,
Vance Worley
,
Carlos Ruiz
,
Charlie Manuel
,
Juan Pierre
,
John Maine
,
Ike Davis
,
Daniel Murphy
,
Ruben Tejada
,
David Wright
,
John Buck
,
Lenny Dykstra
,
Bobby Parnell
,
Scott Rice
,
Greg Burke
,
Frank Francisco
,
Terry Collins
,
Collin Cowgill
,
Marlon Byrd
,
Lucas Duda
,
Matt Harvey
,
Dillon Gee
TEAMS:
New York Mets
,
Philadelphia Phillies
,
Miami Marlins
By Dave Mills As the 2013 season opens, this scribe has a mea culpa… In my post of Feb. 21, 2013, which heralded spring training, I said: "Johan Santana would be healthier on opening day than he was in April 2012." Ouch! My bad. Accordingly, I offer a respectful apology to the throngs who visit this blog. But what made me or any Mets observer actually believe such was going to be the case? Most likely, a lack of candor by Santana and the Mets. And there's the storyline for 2013.  Can such a lack of candor lead to an all-out effort by the front office to put a winner on the field?  Candidly, can the current roster deliver more wins than loses?  The answer to both questions is… "perhaps." Photo by Michael G. Baron The first question is actually far easier to answer. There's no doubt Alderson & Company are on the hook to produce a team worth watching. The fact that they can bring up Zach Wheeler and Travis 'd'Arnaud after about 20 games, while extending their free agency by one year, gives the front office a bit of ammunition with the fans, most of whom could care less about "Super Two" (the ability to push off arbitration for another year by waiting till about two months into the season).  But is there much more in the well? DOWN ON THE FARM Outside of the Lutz/Satin right-handed hitting infield twins, both of whom can hit (while resembling the second coming of Dick Stuart on defense), position players at AAA and AA are very thin. Outfielders are really in short supply, especially with Matt den Dekker out for an extended period and Captain Kirk in an offensive funk throughout his injury-marred spring training. The real deal for the Mets offensively seems to be Jordany Valdespin, but for the time being, he is relegated to the bench and pinch-hitting. Seems Spin also lacks appropriate defensive skills. On the pitching front, Wheeler is front and center when it comes to what is playing on the farm. With more injuries to Jenry Mejia, the competitive sets emanate from just two arms—Colin McHugh and Aaron Laffey, one of whom will be called upon if Shaun Marcum is unable to go.  This is not the stuff of winners. Most of the Mets minor league talent—save Wheeler and d'Arnaud—is two to three years from Citi Field. And the pitching talent is considerable, with names like Syndergaard, Montero, Mateo, Fullmer, Tapia, DeGrom, Robles, Mazzoni and Leathersich. There is now some catching (d'Arnaud, Plawecki and Centeno) and middle infield depth from shortstops Tovar, Rosario, Evans, Muno and Cecchini. The most compelling group of outfielders will likely be lodged in Binghamton, with speedy Alonzo Harris flanked by Darryl Ceciliani and Cory (son of Greg) Vaughn. This trio is worth keeping an eye on. So, what will it take to have a winning year? Few injuries, several career years, a lot of luck and some underwhelming performances by division rivals. AROUND THE NL EAST The Phillies are the most likely foes to go on a bender. There is no infield with less range in the NL and the right side is a train wreck from a physical standpoint. And how they gave up young and dependable Vance Worley (the opening day starter for the Twinkies) for a second-string centerfielder is a bit perplexing. The Philadelphia outfield may also be worse than the Mets version and with less power. Carlos Ruiz will miss the first two months for PEDs. If Doc Halliday is the same pitcher we saw in the preseason, Charlie Manuel may be doubling his waist size by July. Miami's Fish are thin on experience and everything else. Can Juan Pierre be a spark plug all season and Giancarlo Stanton deliver day in and day out without much protection? His middle name will likely become "Walks." When John Maine is in the rotation, things have not gone as planned. The biggest disappointment could come from the Braves, if their young and talented pitching staff doesn't deliver and there were some signs to that effect this spring. The new outfield alignment may also lead the world in strikeouts as well as HRs and RBI. Nothing will deter Davey Johnson's Nats from their second straight NL East crown, so the Mets better get lucky (and good) fast to compete for the NL Wild Card. HORN APLENTY? (AND THE REST) Photo by Michael G. Baron As I suggested in my Feb. 21 post, the infield will be better by the mere fact that Ike Davis will be healthier, wealthier and wiser, plus he has shaken off whatever toll Valley Fever extracted from his 2012 performance. Daniel Murphy and Ruben Tejada have one full campaign as the keystone combo under their belts and should perform at a slightly higher level. However, Collins' penchant for wanting to hit Tejada 8th rather than 2nd in the order is troubling. David Wright can't have as good a first half, but also can't have as bad a second half. The captain will put up his usual numbers and provide stellar defense in spite of a couple of prodigious slumps. The catching corps is far better with John Buck at the helm and with d'Arnaud's ascension at hand. What we have witnessed for the past four years has not been pleasant to watch. Mets pitchers are in for an upgrade and a treat. Buck is a real pro and can deliver a blast here and there. d'Arnaud will put up credible numbers and will respond to Buck's tutelage following his June call-up. The 2013 outfield is a work in progress, but no one could have predicted the excellent spring flings by Duda, Cowgill and Byrd, all of whom were productive and a bit compelling. Cowgill and Byrd can also handle the leather at any of the spots. With some left-handed hitting balance from Baxter and Valdespin, the numbers may be far more impressive than all the detractors imagine. And doesn't Cowgill exude the grit, hustle and overall skills of Lenny Dykstra from a right-handed bent? ARMS Photo by Michael G. Baronts The bullpen appears to be vastly improved if Bobby Parnell can close. If not, it will be a scramble to piece together a successful formula. There is certainly an engaging balance of veterans (Lyon, Hawkins and Atchison) and youngsters (Edgin and Familia). Minor league vets Scott Rice and Greg Burke deliver some new looks. If Parnell prevails, this will be a plus pen. If not, it will be a long and trying season with nothing to look forward to except the return of Frank Francisco. Oh, say it ain't so! No matter what, the Las Vegas bullpen shuttle will be busy throughout the campaign. As for the starting staff… Niese, Harvey and Gee should all have commendable campaigns. The real question marks are Hefner (will he deliver 6-7 quality innings most of the time?), Marcum (can he even make 25 starts?) and Wheeler (will he be needed sooner or later?). There is no doubt that Marcum is now the biggest question mark. If one of these starters goes down and another is underperforming, Terry Collins is in for a long and frustrating season. THE BIG QUESTIONS • Can the bullpen overcome the starting staff's thinness and lack of innings? • How long will Collins keep his best 2-hole hitter (and pitch eater) in the 8-hole? • Will Spin's bat and speed be wasted on the bench for the first two months (or longer)? • How long will the Mets stick with any underperforming outfielder if the season is going south? • Can Bobby Parnell be "the man"? • Will we see Wheeler in April or June? (Don't bet on June) • If the Mets are contending in July, will the front office make some moves? PREDICTIONS Mets—3rd Place—82-80—No October baseball Collin Cowgill: .280—16 HR—57 RBI—92 R—31 SB Daniel Murphy: .310—13 HR—69 RBI—41 2B David Wright: .305—22 HR—105 RBI—40 2B—21 SB—Gold Glove Ike Davis: .275—39 HR—114 RBI—Gold Glove Marlon Byrd: .279—17 HR—71 RBI Lucas Duda: .270—27 HR—87 RBI Jon Niese: 3.29 ERA—17-9—207 Innings Matt Harvey: 2.97 ERA—14-8—187 Innings Dillon Gee: 3.91 ERA—13-11—193 Innings Zack Wheeler 2.77 ERA—9-5—121 Innings ******************************************************* NL EAST Nationals Braves Mets Phillies Marlins NL CENTRAL Reds NL WEST Dodgers WILD CARDS Braves Giants ******************* AL EAST Orioles AL CENTRAL Tigers AL WEST Angels WILD CARDS Blue Jays Rays ******************* NL CHAMP Nationals AL CHAMP Blue Jays WORLD SERIES Nationals
Original Story:
http://www.metszilla.com/2013/04/01/2...
THE BACKYARD
BEST OF MAXIM
RELATED ARTICLES
OPERATING TABLE
Johan Santana's season is likely over now that he has elected to undergo shoulder surgery to repair a torn capsule. It's his second surgery for the injury.
Johan Santana is set for another shoulder surgery that he hopes will save his career. The New York Mets say Saturday that their former ace will have surgery Tuesday to repair the re-torn anterior capsule in his pitching shoulder. The operation will be performed by Mets medical director Dr. David Altchek. The two-time Cy Young Award winner is likely to miss the entire season for...
New York Mets left-handed starting pitcher Johan Santana underwent successful surgery yesterday morning to repair a tear to the capsule in the front of his throwing shoulder, the team has announced. Johan Santana underwent successful surgery this morning at HSS to repair a tear in the capsule in the front of his left shoulder. — New York Mets (@Mets) April 2, 2013 ...
Johan Santana may pitch again. Santana, who blew out his left shoulder on Friday, will miss the rest of the 2013 season and is currently deciding whether to pursue surgery or not, according to his agent. The 6-foot, 208-pound lefty did not play in the 2011 season after tearing the same anterior capsule. Whether Santana will undergo surgery remains to be seen, but the Mets ace has...
Here at Retro Trade Analysis, we look at trades of the past and evaluate their value today.  The trade analyzed today is the trade that sent Johan Santana from the Minnesota Twins to the New York Mets.  The 2007 Minnesota Twins finished the season with a 79-83 record.  They were a young team, with none of their top 5 starting pitchers older than 28 years of age and Joe Nathan...
Another day and with more Mets' pitching news and naturally some of it being bad. The club said Johan Santana underwent successful surgery on his left shoulder today, but failed to define "successful.'' It is being able throw, much less pitch again, or the ability to raise his arm over his shoulder? In addition, free-agent Shaun Marcum – who didn't endear himself to the...
These past few years, it seems like whenever the Mets are held back, the injury bug has something to do with it. The fan-base knows that. Just observe how they reacted when the trainers were announced during the opening day festivities. It's no surprise that they were booed. It seems like there's always been something a little bit off. Over the past few seasons, we've seen...
MLB News

Delivered to your inbox

You'll also receive Yardbarker's daily Top 10, featuring the best sports stories from around the web. Customize your newsletter to get articles on your favorite sports and teams. And the best part? It's free!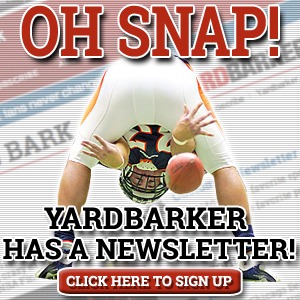 Latest Rumors
Best of Yardbarker

Today's Best Stuff

For Bloggers

Join the Yardbarker Network for more promotion, traffic, and money.

Company Info

Help

What is Yardbarker?

Yardbarker is the largest network of sports blogs and pro athlete blogs on the web. This site is the hub of the Yardbarker Network, where our editors and algorithms curate the best sports content from our network and beyond.