Found February 27, 2013 on The Nats Blog:
Continuing with the theme of this series and just to reiterate, it's difficult to find any significant weakness with this Nationals 25-man roster. The infield and catchers are no exception. All five projected starters are among the best in the league at their positions defensively, and none of them are offensive slouches by any stretch of the imagination. On top of that, the bench players could be starters for a number of MLB teams. Catcher: Kurt Suzuki – This is a position that could go either way for the Nats this season, and I imagine that Suzuki and Wilson Ramos will split a whole lot of time over the course of the season as Ramos gets his legs back under him following knee surgery. With the Nats last year, Suzuki hit .267 with five home runs in just 43 games, and he was a critical piece down the stretch offensively and as a mentor to the best pitching staff in the major leagues. Suzuki has earned the Opening Day start, and I think he just may get it. First Base: Adam LaRoche – The Nationals first baseman had a career year in 2012, which led to him being re-signed to a two-year deal this past offseason. A .271 batting average, .853 OPS, and 128 OPS+, among many other factors led to LaRoche finishing sixth in NL MVP voting and earned him the first Silver Slugger of his career. His 6.1 UZR was a factor in earning his first career Gold Glove. LaRoche's defense makes the already great defensive infield around him look even better, and his ability to hit for power in the middle of the lineup is invaluable. While I expect he'll regress from a career-best season, I think he'll be around career average numbers for 2013. Second Base: Danny Espinosa – It turns out that Danny Espinosa had a torn rotator cuff through September and October last season, but he decided to try rehabbing the injury rather than have it surgically repaired. Only time will tell if that's the right decision, but he insists he feels fine. Espinosa will also try to recover from a disappointing sophomore campaign, where he led the National League in strikeouts. He earned a 3.8 WAR, which was good for fourth best on the team, but he will have to work on a few things. For now, he's certainly nothing to scoff at for a number eight hitter in an MLB linetup. Shortstop: Ian Desmond – Desmond was another Nationals infielder who had a career-best year, and for the young shortstop, it's the breakout year Mike Rizzo and Davey Johnson saw on the horizon. He still did what he's best known for: swing at the first pitch. A lot. But when he made contact on that first pitch, he hit .391 and sported a .979 OPS. When he was moved down to the number six spot in the lineup, it certainly helped, because his role changed to more of a power guy, and his 25 home runs show exactly that. I expect Desmond to pick up where he left off as his career starts to reach the peak of his success. Third Base: Ryan Zimmerman – Coming off of the season that will forever be known as The Year Of The Cortisone, Zimmerman's had his shoulder cleaned out, and he doesn't expect any problems for 2013. After he started his cortisone regimen in late June, Zimm worked his way up toward career average numbers offensively, but his shoulder never was quite right for throwing. He's working that out in spring training, which should help him have a better year at the hot corner. He is among the top two or three defensive third basemen in baseball when fully healthy, and I hope the Nats are able to see that return this season. Bench: Wilson Ramos (C), Steve Lombardozzi (2B, 3B, LF), Chad Tracy (1B, 3B) – Wilson Ramos is coming off of surgery to fix a torn ACL, which is among the worst injuries a catcher can go through. Without Suzuki, Ramos would still likely be the Opening Day starter. However, Ramos isn't likely to start a spring game until sometime in the middle of March, so I think he'll be eased into the regular season. Steve Lombardozzi is a little guy and a former 19th round pick. He has no business being as good as he is at baseball, but here he stands. He's learned to be versatile, playing both infield and outfield positions, and he rarely strikes out. He provides above-average defense, and he can make contact off the bench. I don't expect to see Lombardozzi on the team for many more seasons, because he's just too good to be riding the bench, but he'll be crucial to the team in 2013. Chad Tracy is the leader of the "Goon Squad," the great name for the Nats bench. In just 93 at bats in 2012, he managed to knock in 14 runs. He can play the corners of the infield in a pinch, but his personality and ability to provide pop off the bench are his real value.
Original Story:
http://www.thenatsblog.com/2013-artic...
THE BACKYARD
BEST OF MAXIM
RELATED ARTICLES
DC Sports Bogposted about Jimmy Johnson's post-Daytona 500 victory celebration on Sunday, which apparently involved the filming of a Harlem Shake video that included Jayson Werth and Adam LaRoche. Video above.Good luck identifying Werth and LaRoche, though, it's not easy to pick 'em out. We're guessing LaRoche is the guy who drives by on the dirt bike, and Werth is...
Things continue to look up for Wilson Ramos.  He has long been expected to be ready for Opening Day, but yesterday he gave a status update on his knee and it was all good news.  The Washington Nationals catcher is progressing well and nearing 100 percent health. When Ramos arrived in camp, he said his knee was about 80 percent healthy.  Now after a couple weeks of drills and...
Washington Nationals pitcher Gio Gonzalez recently suffered a minor injury that is not going to cause him to miss any time in spring training, so we'll take it easier on him than we have on some of our other weird injury victims. That being said, the mark on his forehead still comes with a hilarious story. According to Dan Kolko of MASNSports.com, reporters asked Gonzlaez about...
Up above, video (via MLB.com) of Dan Haren discussing his first start of the spring for the Nats (2.0 IP, 2 H, 1 R, 3 K). So, Dan, how was the 'stuff' today? "I'm not a guy when you're gonna watch me and it's gonna be like: 'WOW. His stuff was just AMAZING today'. It's more of a thing where I just work to get people out, it doesn't have...
Mike Trout tore up the majors in 2012, hitting .326, stealing 49 bases, smashing 30 homeruns and scoring 129 runs — stats he accumulated in just 139 games. Numbers that many thought were MVP caliber, but he fell short in votes to Miguel Cabrera, the Triple Crown winner.  It is hard to imagine another young player having the season that Trout did in 2012, but I think in 2013 a...
  Each year Baseball America releases their top-10 prospects for each organization. As a baseball fanatic that has rooted for a loosing team much of his life, it's one of the best parts of the season. It provides a glimmer of hope as you can see the opinions from some of the top baseball experts on the players that could potentially be the future of the franchise you know...
Last year was a tale of two seasons for Ryan Zimmerman as he struggled early in the season with a shoulder injury. On June 23, he decided to receive a cortizone shot and it completely revitalized his game offensively. Sidebar: I understand that PEDs are illegal in baseball and modern science/medicines are not, but players in the 60′s and 70′s didn't have the advantages today's...
Dan Haren allowed a run over two sharp innings in his debut with the Washington Nationals, but the Nathan Eovaldi pitched two hitless innings in his first start to lead the Miami Marlins to a 5-1 victory on Wednesday. NL Rookie of the Year Bryce Harper cooled off some, going 0 for 2 for the Nationals. He had three hits Tuesday and is 6 for 10 to start spring training. Haren signed...
(source feed provided no summary content for this entry)
Bryce Harper collected three more hits today. I don't want to jinx the kid too early or anything but he's started spring training by going 6 for 8. He's already in his manager's ear about not wanting to sit. He doesn't know these games don't count. And this guy is too good to be true. Keep sitting him now and again, Davey. He'll wear himself out by July at this pace...
Nationals right fielder Jayson Werth likes the Phillies better than the Braves Some bulletin board material that may motivate the Braves a little bit has appeared, as Washington Nationals star Jayson Werth talked to the Washington Post's Adam Kilgore about the National League East race before Tuesday's game.  Werth was asked whether he thinks the Phillies or Braves are the Nationals'...
Nationals News

Delivered to your inbox

You'll also receive Yardbarker's daily Top 10, featuring the best sports stories from around the web. Customize your newsletter to get articles on your favorite sports and teams. And the best part? It's free!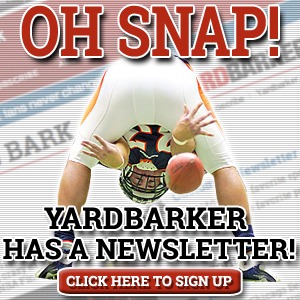 Latest Rumors
Best of Yardbarker

Today's Best Stuff

For Bloggers

Join the Yardbarker Network for more promotion, traffic, and money.

Company Info

Help

What is Yardbarker?

Yardbarker is the largest network of sports blogs and pro athlete blogs on the web. This site is the hub of the Yardbarker Network, where our editors and algorithms curate the best sports content from our network and beyond.