Found November 10, 2012 on hardballchat.com:
PLAYERS:
Tim Lincecum
,
Barry Zito
,
Marco Scutaro
,
Hunter Pence
,
Angel Pagan
,
Melky Cabrera
,
Kevin Youkilis
,
Hanley Ramirez
,
Carl Crawford
,
Brandon League
,
Zack Greinke
,
Ryan Dempster
,
Chris Young
,
Justin Upton
,
Elvis Andrus
,
Jurickson Profar
,
Trevor Bauer
,
Chase Headley
,
Yasmani Grandal
,
Nick Hundley
,
Huston Street
,
Edinson Volquez
,
Troy Tulowitzki
TEAMS:
San Francisco Giants
,
Chicago White Sox
,
Los Angeles Dodgers
,
Los Angeles Angels
,
Texas Rangers
,
Arizona Diamondbacks
,
Oakland Athletics
,
San Diego Padres
,
Colorado Rockies
We continue on the west coast this time around to take a look at the hotly contested National League West. The San Francisco Giants have won two World Series titles in the last three seasons, but they have hardly dominated. Each race has come down to the final couple of weeks in the last three years. As many as three teams have a very strong claim to the 2013 crown, so the Giants can't rest on their laurels. San Francisco Giants The champs have some good things on their side. Their entire rotation is locked up for the season and they can reasonably expect Tim Lincecum to perform much better this season than he did last season. Barry Zito is mercifully entering the final year of his contract and he actually came close to earning his money last season. So, on the pitching side of things, the Giants are in great shape. Assuming they re-sign Marco Scutaro, their infield should be intact too. However, the entire outfield is in a state of flux. Hunter Pence is entering the last year of arbitration. That brings a 13-14 million dollar price tag for a sub 800 OPS player. Angel Pagan and Melky Cabrera are both in walk years as well. Pagan should come back, but that leaves left field as a potential hole for the World champs. Los Angeles Dodgers They went on their spending spree in July in August, but they might spend a little more to bring in Kevin Youkilis to play third base. That would move Hanley Ramirez to shortstop and Dee Gordon to the bench or the minors. The outfield is a bit unsettled, but if Carl Crawford is healthy they will have three regulars under contract. Given their injury histories you would like to have at least one quality reserve in the tank. On the pitching side of things, they did re-sign Brandon League, so their bullpen is as deep as just about anyone's. There continue to be rumors about them breaking the bank for a Zack Greinke or someone like Ryan Dempster. If they add one of those two they will become the favorite in the division. Arizona Diamondbacks They already dealt Chris Young to the Athletics. Will Justin Upton be next? The rumors have been running rampant about Upton going to the Rangers for Elvis Andrus or Jurickson Profar. The Rangers seem reluctant to deal either of those two, but such a deal would benefit both sides in at least the short term. Meanwhile, rumors are abound that Trevor Bauer could be available for the right price. The Dbacks have the pitching at the big league level and on the farm to make a run. Their shortstop position is unsettled to say the least and they have extra outfielders. Seems to me that Upton will be on the way out. The question is what the Dbacks will be able to get for the embattled outfielder. San Diego Padres Believe it or not, this team is not that bad offensively. Chase Headley had a brilliant campaign and Yasmani Grandal turned out to be better than advertised. Of course, now we know why. He tested positive for testosterone and will miss the first 50 games. That means Nick Hundley will be the guy again at the start of the season. It also means that the Padres have question marks up the middle of the diamond offensively. The pitching is really where the issues start. If Huston Street is healthy, the back end of the bullpen will be solid once again. Getting the ball to him will be a challenge. Edinson Volquez wasn't bad, but given the home field advantage he wasn't exactly the second coming either. Will the Padres roll the dice on some other struggling arms or will they go out and get some proven pitchers this time around? Colorado Rockies Keep looking at the SABR section of the site as I profile the Rockies. Total run index takes awhile to compile, but the rewards are worth it. This is the worst fielding team I have seen in quite some time. It is bad enough to where I can't comment confidently as to how shaky the pitching staff actually is. Personally, I think if you threw even a below average defense their way they would look decent enough. Troy Tulowitzki should be back and there is no reason to expect him not to go back to being the Gold Glove fielder he was. That's one position down. No team can have a very good fielder at every position, but this team is staring seven substandard fielders in the face on Opening Day. Tulow is good, but he's not that good. The post 2013 MLB Offseason: NL West appeared first on Hardball Chat Baseball Blog.
Original Story:
http://www.hardballchat.com/2012/11/2...
THE BACKYARD
BEST OF MAXIM
RELATED ARTICLES
Jon Heyman of CBSSports.com says (via Twitter) the San Francisco Giants have been receiving calls  from teams inquiring about Brandon Belt. They don't seem inclined to trade Belt, and say their goals are to re-sign Angel Pagan, Marco Scutaro and try to retain Jeremy Affeldt.   Bob Nightengale of USA Today says (via Twitter) the Giants are confident they will be able to resign...
Joel Sherman of the New York Post reports that at least 5 teams are interested troubled outfielder Melky Cabrera. Sherman adds that the Mets and Yankees have not expressed interest in Cabrera. Cabrera who was suspended 50 games for testing for Testosterone, is a unique free agent, as when he was suspended, he was the hottest hitter in the National League. But no one knows how Cabrera...
Outfielder Melky Cabrera became persona non grata with the San Francisco Giants after he was suspended in August for a positive drug test, but apparently not every team feels the same way about this year's All-Star Game Most Valuable Player. Cabrera, 28, is now a free agent, and the New York Post reported that at least five teams have expressed interest in his services. The...
Looks like Melky Cabrera still might get a fat paycheck even though he got popped for elevated testosterone levels suggesting PED use. It is being reported that at least five teams have expressed interest in the outfielder. Why? I'm not sure. He still has an incredible arm, but if these teams are going after the Melkman for his bat, chances are they are going to be sorely disappointed...
It's the small moves that make a season and a team. I admit, when the Giants picked up Ryan Vogelsong, I thought it was to sell tickets in Fresno.  I was wrong. When the Giants found Pat Burrell on the scrap heap, I expected it to be a non-factor in anything.  Nope. Cody Ross?  It seemed like sacrificing a roster spot to stop a rival.  Well, not just. Marco Scutaro?  A fine...
Are you still hung over from the World Series championship and parade? Well wipe the crust from your eyes. There's lots of stuff going on right now… Don't cry over spilled Melk Former Giant Melky Cabrera is attracting lots of attention from other teams. Five teams, including the Mets and Phillies, are interested in the Melk Man, according to Joel Sherman of the New York Post...
MLB News

Delivered to your inbox

You'll also receive Yardbarker's daily Top 10, featuring the best sports stories from around the web. Customize your newsletter to get articles on your favorite sports and teams. And the best part? It's free!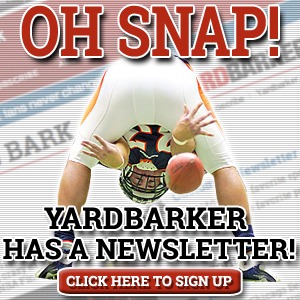 Latest Rumors
Best of Yardbarker

Today's Best Stuff

For Bloggers

Join the Yardbarker Network for more promotion, traffic, and money.

Company Info

Help

What is Yardbarker?

Yardbarker is the largest network of sports blogs and pro athlete blogs on the web. This site is the hub of the Yardbarker Network, where our editors and algorithms curate the best sports content from our network and beyond.