Found February 26, 2013 on Monkey with a Halo:
C.J. Wilson got his wish by getting a big fat contract to return to Southern California to pitch. But that dream turned into a nightmare by the end of the season. Will everyone's favorite straightedger be able to redeem himself in 2013? 2012 Stats: 202.1 IP, 13-10, 3.83 ERA. 4.04 FIP, 181 H, 91 BB, 19 HR, 173 SO, 1.68 GB/FB, 2.5 fWAR 2013 ZiPS Projections: 193.1 IP, 3.49 ERA. 3.69 FIP, 172 H, 79 BB, 15 HR, 169 SO, 3.6 fWAR 2013 Bill James Projections: 198.0 IP, 13-9, 3.45 ERA. 3.62 FIP, 171 H, 82 BB, 15 HR, 176 SO 2013 CAIRO Projections: 195.0 IP, 14-7, 3.50 ERA. 3.67 FIP, 175 H, 77 BB, 15 HR, 161 SO 2013 MWAH Projections*: 210.0 IP, 16-8, 3.39 ERA. 3.34 FIP, 179 H, 76 BB, 14 HR, 190 SO *The MWAH projections are simply my best guess based off my own personal opinion and research (my wOBA and FIP calculations are approximate) 2012 in Objective Review: The Angels did not get the C.J. WIlson they thought they were paying for in 2012. After getting off to a great start, Wilson collapsed in the second half. Struggles with his command and allowing the longball led to talk of Wilson getting pulled from the rotation in August before he managed to pull it together just enough to keep his spot during September and October. It certainly didn't do enough to keep fans from turning against him though as he was subject to a fair amount of negativity due to his poor performance. It turns out that C.J. was quietly pitching through bone spurs in his pitching elbow. Wilson later admitted that the bone chips caused him to lose range of motion in his elbow, forcing him to try and make adjustments on the mound that clearly didn't work out. He would go one to get the elbow surgically repaired in the off-season, so there is hope that he will bounce back big in 2013.   2012 in Revisionist History: So, how much do we really blame on his elbow? Everyone likes to point to Wilson registering a 2.43 ERA in the first half of the season, but it seems that may have been misleading. Many were quick to point out that Wilson posted a 3.67 FIP over that span, suggesting that he was the recipient of some very good luck which hid his struggles. For the sake of comparison, consider that C.J. fanned 19.4% and walked 10.8% of batters in the first half but then struck out 20.7% and walked 10.2% in the second half. In other words, he struck out more and walked less in the second half when he was supposedly so much worse than the first half. Now if I told you he had a .242 BABIP in the first half and .326 BABIP in the second half, how would you feel? Now, that sort of excuses C.J. as having very good luck followed by very bad luck. That was probably a factor, but from an "eye test" standpoint, it was evident that Wilson struggled with consistency and hitting his spots. That's where I think we really need to take C.J. at his word and accept that he really just couldn't feel his pitches by the time the year ended. The bigger concern is that this was an overall regression year for Wilson. He was tremendous in 2011, but his 2012 season looked a lot more like his 2010 season in which he was good, but not great. The Angels didn't pay for him to be a #3 starter, so they simply have to hope that his struggles were completely and totally related to his arm problems and not because he age was catching up to him. One point in his favor is that C.J. actually gained velocity this season, which is very encouraging since he was pitching hurt. That's not much to hang your hat on, but it'll have to do.   Three Lingering Questions for 2013: 1) Can C.J. come all the way back after having the bone chips removed? The bad news it that Wilson has had this surgery before. Repeat surgery on your pitching elbow is never a good thing. The good news is that C.J. had one of his best seasons as a reliever after his first surgery, so it certainly didn't hurt him then. Plus, he knows how to handle the recovery for what is ultimately considered to be a relatively inconsequential procedure. Still, one can't help but be concerned about a high-priced 32-year old pitcher needing any kind of surgery on his pitching arm. 2) Should we be worried about how ineffective Wilson was against right-handed batters? With a 4.41 FIP, sub-7.0 K/9 and .316 wOBA allowed, Wilson had one of his worst seasons against righties. Was that just another symptom of his elbow problems or is the league starting to catch up to him now that he has three full seasons of being a starter under his belt? 3) Will his "unique" personality continue to be tolerated if he struggles again? Amongst fans, I suspect that answer is an easy, "No." Even before he started to pitch poorly, his act had gotten pretty tired with some. How it is perceived in the clubhouse is much different, but not something we really have insight into. But one has to think that there might be some in the clubhouse wondering what he is doing appearing in video game commercials when he is barely a league average pitcher. Some might question his commitment to returning to form when they see how much time he spent with his racing team in the off-season. These concerns are nothing new to C.J., but not pitching very well is and that could cause the delicate balance between his on-field and off-field personas to tip too far in a bad direction.   Three Irrelevant Questions for 2013: 1) Can someone please explain the zombie-proof SUV he designed? First off, I need to know if this was just a cheap ploy to capitalize on the zombie craze (probably) or if Wilson is really one of those freaks that is terrified that the zombie apocalypse draws night (like me, which is why I insist I be cremated upon my death). If it is the former, ugh. If it is the latter, then I think C.J. really need to rethink his strategy. Where is the flamethrower? Why is there no cow catcher on the front of the car? He will not be welcome in my bunker if this is the best he can do. 2) How much am I dreading his forthcoming Head & Shoulder commercials? I know we are supposed to think C.J. is the fun and quirky guy, but has he ever really done anything that was actually funny or at least didn't leave you thinking that he must be insufferable to hang out with? 3) When will Rangers fans stop popping up to say, "Told you so!" every time C.J. does something bad? Believe it or not, I think it might be this year. Or at least the response might be delayed now that they seem to have their knives out for Hamilton instead.   2013 in Subjective Projection: I, and apparently all the other projection systems, seem to think that Wilson is going to be just fine in 2012. Given that he has reportedly had no problems in his recovery from elbow surgery is a great sign, assuming that the elbow was the real culprit behind his struggles. That's something of a moral victory for Wilson. A lot of people, myself included, thought Wilson could put up fantastic numbers in a much more pitcher-friendly environment. Clearly that wasn't the case in 2012. But I'm not blaming the elbow for that. Instead, I think the problem is we all just gave him too much credit for his 2011 campaign. We were treating him like a 24-year old kid who was just going to keep on getting better instead of a guy who was over 30 and past his physical prime. Granted, 2011 was only his second-year as a starter, so there was perceived to be room for growth there. Turns out not so much. There really wasn't any point last season where Wilson had the look of an ace. He always issued too many walks and was too inefficient with his pitches. Now, that all sounds bad, but it isn't. If you look back at it, Wilson did pretty well considering his command issues and health problems. It was really just that one miserable month of August where his stats took a real beating. If anything, we should applaud him for holding it together as long as he did. Unfortunately, one of his worst hiccups came against Texas in September which left a bad taste in everyone's mouth even though he had actually been pitching relatively well before that. What I am getting at is that Wilson still has a lot of talent in that arm, so much that he can still be a league average starter while pitching with a bum elbow. If he really does come back at 100% in 2013, then he should slot in like the solid #2 starter that the Angels had hoped he would be. [follow]
Original Story:
http://www.monkeywithahalo.com/player...
THE BACKYARD
BEST OF MAXIM
RELATED ARTICLES
The February 25th, 2013 edition of daily news for the Los Angeles Angels including Weaver "doesn't give a (expletive)" about lost money, Burnett and Madson to ramp up throwing programs and much more... The Story: Jered Weaver "doesn't give a (expletive)" about the money he left on the table when signing a contract extension. The Monkey Says: He...
Albert Pujols is in the starting lineup to make his 2013 spring training debut for the Los Angeles Angels, about 10 days ahead of schedule following offseason knee surgery. Pujols was down to be the designated hitter and bat third against Cincinnati on Tuesday, saying he wanted to ''see some live pitching,'' Angels manager Mike Scioscia says Pujols ''feels...
By David Saltzer, AngelsWin.com Senior Writer --  It takes a lot to make a successful Little League baseball season. It starts with the dedication from the people who organize the league, includes all the hard work from the coaches who run the teams, and ends with all the hours donated by the parents who make it all happen (especially the team moms!). It's a labor of...
TEMPE, Ariz. (AP) -- Josh Hamilton wants to turn over a new leaf with his new team. The free-swinging slugger is planning to practice better plate discipline in his first spring with the Los Angeles Angels. Hamilton then swung at the first pitch he faced in an Angels uniform Tuesday, grounding out to short in Los Angeles' 7-7, nine-inning tie with an Arizona Diamondbacks split...
The MWAH prospect countdown marches on with a third baseman who deserves a shot in the majors but probably won't get one, at least not with the Angels. Luis Jimenez Position: 3B  Highest Level: Triple-A Bats: Right Throws: Right  Height: 6'1" Weight: 205 lbs. Age: 25  Born: 1/18/88 2012 Season Stats Triple-A: 517 PA, .309 AVG, .334 OBP, .495 SLG, 38...
The Los Angeles Angels enter the 2013 season with a roster filled with superstars, but none may be more popular than Mike Trout. The 21-year-old burst onto the scene last year and was one of the best players in baseball. Had it not been for Miguel Cabrera winning the Triple Crown, Trout could have easily taken home the American League MVP award. How popular is Trout in LA? Of the...
The February 27th, 2013 edition of daily news for the Los Angeles Angels including Callaspo reported to camp overweight, Hamilton makes his spring debut and much more... The Story: Alberto Callaspo showed up to camp 20 pounds overweight, but has already lost most of it. The Monkey Says: It seems Alberto was nursing a shoulder problem in the off-season so he didn't work...
The MWAH prospect countdown marches on with a slugging outfielder who is hoping to make a name for himself. Randal Grichuk Position: OF  Highest Level: High-A Bats: Right Throws: Right  Height: 6'1" Weight: 195 lbs. Age: 22  Born: 8/13/91 2012 Season Stats High-A: 575 PA, .298 AVG, .335 OBP, .488 SLG, 30 2B, 9 3B, 18 HR, 71 RBI, 92 SO, 16 SB, 6 CS, .329...
There is a stupid premium on Jered Weaver. Stupid as in dumb. Not stupid as in, "Yo, Grey your feathered hair is stupid fresh! Farrah Fawcett is prolly jealous in heaven. Flap your wings, Greyseph Hawkins, you are my angel on earth. I love you." In the top 20 starters for 2013 fantasy baseball, I went over some of this so if you've been there, read that, skip...
Mike Trout's 2012 season is much like a fishing story. It just seems to get more extravagant with each telling of the tale. I've heard the fables, "Oh man, I caught this 12 lb walleye in my bath tub!"; when in reality the guy probably dropped a 12 lb turd in his toilet after eating Taco Bell. The plastics and tainted horse meat will do that to a guy. You'll...
Angels News

Delivered to your inbox

You'll also receive Yardbarker's daily Top 10, featuring the best sports stories from around the web. Customize your newsletter to get articles on your favorite sports and teams. And the best part? It's free!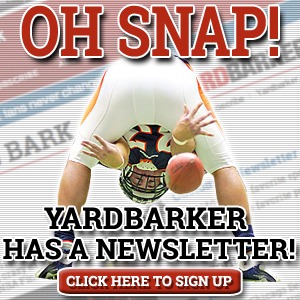 Latest Rumors
Best of Yardbarker

Today's Best Stuff

For Bloggers

Join the Yardbarker Network for more promotion, traffic, and money.

Company Info

Help

What is Yardbarker?

Yardbarker is the largest network of sports blogs and pro athlete blogs on the web. This site is the hub of the Yardbarker Network, where our editors and algorithms curate the best sports content from our network and beyond.