Found October 02, 2013 on NorthWest Sports Beat:
PLAYERS:
Eric Wedge
,
Jack Zduriencik
,
Felix Hernandez
,
Kyle Seager
,
Charlie Manuel
,
Bryan Price
,
Alex Rodriguez
,
Ozzie Guillen
TEAMS:
Seattle Mariners
,
Cleveland Indians
,
Chicago Cubs
,
New York Yankees
,
Chicago White Sox
Wedge out, now what? The Seattle Mariners execs get to do yet another managerial search this winter.  Maybe this group is not the best at picking out major league managers, but they certainly are experienced given this will be their 8th manager search in just over 10 years.  Does practice really make perfect? Replacing a proven, experienced manager like Eric Wedge with someone who has major league experience given the state of the franchise is going to be difficult to say the least, unless you ask Jack Z. "I think if you look at this organization and where we're at, and what we've done here, it'll be a very desirable job for a lot of good candidates," Is what Jack Zduriencik said recently.  Well, let's just examine the facts, shall we? Here are a few of the many obstacles that any candidate is going to have to accept and live with in order to be sitting in the dugout in Seattle come spring 2014. The Problems Your boss, meaning the Mariners GM, Jack Zduriencik, only has 1 year left on his deal.  That's not exactly a lot of time to fix all of the issues the M's currently have and if he gets let go, one has to think you go with him. There is a huge lack of major league talent currently signed. You've got Felix Hernandez, Hisashi Iwakuma, and then……..?  There isn't a single proven bat, at any position, currently signed. The most consistent bat on the roster right now is Kyle Seager who just hit .260. Your ownership is a serious question mark. Despite a statement from Nintendo to the contrary, the idea that the passing of Hiroshi Yamauchi raises no red flags as to who will ultimately run the Mariners going forward is just ludicrous. Price could comeback to the PNW. Is all that enough to scare away quality managerial candidates? It just might. The Candidates with major league experience Charlie Manuel who was let go as skipper of the Phillies this fall is presumably available. Manuel has the most experience managing in the majors of any candidate that the M's could possibly look at with about 13 years at the helm of MLB teams. Manuel also has lots of time under his belt as a hitting instructor at the major league level. We all know the M's could use some of that. In addition to Philly, Charlie also managed the Cleveland Indians for two seasons and left in 2002 over a contract dispute. A guy who reads is contract might not be a good choice for the M's. Just ask Eric Wedge. Dale Sveum was just let go by the Chicago Cubs after serving as their manager for two seasons.  He certainly doesn't have Manuel's experience as his two years in Chicago  were his first two as a major league skipper. Sveum did serve in major league coaching roles with Milwaukee and Boston prior to landing his first skipper job in Chicago. The Candidates without major league experience Bryan Price is someone I expect will be looked at closely for one reason.  He was a popular pitching coach in Seattle and the M's love to bring guys back that the fans like.  What better way to appease Seattle than to bring back a guy from that long since passed 2001 dream team? Price has never managed at a professional level of baseball. He's served as a pitching coach with Seattle, Arizona and currently is with Cincinnati in the same role.  Maybe he's managed a little league team? Sticking with sappy returns of glory to the Emerald City the next guy you find is Joey Cora. Cora of course signed with the Mariners in 1995  to play 2nd base and was huge part of the team that many believe saved baseball in Seattle. Few will ever forget Joey Cora crying in the arms of Alex Rodriguez after the 1995 ALCS loss to the Cleveland Indians. Joey Cora would obviously be a popular choice in Seattle. After giving up his playing days, Cora managed in the minors for the NY Mets. He was eventually hired to coach 3rd for the Chicago White Sox by his fiery friend Ozzie Guillen. Cora was promoted by Guillen to bench coach and followed Guillen in the same role to Miami. Cora even filled in for him as manager during his frequent "absences" although Cora was never officially named as the manager for the White Sox or the Marlins.  Cora has also spent time managing teams in the Venezuelan leagues. Robby Thompson is the final name I'll mention for now.  Thompson was Eric Wedge's bench coach this past season for Seattle.  Thompson took over the team as Manager when Wedge missed time with his stroke. Prior to his time in Seattle, Robby spent time as a first base coach in San Francisco and Cleveland.  He went up to the front office in Cleveland for a while and then came back to the dugout as Cleveland's bench coach. Who do they choose? When the dust settles, I believe the Mariners are going to go with Robby Thompson as their new manager. It's the option with the least number of transitional issues for a young team. Besides, It's also going to be just about their only choice because I don't think any of these other guys are going to want the job for the issues I already brought up plus I don't think the Mariners are going to want to give anyone they hire a very long contract. The Seattle Mariners have really painted themselves into a corner this time. How they get out of it without getting paint on their hands is going to be interesting to watch to say the least. CLICK HERE TO CHECK OUT THE MARINERS BLOG IN OUR CLUBHOUSE TODAY AT NWSB!
Original Story:
http://www.nwsportsbeat.com/mariners/...
THE BACKYARD
BEST OF MAXIM
RELATED ARTICLES
Now What? We've been through this process A LOT, Mariner fans. Will they find the right manager to take on this young team? Here is a good read from Tim Booth of the Seattle AP. Eric Wedge had some nice parting words. "I wanted to see this thing through but there were factors involved that became obviously clear to me that were not going to allow that to happen," Wedge said...
Few highs, many lows Another difficult season for the Seattle Mariners faithful was finally put to bed Sunday as the Mariners looked like a team ready to hit the links, losing 9-0 to the AL West Champion Oakland A's. The loss and lack of effort the M's put into that game was the rancid cherry on top of yet another losing season as the Mariners managed to win just 71 games while...
Hultzen out for a long long long time… CBS is reporting that 2011 second overall pick Danny left hander Danny Hultzen had shoulder surgery performed by Dr. James Andrews in Florida on Tuesday. "This is very unfortunate for Danny and his family, but we have nothing but high hopes for a good recovery and rehab," said GM Jack Zduriencik in a statement. "Danny is a tireless worker...
Top Seattle Mariners pitching prospect Danny Hultzen has undergone surgery on his left shoulder to clean up his labrum and repair a partial tear of his rotator cuff. The Mariners announced Hultzen underwent the surgery on Tuesday. The surgery was performed by Dr. James Andrews in Pensacola, Fla. The team said there is no timetable on Hultzen's recovery. Hultzen, selected with...
Top Seattle Mariners pitching prospect Danny Hultzen has undergone surgery on his left shoulder to clean up his labrum and repair a partial tear of his rotator cuff. The Mariners announced Hultzen underwent the surgery on Tuesday. The surgery was performed by Dr. James Andrews in Pensacola, Fla. The team said there is no timetable on Hultzen's recovery. Hultzen, selected with...
The last weekend in September marked the last series for the 2013 Seattle Mariners season.  The M's capped off fourth place in the AL West with a final loss against the Oakland Athletics, 9-0, ending the season with a record of 71-91.  Sigh. I'm not going to focus on how the Mariners had more losses than wins, or how this is the 12th season in a row without a postseason...
Left-hander Danny Hultzen, the second overall pick in the 2011 draft, had shoulder surgery performed by Dr. James Andrews in Florida on Tuesday according to Greg Johns of MLB.com. The procedure cleaned up his labrum and repaired partial tears in his rotator cuff and capsule. The team did not give a timetable for his return. "This is very unfortunate for Danny and his family...
Joey Joey Joey We'd like whatever Mariners fans we have left at NWSB to let us know who you think should be in line for the skipper job? Also We'd like to know what your thoughts are on Eric Wedge's time and if you think he is the reason for this terrible Mariners 2013 record? Check out this tweet by Ken Rosenthal yesterday about the M's coaching search. Two names #Mariners...
There is always a bit of a lull between the end of the minor league playoffs in September and the start of the annual top prospects lists in early November. Because of that gap, I'm breathing new life into an old feature that I wrote for the site in FanGraphs' infancy back in 2008 and 2009. The series 'A Minor Review of 2013′ will look back on some of the major happenings...
(Eds: Adds details, quotes. With AP Photos.) By TIM BOOTH AP Sports Writer Another offseason. Another Seattle Mariners managerial search. By now, the Mariners should be adept at this process. They'll spend the early part of this offseason hiring their eighth manager or interim manager since 2002. Yet the indictment of the franchise that came from manger Eric Wedge's decision...
You've got to be kidding me! If it's not clear to you by now, perhaps someone needs to have you put on that "special" jacket and lock you in the rubber room for a while. With Seattle Mariners Manager Eric Wedge announcing last week that he will not return in 2014, it should be clear as crystal that the team is in a state of dysfunction that rivals Lindsay Lohan's rehab...
MLB News

Delivered to your inbox

You'll also receive Yardbarker's daily Top 10, featuring the best sports stories from around the web. Customize your newsletter to get articles on your favorite sports and teams. And the best part? It's free!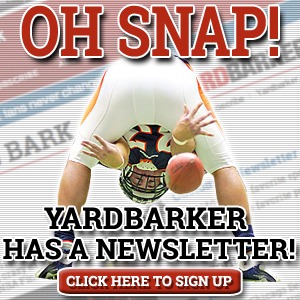 Latest Rumors
Best of Yardbarker

Today's Best Stuff

For Bloggers

Join the Yardbarker Network for more promotion, traffic, and money.

Company Info

Help

What is Yardbarker?

Yardbarker is the largest network of sports blogs and pro athlete blogs on the web. This site is the hub of the Yardbarker Network, where our editors and algorithms curate the best sports content from our network and beyond.