Dave Martinez made his Grapefruit League debut as a manager, and Victor Robles managed to impress after coming off the bench, but the Astros beat the Nationals, 3-2 in their shared Spring Training home.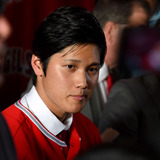 The 2017 MLB season was memorable for a number of reasons. At or near the top of the list was the impact that Aaron Judge and Cody Bellinger had. The two rookies took the baseball world by storm. With spring training now right around the corner, it's only fair to wonder. Who might do that in the 2018 MLB season?Looking at the pool, there are some strong candidates. The Chicago Cubs...
MLB.com released its annual top 100 prospects list and the Nationals had three players ranked. Center fielder Victor Robles was listed at No. 6, while outfielder Juan Soto is No. 29 and shortstop Carter Kieboom checks in at No. 90. This list was in contrast to the Baseball America 2018 ... Read More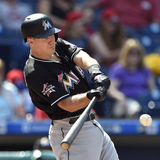 As the Marlins' offseason fire sale continues with the trade of Christian Yelich, it seems attention will now turn to catcher J.T. Realmuto. With three years of control remaining, he's even closer to free agency than was Yelich, so perhaps only a sufficient offer stands in the way of a deal.At this point, the Nationals are the organization that is "most heavily engaged" in pursuit...
Here are some final insights from Double-A Harrisburg pitching coach Michael Tejera about some of the other top Nationals prospects he has coached or seen play over the last few seasons. Center fielder Victor Robles is such an elite prospect he earned a spot on the Nationals' postseason roster. He ... Read More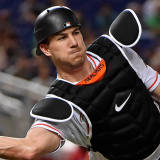 A new ownership group in Miami (headlined by Derek Jeter) has kicked off a fire sale. Dee Gordon is now a Mariner, Giancarlo Stanton a Yankee, and Marcell Ozuna a Cardinal, and there's no telling whether the Marlins are done yet.In the wake of this significant shift in direction for the organization, catcher J.T. Realmuto has reportedly requested a trade out of the city. While the...
The top prospect in the Nationals system, according to Baseball America, comes as no surprise to anyone, and that is center fielder Victor Robles. He was so good that he made the Nats' postseason roster even though he had only a handful of major league games under his belt before ... Read More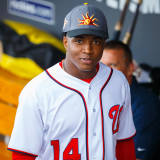 Though a few of the Braves' relief targets have signed elsewhere, GM Alex Anthopoulos has an interesting contingency plan. An article by David O'Brien of the Atlanta Journal-Constitution reveals that Atlanta is apparently willing to utilize some of its young upside starters as relievers early on in their careers if the team can't add the type of bullpen arms it's looking for through...
Baseball America has released their top 10 Nationals prospects for 2018 and to no surprise the No. 1 prospect is center fielder Victor Robles. Robles is also No. 8 overall in their Major League Baseball top 100 prospect list. This is the first time that Robles has been listed as ... Read More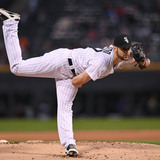 Expanded rosters change Major League Baseball in a big way in the month of September. The ability to carry up to 40 players on the big-league team gives clubs the opportunity to do much more than when they are limited to 25 players. They can load their bullpen with every conceivable matchup; pile up potential pinch hitters; and for clubs out of contention — and even a few teams still...
MORE STORIES >>
Nationals News

Delivered to your inbox

You'll also receive Yardbarker's daily Top 10, featuring the best sports stories from around the web. Customize your newsletter to get articles on your favorite sports and teams. And the best part? It's free!