Found December 12, 2012 on Busted Coverage:
First it was Wade Boggs, then Johnny Damon and now Kevin Youkilis has become the latest member of the Red Sox to jump ship and join the New York Yankees. Boston fans went off the wall on Twitter, wishing injury, death and more on Youk. Take @The_Saucy_rossy for example: kevin youkilis you were my favorite player on the sox. Now I hope you get hit by a bus f*ggot. It got worse. Take a look at this moron @MrStealYoGurlzz: If the Yankees sign Youkilis I will chop off my own d*ck and f*ck my own ass with it. Mother f*cking Piece of sh*t. Well he signed there. Lets see some photo evidence @MrSTealYoGurlzz. Filed under: Baseball, MLB
Original Story:
http://bustedcoverage.com/2012/12/12/...
THE BACKYARD
BEST OF MAXIM
RELATED ARTICLES
Kevin Youkilis will be manning third base for the Yankees come Opening Day, giving Red Sox fans that much more to chafe over when thinking about their counterparts in the Bronx. Youkilis was a fan favorite in Boston for many years, and although he's on the downside of his career, seeing him in pinstripes is going to be a jolt. If not for the continued watering down of what's...
Kevin Youkilis has agreed to sign with the Yankees, which predictably has New York's large Jewish population pretty excited. Youk, who spent his entire career with the Boston Red Sox until being traded to the Chicago White Sox last season, grew up in Cincinnati and is from a Jewish family. He had a Bar Mitzvah, and his father says the ballplayer can even read Hebrew. So how did...
Eagles Deli has long been a mainstay in Brighton, feeding countless hungry Boston College students over the years. The deli is known for its burgers, particularly the monumental size of some of their concoctions — most notably their 12-pound Eagle Challenge burger. A couple years ago the Travel Channel program "Man v. Food" stopped in Boston and checked out Eagles Deli —...
Oh Kevin….say it ain't so! Well it looks like it is so. Another former Red Sox player is going to play in the pinstripes. Today the New York Yankees have agreed to a one-year, $12-million contract with the third baseman. Kevin Youkilis played for the Red Sox and White Sox last year. He had a batting average of .235 with 19 home runs and 60 RBI's last season.  I would think...
Kevin Youkilis has signed a 1 year $12 million dollar deal with the New York Yankees. Wonder how Red Sox fans feel? Click HERE for more.
A person familiar with the negotiations tells The Associated Press that free agent Kevin Youkilis and the New York Yankees have reached agreement on a one-year deal. The contract is worth $12 million and pending a physical. The person spoke on condition of anonymity because there was no official announcement. The deal was first reported by Fox Sports. Youkilis is expected to play...
In 1989, Biz Markie's Just a Friend was one of the original rap/pop crossover hits to receive major radio airplay.  It's the first song I ever remember listening to where a rapper actually sang as well. For the past several years it was played at Fenway Park every time Kevin Youkilis came up to bat.  The crowd would chant "Yooouuuuk, you got what I need…"  In fact...
The Yankees have turned to an old rival to serve as Alex Rodriguez's replacement. The team on Tuesday reached agreement with free-agent third baseman Kevin Youkilis on a one-year, $12 million contract, according to major-league sources. The deal, which is pending a physical, will bring to New York a player who spent nearly his entire career with the Boston Red Sox. Rodriguez...
Youkilis will man third base in pinstripes. Former Red Sox third baseman Kevin Youkilis has signed a 1-year, $12 million contract with the New York Yankees. The agreement between the Yankees and Youkilis was first reported by Ken Rosenthal. The 33-year old corner infielder received interest from numerous teams, including the Cleveland Indians, who are managed by Terry Francona, who...
On the day the Redsocks traded Kevin Youkilis to the Whitesocks, a voice inside me knew he'd someday be a Yankee. I didn't think it would happen this fast, but it was a certainty: Before Youk's career ended, we would get him. BTW, it's the same knee-buckling sense of predestination that I have about Big Papi: He'll wear pinstripes someday. It's as if the ghost...
English: Kevin Youkilis(left) , Alex Cora(center), and Dustin Pedroia (Photo credit: Wikipedia) For almost a decade if anyone heard Kevin Youkilis and New York Yankeesin the same sentence you can bet that it was not friendly banter. So a week ago, when Yankees beat writer Bryan Hoch confirmed the rumor of the Yankees making a $12-million, one-year offer to the ex-Red Sox, I honestly...
Kevin Correia joins Minnesota, the Yankees get Kevin Youkilis, Jason Grilli re-ups and other moves.
MLB News

Delivered to your inbox

You'll also receive Yardbarker's daily Top 10, featuring the best sports stories from around the web. Customize your newsletter to get articles on your favorite sports and teams. And the best part? It's free!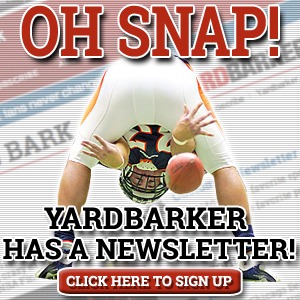 Latest Rumors
Best of Yardbarker

Today's Best Stuff

For Bloggers

Join the Yardbarker Network for more promotion, traffic, and money.

Company Info

Help

What is Yardbarker?

Yardbarker is the largest network of sports blogs and pro athlete blogs on the web. This site is the hub of the Yardbarker Network, where our editors and algorithms curate the best sports content from our network and beyond.