Found June 15, 2012 on Fox Sports Wisconsin:
PLAYERS:
Scott Diamond
,
Francisco Liriano
,
Zack Greinke
,
Yovani Gallardo
,
Shaun Marcum
,
Jonathan Lucroy
,
Joe Mauer
,
PJ Walters
,
Liam Hendriks
,
Aramis Ramirez
,
Corey Hart
,
Ryan Braun
,
John Axford
,
Francisco Rodriguez
TEAMS:
Minnesota Twins
,
Milwaukee Brewers
FOXSportsNorth.com Twins beat writerFOXSportsWisconsin.com Brewers beat writer With the second of two border battles between the Minnesota Twins and Milwaukee Brewers starting Friday, FOXSportsNorth.com Twins writer Tyler Mason and FOXSportsWisconsin.com Brewers writer Ryan Kartje have paired up to answer five key questions facing the teams as they meet at Target Field. 1. The Brewers and Twins are former American League border rivals and still meet frequently in interleague play, but how important of a rivalry is Brewers-Twins to your team? Does it mean anything more than other series on the schedule to players and fans? MASON: Ever since the Brewers joined the National League in 1998, the border battle rivalry hasn't been quite the same between these two teams. That doesn't mean, however, that Twins fans don't still get a kick out of playing their neighbors to the east. Seemingly every year, hundreds -- if not thousands -- of Twins fans will make the six-hour drive from Minneapolis to Milwaukee to invade Miller Park. On the flip side, many Brewers fans have made the journey to Target Field during the park's first two seasons, and they'll likely be well represented this weekend for Milwaukee's third trip there. Just look at last year's series between these two teams -- all three games in the series each drew more than 40,000 fans. The game on July 2 had an attendance of 41,378, the largest at Target Field last season. Clearly, these two fan bases take note when their teams face off. KARTJE: I haven't been in Milwaukee long enough to know much about the past animosity between the two fan bases, but it doesn't seem like the rivalry really has the luster that it probably used to when the two teams were in the American League together. That's part of the downfall of having two leagues, and with interleague play changing quite a bit going into next season, the former rivalry could slide even a bit more. All that being said, a Minnesota friend of mine and fan of the Twins told me not to believe what Wisconsinites told me about her state. So the interstate rivalry is still alive, I guess -- if only a little bit. 2. The last couple of games notwithstanding, both the Brewers and Twins have been playing better of late after early-season troubles. What's the biggest reason for your team's upswing? MASON: Shaky starting pitching was the reason the Twins fell into such a big hole early, and a steadier rotation has helped Minnesota slowly climb back from that deficit. The offense has come on strong as of late, but the lineup was never a weakness for the Twins. During Minnesota's current mini-surge, the rotation has slowly shaped up nicely, with Scott Diamond providing a huge boost. Francisco Liriano has also been solid since returning to the rotation after a demotion to the bullpen. As long as the pitching staff can hold opposing offenses in check, Minnesota's lineup has the potential to score enough runs to win. KARTJE: The Brewers started the season with one of the best rotations in all of baseball on paper. But through the first month or so of the season, that group looked like a shell of its paper self. Lately, Milwaukee's starting pitchers have been on an absolute tear with the best rotation ERA in all of baseball in the past week. The bullpen still needs to work out the kinks, but with Zack Greinke, Yovani Gallardo, and Shaun Marcum looking like one of the best three-pronged attacks in baseball, the Brewers have the beginnings of the formula that made them so successful last season. Greinke has been especially dominant, with the fifth-most strikeouts in the National League (89) and an ERA now below 3.00, while allowing more than one earned run in just one of his seven games. So, yeah, I'd say the Brewers' starting pitching is back. 3. Brewers catcher Jonathan Lucroy seemed to be making a push to join the elite hitters in the majors when he broke his hand last month. Figuring in age, upside, injury history and pretty much everything except salary, which catcher would you take -- Lucroy or the Twins' Joe Mauer -- if you had to pick the one who would win your team the most games in the next five seasons? MASON: You could certainly make a case for either catcher. Lucroy was putting up impressive numbers this season (.345.387.583 with 30 RBI) before he was sidelined by a freak injury. Mauer, meanwhile, has slowly bounced back from his injury-plagued 2011 season that limited him to 82 games and has stayed healthy in 2012. But when you compare the track records of the two catchers, Mauer has the upper hand over Lucroy. A three-time batting champion and former American League MVP, Mauer, 29, has proven he belongs in the discussion of elite catchers in the game today. Lucroy, 26, is in just his third season in the majors and still has to fully establish himself. Both are locked up long-term by their respective clubs, but I'd choose to build around Mauer over Lucroy. KARTJE: That's a tough question, and as much as Jonathan Lucroy's breakout early on in this season impressed me, I'd still have to go with Joe Mauer. But I think it's closer than a lot of people (especially Minnesotans) might think. There's a reason Milwaukee signed Lucroy to a long-term deal: He's a solid defensive catcher and has shown an affinity to bat in prime spots in the order. No one in baseball was hitting better with runners in scoring position prior to his injury. But if I'm choosing between the two, I think I'd be forced to take a four-time All-Star and former MVP first. Mauer is older, but he's still just 29. And although the injury issues with Mauer are legitimate concerns, he looks like he's getting back on track in 2012. I might take some heat from Brewers' fans for my answer, but give me the proven commodity behind the plate any day. 4. What is the one weakness your team must solve almost immediately if it wants to get back in the chase for a playoff spot? MASON: While it had been getting back on track, the rotation must still be solidified for the Twins to have any chance. They received some bad news on that front Thursday, when right-hander P.J. Walters was placed on the 15-day disabled list. Liam Hendriks, who began the year with the Twins, was recalled from Triple-A Rochester for a spot start Saturday. Minnesota needs to find a consistent rotation, which means getting its pitchers healthy. KARTJE: Milwaukee needs to somehow find a way to score runs consistently. The Brewers have had their breakout offensive days, but rarely have they been able to string consecutive solid performances together on offense. It'll help to get Lucroy back around the All-Star break, but with the number of injuries the Brewers have been hit with this season, relying on bench players has most definitely hurt the team's offensive consistency. If someone like Aramis Ramirez or Corey Hart can step up and become a second effective run-producing option to Ryan Braun with Lucroy out, the team could very well start hitting on all cylinders when Lucroy returns. 5. Which team is this weekend's series more important for? MASON: Both teams have been scuffling this season, but this series is probably more important for the Twins. Minnesota has started gaining traction lately, winning four series in a row before losing two of three to the Phillies this week. If the Twins can pick up a few more wins this weekend and possibly another series victory, they can take some confidence on the road as they travel to face the surprising Pirates and first-place Reds. KARTJE: Hands down, the Brewers. The team's three-game series with the Royals was a disaster for a team that badly needed a break. Late-inning relievers John Axford and Francisco Rodriguez are as shaky as they have ever been right now, and the Brewers' offense isn't giving them more than a run or two of space. If this team is going to get back on track, the turnaround needs to happen soon.I know the Twins have a little more ground to cover to catch up in their division, but they also didn't have the expectations that Milwaukee did to start the season. The Brewers are noticeably disappointed with how things have gone so far, and this weekend against the Twins might be the best opportunity in the next few weeks to get things started again. Follow Tyler Mason and Ryan Kartje on Twitter.
Original Story:
http://www.foxsportswisconsin.com/06/...
THE BACKYARD
BEST OF MAXIM
RELATED ARTICLES
MINNEAPOLIS Justin Morneau measures his words carefully, speaking with a purpose when a question is asked of him. He had to pause briefly when asked this week about the concussions he's suffered in each of the previous two years, one that cut his 2010 season short and another that hampered him during 2011. Was there ever a thought that concussions could threaten his career?...
The Minnesota Twins have sent right-handed reliever Lester Oliveros back to Triple-A Rochester after only two days on the roster. The move was made after Friday night's loss to Milwaukee so right-hander Liam Hendriks could be officially recalled to make his start on Saturday afternoon. Manager Ron Gardenhire said the Twins ''can't afford to get rid of a player right...
MINNEAPOLIS Martin Maldonado had one career at bat in the major leagues when he stepped to the plate on May 29.One. A couple swings, a couple looks and a pinch-hit strikeout.That was what the Brewers knew of Maldonado in the majors. But there he was, one half of their new catching tandem after Jonathan Lucroy broke his hand in late May.Since then, the rookie has hit .262, with four...
For a few games, the Milwaukee Brewers looked as though they were ready to make the climb back into the NL Central race. They had swept the major league-leading Dodgers in Los Angeles, and after a brief slip-up against the Pirates, the Brewers won four of five. The music was back in the clubhouse. The frustration on Brewers manager Ron Roenicke's face was less and less noticeable...
The Minnesota Twins haven't been able to get the job done at home lately after a strong stretch at Target Field. Welcoming the Milwaukee Brewers could help the Twins regain their winning ways in Minneapolis. Minnesota tries to avoid a third straight defeat Friday night when the Brewers look to end their three-game skid. After opening 6-17 at their ballpark in 2012, the Twins...
Minnesota Twins right-hander P.J. Walters lasted only four batters Wednesday, tagged with four earned runs and the loss in a 9-8 setback to the Philadelphia Phillies at Target Field. After Walters gave up four consecutive singles to start the game, manager Ron Gardenhire had seen enough. "I said, 'You're throwing 80 miles an hour. What's going on here?' ...
MINNEAPOLIS Two bad pitches was all it took for Twins left-hander Scott Diamond to pick up his second loss of the season. Diamond allowed four runs on five hits Thursday as the Twins fell, 6-1, to the visiting Philadelphia Phillies. For Minnesota, Thursday's loss meant it dropped the series to Philadelphia, snapping a streak of four consecutive series wins. It was just Diamond...
Milwaukee Brewers closer John Axford became accustomed to success in 2011, finishing the season with 43 consecutive saves, a club record. This year has been more of a struggle for Axford, who was squandered save chances each of the past two nights. First, Axford blew a 3-1 lead in the ninth inning Wednesday night in Kansas City. He created his own troubles by walking two hitters...
By JOAN NIESEN FOXSportsNorth.com MINNEAPOLIS In the top of the ninth, it was hard not to look.No, not at Matt Capps' attempt to preserve a 3-3 tie. Not at the batters stepping to the plate, not even when Martin Maldonado drove a two-run shot to center field.When Maldonado's home run landed in the Brewers' bullpen, most eyes were already there. The sign above lit up...
The weekend is finally here. Let's get right to the trots! Home Run of the Day: Martin Maldonado, Milwaukee Brewers - 18.73 seconds [video] A go-ahead home run in the top of the ninth from the Brewers young catcher. Maldonado has a career .333 slugging percentage in the minor leagues, but has managed his four home runs and a .548 slugging in only 16 games this season. For...
(Photo: John Autey/St. Paul Pioneer Press)  If you're in Minneapolis this weekend to see the Milwaukee Brewers take on the border-rival Minnesota Twins, you may be wondering what youshould do in Minneapolis in between games.  Look no further than this concise list of three cool attractions to check out. 1. The Foshay Tower Museum and Observation Deck The Foshay used to be...
MLB News

Delivered to your inbox

You'll also receive Yardbarker's daily Top 10, featuring the best sports stories from around the web. Customize your newsletter to get articles on your favorite sports and teams. And the best part? It's free!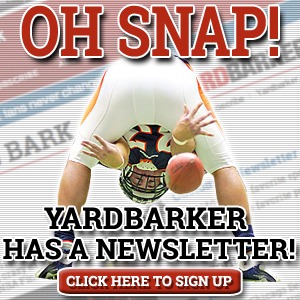 Latest Rumors
The Backyard

Today's Best Stuff

For Bloggers

Join the Yardbarker Network for more promotion, traffic, and money.

Company Info

Help

What is Yardbarker?

Yardbarker is the largest network of sports blogs and pro athlete blogs on the web. This site is the hub of the Yardbarker Network, where our editors and algorithms curate the best sports content from our network and beyond.