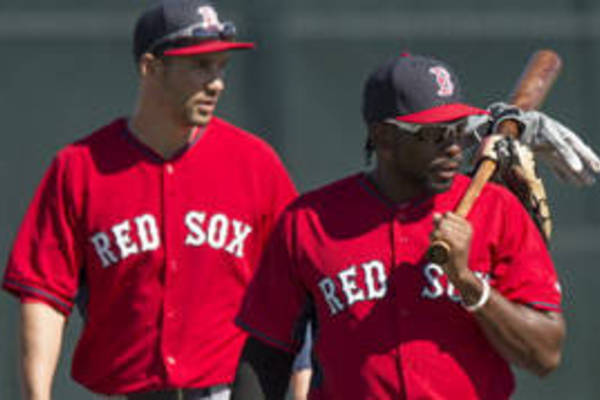 As Spring Training gets into full swing, teams have to start making the tough decisions of which players are going to make the Opening Day roster, and more specifically, which players will get significant playing time throughout the season. Often these decisions come down to picking between an up-and-coming prospect and a veteran trying to re-establish his career. Here are five such battles to watch throughout Spring Training: 1. Boston Red Sox: Centerfield The defending champions have possibly one of the toughest jobs in baseball this spring: replacing centerfielder Jacoby Ellsbury, who is coming off of one of the best seasons of his career. The two main candidates for the spot are Jackie Bradley Jr. and Grady Sizemore. Taken with the 40th overall pick in the 2011 draft, Bradley was the Red Sox' Opening Day left fielder in 2013. However, Bradley did not achieve much success in the major leagues, batting just .189 and constantly being sent between the majors and Triple-A. Sizemore, on the other hand, was an All-Star in 2006, '07, and '08 for the Cleveland Indians before injuries derailed his career. After those three years of playing at least 157 games and compiling a WAR of at least 5.3, Sizemore hasn't been able to play more than 103 games in a season and has not even appeared in a major league game since 2011. Sizemore signed an incentive-laden contract this offseason, and the former All-Star is reportedly the healthiest he has been in years. Prediction: Jackie Bradley Jr. The Red Sox are very high on the prospect out of the University of South Carolina, and understandably so. He's shown he has plus speed, a solid bat that hits for a good average, and can play the outfield very well. At the end of the day, the Sox will go for the youngster with higher potential rather than a player that probably won't be able to put an entire season together, let alone near his former level. 2. Los Angeles Dodgers: Second Base After Mark Ellis left Los Angeles for St. Louis, the Dodgers had to look for a quality replacement at second base. They thought they found the right guy for the job in Alexander Guerrero out of Cuba, hoping he could replicate the success Yasiel Puig found in the majors last season. But Guerrero, a natural shortstop, got injured during winter ball and wasn't able to practice his transition to second base. As a result, the Dodgers are no longer sure Guerrero will be ready for Opening Day and are seriously considering Dee Gordon for the position. Gordon, a 4th round pick in 2008, has had a disappointing start to his career after initial high expectations. With off the charts speed, Gordon has struggled getting on base – he has a career .301 OBP – leaving that speed all but wasted.  However, Gordon showed up to camp this year at 173 pounds – 29 pounds heavier than at the time of his debut – with increased strength and power. Prediction: Dee Gordon. The Dodgers still consider Guerrero the second baseman of the future, but think that he needs a little bit of time in the minors to refine his skills in the field. Meanwhile, Gordon has shown increased power in the spring without losing any of his trademark speed. He is the most ready to start by Opening Day, but don't be surprised if Guerrero takes over the spot before the season is over. 3. New York Mets: First Base Ike Davis has been the Mets' choice at first base for the past four seasons, but this spring he has considerable competition from converted outfielder Lucas Duda. Davis has had subpar production the past two seasons after showing a lot of promise over his first two seasons. When healthy, Davis has unquestionable power – he hit 32 home runs in 2012 – but he has not been able to stay healthy and his batting average has steadily dropped over the last three years. Duda, on the other hand, has shown flashes of great ability while playing left field for New York, but has been frustratingly inconsistent in his young career. He hit .292 in 2011, but like Davis, his batting average has declined every year since. With the Mets outfield set, Duda's only chance for a starting job to prove himself this season is if he can beat out Davis at first base. Prediction: Ike Davis. While neither option has the Mets excited after their last couple of seasons, Davis provides a higher upside when healthy on both offense and defense. He has shown that he has 30+ homer power, and if he can raise his average to around .260, the Mets will be happy with his production. 4. Arizona Diamondbacks: Shortstop After Didi Gregorius started out last year hitting .319 through the season's first two months, the D-Backs thought they had found the answer at shortstop. He displayed great potential in the field, but lacked the prototypical high-end speed teams look for at shortstop. When Gregorius hit .218 the rest of the way to finish the year with a .252 batting average, GM Kevin Towers started exploring other options for shortstop in 2014. That possible other player is Chris Owings, the Dbacks first round pick in 2009. Owings was a September call up last season, and in limited playing time hit .291 and stole a couple bases. While not as strong in the field as Gregorius, Owings clearly has a bigger upside at the plate, as he hit .330 with 81 RBIs in Triple-A in 2013 with 20 stolen bases. That kind of production at the plate will more than make up for any drop in defense from Gregorius. Prediction: Didi Gregorius. His slump from June until the end of the season is definitely a concern, but until Owings proves himself in a larger sample size, the D-Backs are going to settle for the sure thing that is Gregorius' glove. But while he will be captaining the infield on Opening Day, Owings will be waiting in case Gregorius proves to be too much of a liability at the plate. 5. Cleveland Indians: Starting Pitcher The Indians' rotation was one of the most pleasant surprises of last season, with Ubaldo Jimenez having his best season since 2010 and five different pitchers compiling at least 10 quality starts. However, with both Ubaldo Jimenez and Scott Kazmir departing via free agency, the back end of the Cleveland rotation has a large question mark entering the 2014 season. Danny Salazar and Corey Kluber seem to have locked down the number 3 and 4 spots after solid showings last season, but the 5th spot is still wide open. Shaun Marcum, Carlos Carrasco, and Trevor Bauer are the main candidates entering Spring Training, with Josh Tomlin still very much in the discussion. Marcum is coming off a very shaky season with the New York Mets, but has proven himself to be a quality pitcher over his eight year MLB career, compiling a 3.88 ERA. Carrasco started 21 games for Cleveland in 2011, and after Tommy John surgery kept him out in 2012, he made 15 appearances last season but was very inconsistent with a 6.75 ERA. However, he did show flashes of potential with a 2.45 ERA in 14.2 innings pitched in August. The third candidate, Trevor Bauer, is one of the most intriguing prospects in all of baseball. Drafted third overall out of UCLA in 2011, Bauer has not been able to pitch at a consistently high level in the majors, with concerning control problems. While his potential and pure "stuff" is undeniable, Bauer has yet to put it all together and become the front of the rotation pitcher many people though he would be. Prediction: Shaun Marcum. The Indians should be in contention for a playoff spot again in 2014, and to do so they will go with the most sure thing at pitcher. While Carrasco or Bauer might have a higher upside, Marcum is a steady choice that if healthy can be relied upon for an ERA in the mid 3s. Carrasco and Bauer have at times been named as some of the top prospects in baseball, but are not yet ready to start for a playoff contender. Featured Image courtesy of espn.go.com The post 5 Spring Training Position Battles to Watch appeared first on Batting Leadoff.
Read the rest of this story...
PLAYERS:
Jacoby Ellsbury
,
Jackie Bradley
,
Grady Sizemore
,
Alexander Guerrero
,
Yasiel Puig
,
Ike Davis
,
Lucas Duda
,
Didi Gregorius
,
Kevin Towers
,
Chris Owings
,
Ubaldo Jimenez
,
Scott Kazmir
,
Danny Salazar
,
Corey Kluber
,
Shaun Marcum
,
Carlos Carrasco
,
Trevor Bauer
,
Josh Tomlin
TEAMS:
Boston Red Sox
,
New York Yankees
,
Cleveland Indians
,
Los Angeles Dodgers
,
New York Mets
,
Arizona Diamondbacks
,
Baltimore Orioles
,
Oakland Athletics
MORE FROM YARDBARKER
MLB News

Delivered to your inbox

You'll also receive Yardbarker's daily Top 10, featuring the best sports stories from around the web. Customize your newsletter to get articles on your favorite sports and teams. And the best part? It's free!