Found October 05, 2012 on Plaschke, Thy Sweater Is Argyle:
Another Russell Martin printing plate bites the dust in my quest to grab as many affordable 1/1s of the former Dodgers' backstop as I can. From 2008 Topps Chrome comes the Magenta Plate:I think this ran me around half a blaster, and it's a welcome addition to my Martin Collection. I've said it countless times before, but Russell's cards always feature an awesome photo, and this is no exception. I've never understood the reverse negative aspect of some plates though.
Original Story:
http://plaschkethysweaterisargyle.blo...
THE BACKYARD
BEST OF MAXIM
RELATED ARTICLES
ss Derek Jesuslf Icicle Suture3b Alex Rodent 2b Robber Cannot1b Mark Texturerf Nick Swishesc Russell Martincf Curtain Grandeurrf Raul Ibid p Andy Petite p C Sabbath p Hiring Kurd OK, boys, let's beat Bud Seller's wild card.
It's the Day Of The Death Game. The Yankees and their fans will be watching the one game playoff tonight in Texas between the Orioles and Rangers. Whichever team wins will host the Yankees in game 1 of the ALDS on Sunday evening at 6:15 Eastern. The game will be televised on TBS.There has been so much talk about the fact that the Yankees, who have the best record in the American...
Okay, I'm ready for it. In fact, I'm looking forward to it. Last month, on September 7th to be exact, I posted a near-eulogy for the New York Yankees. With the way they were playing I didn't see how they were going to get one of the Wild Cards, let alone win the AL East. I closed out the piece by saying the following:"I would give almost ANYTHING to be wrong about...
Joe Girardi says the only thing set for the New York Yankees thus far in the postseason is starting CC Sabathia in Game 1 of the division series. Girardi said before New York worked out Friday night at an eerily quiet Yankee Stadium that there were too many unknowns until the Yankees learned their opponent for Sunday. The Yankees will play on the road the first two games but Mark...
Robinson Cano is one of the best players in baseball, and he should be for years to come. When one of the best young players in the game is accused of using performance-enhancing drugs, it's a major story. Whether the source who reports it is credible or not, any steroid accusation in this day and age is going to get people talking. That's why Dan Tordjman of WSOC-TV in Charlotte...
Orioles rookie third baseman Manny Machado was a 4-year-old when Baltimore and the New York Yankees last met in the postseason. The year was 1996, a lifetime ago for Orioles fans and a rather meaningless event in the development of Machado, who grew up to become a No. 1 draft pick and a key player in Baltimore's improbable, magnificent 2012 season. Sixteen years after the Yankees...
Sorry, ladies, you get porky Andruw Jones in his tighty black underwear instead of Jeter, ARod or Eric Chavez. According to the jersey chasers who were watching live, this undie incident went down during a YES interview with Nick Swisher. Of course there were those chicks who would lower their standards for the chance to do dirty things to the washed up Jones. He only hit .197 and...
Standout New York Yankee Robinson Cano finally received a public apology from Charlotte's WSOC-TV for a September 20th tweet by one of their bush league reporters, Dan Tordjman, who irresponsibly announced the Gold Glove second baseman failed a piss test … Continue reading →
WOULDACOULDASHOULDA
Yankees slugger Curtis Granderson had the chance to tie Miguel Cabrera for the AL home run lead on Wednesday but allowed himself to be pulled for a pinch hitter.
I had the pleasure of getting to speak briefly with Tampa Yankees' right fielder, Kelvin De Leon. He was signed by the Yankees as an International Free Agent on the July 2nd signing date in 2007. After a very impressive 2008 campaign in the Dominican Summer League, he made his jump to the United States in 2009 as a member of the Gulf Coast League Yankees. Always...
Orioles rookie third baseman Manny Machado was a 4-year-old when Baltimore and the New York Yankees last met in the postseason. In case the kid needs a quick history lesson, left-hander David Wells won a game for Baltimore, Cecil Fielder and Darryl Strawberry homered for the Yankees, and a youngster named Jeffrey Maier stuck his glove in the middle of the whole thing. The 1996...
There's nothing quite like picking up a reasonably priced printing plate of one of your favorite players and main collecting interests. Okay, there are many things - card-related and non-card-related - that are more enjoyable than picking up a plate. But picking up a plate is something I really do enjoy.Ergo, the above Russell Martin Black Printing Plate I scored ages ago. It...
MLB News

Delivered to your inbox

You'll also receive Yardbarker's daily Top 10, featuring the best sports stories from around the web. Customize your newsletter to get articles on your favorite sports and teams. And the best part? It's free!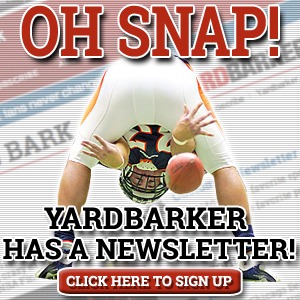 Latest Rumors
Best of Yardbarker

Today's Best Stuff

For Bloggers

Join the Yardbarker Network for more promotion, traffic, and money.

Company Info

Help

What is Yardbarker?

Yardbarker is the largest network of sports blogs and pro athlete blogs on the web. This site is the hub of the Yardbarker Network, where our editors and algorithms curate the best sports content from our network and beyond.