Found January 24, 2013 on Obstructed View OLD:
We've already taken a closer look at Brett Jackson so let's now take a closer look at Josh Vitters. He had about the worst imaginable start to his big league career in 2012. Vitters hit .121/.193/.202 over 109 plate appearances. His wRC+ late in the year had dipped to something like -12 and after a hot stretch Vitters managed to end the season at 4. Thanks to everybody's attention being on Brett Jackson's strikeouts, people have overlooked the problems Josh Vitters had with making contact. He struckout in 30.3% of his PA and unlike Jackson who had a very high walk rate, Vitters walked only 6.4% of the time. Vitters had 4 extra base hits and an ISO of .081. Last week when Myles wrote about young minor leaguers in the Cubs system I looked at how Vitters OPS+ of 9 compared to other players in the early part of their career. I limited it to players with at least 75 plate appearances over the player's first three seasons between the years of 1901 and 2012. Josh Vitters ranks as the 76th worst in OPS+. There are a few interesting names on that list, but the overwhelming majority of those players had forgettable careers. Among players with 100 or more PA in a season, his 4 wRC+ last year ranks as the 28th worst since 1950. He ranks 45th worst if we go all the way back to 1901. I haven't been very high on Vitters for a long time and even these numbers surprised me. Josh Vitters had one of the worst seasons in MLB history last year. If you can't say anything nice, don't say anything at all Josh Vitters reportedly has a pretty swing. I'm not really sure what that means, but enough scouts have said it that I'll trust that he does in fact have a pretty swing. He's relatively young. He turned 23 in August so he just completed his age 22 season. There's still plenty of time for him to figure things out. I've long thought that age isn't necessarily the only factor. We often talk about a player being young and there's certainly something to it. However, I also think there's something to the length of time a player has spent in professional baseball. Vitters hasn't flown through the minor leagues. It's basically been one stop at a time and in a few of those stops he struggled. Pretty swing or not, baseball hasn't come easily to him. He has 2118 minor league plate appearances and that will increase in 2013. That's not an especially high total, but it also shows that he's been around a long time now. He's spent 6+ years working with professional coaches. It's important to highlight at this point something I think people were and perhaps still are eagerly overlooking: .283/.327/.455. That's what Josh Vitters has hit over 6 years in the minor leagues. Last year in AAA was undoubtedly his best. He hit .304/.356/.513. There's no doubt that's a good batting line, but it was in the PCL, which is known for being a hitter's paradise. If Vitters can somehow maintain this level of hitting, he can be a productive player. He'll have to hit the ball because his other skills are lacking. He's known as a poor defender. Some scouts think he'll end up at 1st base. He's not very good on the bases either. Brett Jackson's road to success is a hell of a lot easier than it is for Josh Vitters. That doesn't mean we should count Vitters out, but he has a huge hill to climb. The post A closer look at Josh Vitters appeared first on Obstructed View.
Original Story:
http://www.obstructedview.net/comment...
THE BACKYARD
BEST OF MAXIM
RELATED ARTICLES
Sammy Sosa had an opportunity to go down in history as one of the best Chicago Cubs ever.  Then in 2003 a report came out that labeled Sosa as one of many players the used PED's, and well the rest is history. Sosa now says he's ready to forgive the Cubs, and during a live webcast that he set up, stated that the Cubs should have been retired his #21 jersey via ESPN Chicago. "I...
The Chicago Cubs plan on restoring Wrigley Field, with or without the city's help. The team announced a five-year, $300 million plan to rebuild the Friendly Confines at the annual Cubs Convention on Saturday, and owner Tom Ricketts said his family is willing to foot the entire bill -- but only if some long-standing restrictions are lifted. "[We would] like to be treated...
Less than one month until Chicago Cubs baseball is on the air! WGN Radio will broadcast nine games. I wouldn't be surprised if most of the rest are covered on Gameday Radio, as was the case last year. No word yet on any televised games, though I would be surprised if any are non-weekend games. The post Spring Training Broadcast Schedule Announced appeared first on Obstructed View.
COOPERSTOWN CALL
Sammy Sosa answered several questions during a web chat, and he said that he and Mark McGwire should be in the Hall of Fame.
First base looks to be quite a bit rosier for the Cubs than catcher does. They Cubs have a budding star at the top and some very intriguing options at the bottom.       Last Year 2013 Career   Name Age AVG OBP SLG wOBA pwOBA AVG OBP SLG wOBA MLB Rizzo 22 0.285 0.342 0.463 0.349 0.368 0.245 0.324 0.402 0.320 AAA Rohan 26 0.290 0.330 0.449 0.338           ...
In the 2000s, the Chicago Cubs and the owners of the rooftops surrounding Wrigley Field had quite a tiff going on. The Cubs put up fences in the bleachers blocking the view of the Wrigleyville rooftops, so the rooftop owners built their seats higher above it. Then the ballclub put up another screen blocking the view, claiming it was for "post 9/11 security screens." After years...
The Chicago Cubs, adding another veteran to their outfield, have reached agreement with free agent Scott Hairston on a two-year contract, according to major league sources. Hairston, 32, figures to platoon with another free-agent signee, Nate Schierholtz, in right field. David DeJesus is projected to be in center and Alfonso Soriano in left. The New York Mets, New York Yankees...
Sammy Sosa thinks he and fellow steroid-tainted star Mark McGwire belong in the Hall of Fame. Slammin' Sammy also said the Chicago Cubs should retire his number, and he left open the possibility of running for president of the Dominican Republic during an interview Wednesday on the website Ustream.com. Asked if he thinks he or McGwire belong in the Hall, Sosa said: ''...
Sammy Sosa woke up.   Someone must've told him he didn't get elected to the Hall of Fame.  Now he's all over the media talking about he deserves to be in the Hall of Fame, and how the Cubs should've retired his number a long time ago.   To the first point, I say no. [...]
Last we checked in on former Chicago Cubs slugger Sammy Sosa, he allowed me to absolutely, 100% legitimately spend two days with him and his new public relations team, as they are trying to attempt to rebuild his image with the hopes of getting him back into the good graces of the incredibly evil Baseball Writers Association of America. Basically, it seems that Sosa wants to get...
It's pretty rare that I ever side with "The Man" in any business argument, and yet here I am, siding with Tom Ricketts when it comes to his little border war with the Rooftop association. To be honest, however, this isn't a case of "The Man" vs. small business. This is "The Man" pitted against a smaller "The Man" situation. Let's backtrack a bit. You see, the...
Cubs News

Delivered to your inbox

You'll also receive Yardbarker's daily Top 10, featuring the best sports stories from around the web. Customize your newsletter to get articles on your favorite sports and teams. And the best part? It's free!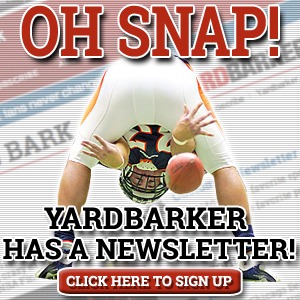 Latest Rumors
The Backyard

Today's Best Stuff

For Bloggers

Join the Yardbarker Network for more promotion, traffic, and money.

Company Info

Help

What is Yardbarker?

Yardbarker is the largest network of sports blogs and pro athlete blogs on the web. This site is the hub of the Yardbarker Network, where our editors and algorithms curate the best sports content from our network and beyond.