Found December 22, 2011 on Mets Fever:
Mets announced today that they have signed Rob Johnson to a minor league deal with an invite to spring training.  The 28 y/o right hander is considered to have a strong arm and works well with pitchers, but had issues toward the end of his stay in Seattle with passed balls despite being described as a defensive specialist.  Below is a video of Johnson throwing out Willie Bloomquist who stole 20 bases, from his knees...
Johnson was selected in the 4th round of the 2004 draft by the Mariners out of the University of Houston.  He made his major league debut in 2007 appearing in 7 games for the Mariners, over the next three seasons he would appear in 155 games in Seattle serving mostly as the back-up catcher.  The Pads would trade for him and last season he appeared in 67 games. Offensively his numbers are stark; .197 BA, .275 OBP, .297 Slg. and .573 OPS.
This would have been Johnson's first year of arbitration and it was estimated that he'd make $422k,  If he catches on with the Mets they can control him for two more years.
As I said before, while his offensive numbers are stark, his appeal is behind the plate...
"I had a discussion with Joh, and we try to prioritize what's most important for this club," Wakamatsu said. "Getting hits is not the No. 1 thing. Winning ball games is, and having a belief system with the starting pitcher, and pitchers in general. Rob right now seems to have a strong relationship with the guys that he's catching. Joh's done a lot of things well. He's throwing the ball extremely well. He's raised his average." source
Seattle Times
He kind of sucks at blocking balls. His 2009 rate of passed balls was twice the league average, and the
Mariners
were a bottom-third team in wild pitches. In addition, I couldn't tell you how many times I saw Johnson flat-out drop a pitch that hit him in the glove. source
Look out landing
Johnson felt his poor defensive performance at the end of his stint in Seattle could be attributed to recovering from multiple surgeries.  That notion seems to be supported by not only his handling of pitchers but his rebound defensively in San Diego...
Johnson said that he could have played better with Seattle in 2010.
"First of all I knew going into the season it was going to be tough," he said.
That is because the Butte native, who lives with his wife, Kristan, and family in Arizona, had four surgeries within a month following the 2009 season.
"I had surgery on my left wrist in Seattle (Nov. 17, 2009), hip surgery for torn labrum (on his right hip, (Oct. 15) and left hip (Nov. 3) in Vail, Colorado, and eye surgery in Arizona," said Johnson, who was still the Opening Day catcher for Seattle in 2010. source
Montana Standard
As a result Johnson struggled with both his duties as a catcher and as a hitter. "I couldn't get into the catching stance that I wanted to get into," Johnson said. "I wasn't as quick as I normally had been. I wasn't getting the balls out of the dirt I felt like I should have been getting to. I wasn't swinging the bat well because I couldn't rotate like I wanted to."
After the season, Johnson finally received the time off he needed to heal up and get back to feeling a hundred percent. However, the Mariners decided it was time for a change and they traded him to the Padres. "It's just a completely new chapter in my life," Johnson said. "I think it was time to turn the page. I am thankful the Padres picked me up and I am really enjoying my time over here."
>Manager Bud Black is also thankful to have Johnson on his roster. "He is a guy that can catch," Black said. "When he gets behind the plate we feel comfortable about him doing the right things as far as pitch selection and handling the pitching staff." source
San Diego Sports
Regarless of whether it was Seattle or San Diego and despite the defensive struggles in 2009-2010, one thing can be said about Johnson pitchers like throwing to him and have better results when they do...
Johnson, carries just a .197 lifetime average in 228 Major League games, but he posted a 3.26 catcher's ERA with the Padres last season, the fifth-best mark in the Majors among backstops with 50 or more starts. source
Padres.com
Original Story:
http://www.metsfever.com/2011/12/mets...
THE BACKYARD
BEST OF MAXIM
RELATED ARTICLES
The Mets announced that they have signed catcher Rob Johnson to a minor league deal. Johnson, who played in 67 games for the Padres last season hit .190, had an OBP of .259, and had 16 RBI. He had the best catchers ERA in all of Major League Baseball in 2009, according to the press release (which you can see below). Johnson will likely compete with Mike Nickeas for the job as backup...
The New York Mets have agreed to a minor league contract with catcher Rob Johnson and invited him to spring training. The Mets announced the move Thursday. The 28-year-old Johnson batted .190 (34 for 179) with six doubles, one triple, a career-high three homers and 16 RBIs in 67 games for the San Diego Padres last season. The 6-foot-1, 215-pound Johnson has hit .197 (128 for 649...
For Padres catcher Nick Hundley, there's been but one constant during Christmas -- family. But as far as where Hundley and his family have celebrated Christmas, that's anyone's guess.
So, I was reading up on Mark Kotsay to do a blog post about our new backup outfielder (I know how much SDPads1 loves mocking the months old news about backup Padres players).  Anyway, as I was reading Kotsay's bio I read that he was traded by Boston for outfielder Brian Anderson at the 2009 trade deadline.  Now, you are probably wondering what the hell does this have to do...
What do I think of the Mat Latos trade? Well, since neither the Padres, nor the Reds asked my opinion, it really doesn't matter… Okay, maybe I know a thing or two about minor leaguers and thus maybe my opinion isn't entirely insignificant… You know the particulars: the Padres traded RHP, Mat Latos to the Reds for three minor league players: 1B Yonder Alonso, C Yasmani...
The Rangers acquired catcher Luis Martinez from the Padres for Minor League pitcher Ryan Kelly. Martinez, who appeared in 22 games for the Padres this past season, has been placed on the 40-man roster.
  Writers love to write. No matter what, even when they haven't written in a long time they have to write eventually. And apparently they all decided to write this morning and last night on the Padres. I won't take up too much space up here because there are going to be a lot of links down there. All I will say though is it will be interesting to see what the Padres do...
  I was drving home yesterday from San Luis Obispo and when I did get home I was a little surprised to see that no other Padres moves were made. Instead I read about other teams making their splash in the trade and free agent markets, i.e. Carlos Beltran to the Cardinals. With 2 days left before Christmas, it will be interesting to see if any moves are made or if we will have...
The Texas Rangers announced Wednesday they have acquired catcher Luis Martinez from the San Diego Padres in exchange for right-handed pitcher Ryan Kelly. Below is more from the Rangers on the trade: Martinez, who has been added to the Rangers' major league roster, appeared in 22 games over three stints (July 8-16; July 26-Aug. 12; Sept. 2-end of season) with San Diego in 2011...
The Texas Rangers on Wednesday traded pitcher Ryan Kelly to the San Diego Padres in exchange for catcher Luis Martinez.
After the Gio Gonzalez trade the Oakland A's had to designate two players for assignment, two days before Christmas Laden Powell and Jai Miller found out they are no longer on Oakland's major league roster. Powell is the least interesting of the two to me because of the signing of Rob Johnson, Powell is a 29 y/o right handed catcher who was a first round pick in 2004 by Oakland...
MLB News

Delivered to your inbox

You'll also receive Yardbarker's daily Top 10, featuring the best sports stories from around the web. Customize your newsletter to get articles on your favorite sports and teams. And the best part? It's free!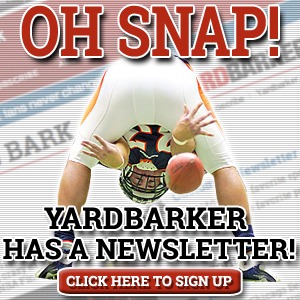 Latest Rumors
Best of Yardbarker

Today's Best Stuff

For Bloggers

Join the Yardbarker Network for more promotion, traffic, and money.

Company Info

Help

What is Yardbarker?

Yardbarker is the largest network of sports blogs and pro athlete blogs on the web. This site is the hub of the Yardbarker Network, where our editors and algorithms curate the best sports content from our network and beyond.