Found February 11, 2013 on Blog So Hard Sports:
Washington Nationals 2013 Season Preview *This article is contributed by Joe Falchetti, a writer for Intense Gambling. So check them out and get your gamble on.* With spring training just a few weeks away, we'll take a look at the Nationals' off-season acquisitions and preview their opening day roster as they began another quest for a World Series Championship. The Rotation The Nationals projected starting rotation for 2013 is made up of Stephen Strasburg, Gio Gonzalez, Jordan Zimmerman, Ross Detwiler and Dan Haren. Baseball fans would be hard pressed to find a better one-two punch than Strasburg and Gonzalez atop of a starting rotation.  Strasburg looks to dominate again, and should be in for a season without the dreaded innings limit he endured last season.  Gio Gonzalez was just about as impressive last season, posting a 21-8 record, 207 strikeouts and a 2.89 ERA in 2012.  However, during the offseason he has been linked to a Miami health clinic suspected of supplying players with performance enhancing drugs.  While it still seems unlikely Gonzalez may face a suspension, the Nats should have alternatives ready if the MLB decides to take action. Jordan Zimmerman anchors the third spot in the rotation and is coming off a 12-8 season in which he posted a 2.94 ERA.  The team hopes to avoid arbitration with the right-hander and is open to a multi-year extension.  Ross Detwiler avoided arbitration and came to terms with the Nationals on a $2.3 million deal for the 2013 season.  Improving tremendously in the 2nd half and improving his control, he finished the season with a 10-8 record and an ERA of 3.40. Finally, the Nationals signed Dan Haren to a $13 million contract in the offseason.  Haren has been durable over his career, throwing for over 200 innings every season except last year, a season in which he was marred by back and hip injuries.  Haren is a terrific addition to the rotation and is likely the league's best fifth starter. The Bullpen Rafael Soriano will take over as the team's closer after becoming the highest paid reliever in the game when he signed a two year deal with the Nationals for $28 million.  He converted on 42 of 46 save opportunities for the Yankees last season. The move bumps Drew Storen and Tyler Clippard into setup duties.  Despite Storen's postseason collapse against St. Louis – he  had a productive year – especially considering he was coming off elbow surgery.  In 30 1/3 innings, he finished the season with a 2.37 ERA and a 0.989 WHIP.  Clippard pitched above expectations last season, as well.  Notching 32 saves and finishing with a 3.72 ERA and 1.15 WHIP in 77 2/3 innings.  He has proven he can excel as a setup man and closer and is a valuable commodity for the Nationals. Position Players The Nationals projected starting lineup: 1B Laroche, 2B Espinosa, SS Desmond, 3B Zimmerman, LF Harper, CF Span, RF Werth and C Suzuki. The big offseason acquisition for Washington was no doubt Denard Span.  The Nats sent minor leaguer Alex Meyer to the Minnesota Twins for Span.  Span immediately becomes the Nationals best leadoff hitter and best outfield defender.  He's a solid bet for .280 average and an on-base percentage of around .330.  He set a career high in on-base percentage last season with .342. At only 28 years old, Span likely has a few great years still ahead of him.  Though he rarely hits for double digit home runs, his speed and excellent gap power make him a threat on the base paths. The rest of the outfield hopes to make strides in their game, as well.  With the addition of Span,  Bryce Harper will likely move to left field with Jayson Werth moving to right.  Harper had trouble hitting breaking balls late in the season as pitchers adjusted to him, but he still finished with a respected .270/.340/.477 line.  He hit 22 homers and snagged 18 stolen bases. Despite battling injuries, Werth put a respectable season.  In 300 at bats, he hit .300 and finished with a .387 on-base percentage. Adam LaRoche was resigned after having a career year with the Nationals last season to a two year $24 million deal with a mutual option for 2015.  One of the best defensive first baseman, LaRoche seems like an underdog to repeat his 100 RBI and 33 homer 2012 season, but even a small drop off would amount to another great season from LaRoche. Danny Espinosa played the end of last season with a torn rotator cuff in his left shoulder.  Since his is right handed his throwing arm was not affected, but an injury like this can do a lot to a player's swing.  He led the league strikeouts last season but still produced a solid line hitting for .247/.315/402 in 2012.  He opted not to have surgery in the offseason and decided to let his muscles heal.  An excellent defender and solid bat for a second baseman, the Nationals would be wise to keep an eye on his injury progress in spring training and early parts of the season. Lastly, Ryan Zimmerman who was hampered with injuries in April got off to a rough start at the dish, just hitting .232 through mid-May.  However, his season quickly turned around.  Zimmerman finished with a .293 average, 25 home runs and a .824 OPS.  As consistent as any player in the league, Zimmerman is in the prime of his career and is fully healthy heading into 2013. Related posts: Nationals – Trade Deadline Limitations Nationals All-Stars Nationals off-season to be a busy one
Original Story:
http://blogsohardsports.com/nationals...
THE BACKYARD
BEST OF MAXIM
RELATED ARTICLES
Available at Sneeki's Tees The long awaited return of the Washington Nationals is finally here. Spring training officially kicks off today as the Nats' pitchers and catchers are reporting to Viera, Florida. Their first Grapefruit League game will take place on Saturday, February 23rd vs the Mets. Just in time for the start of spring training, our partner Sneeki's Tees have...
Up above, video of Under Armour's new #IWill commercial, in which Bryce Harper lifts weights and hits baseballs and such. (H/T @recordsANDradio) Befriend Nats Enquirer on Facebook. Follow on Twitter.
Well, you can check the box next to "Gio Gonzalez arrives at Nationals camp and denies he ever used PEDs." Indeed, a "Shocked", "stunned", and "very confident" Gio arrived on Tuesday morning and faced the music from reporters. More from Gio on Biogenesis, via ESPN.com's Jayson Stark: "There is no connection, [except] for the...
Christian Garcia is the type of player that you want to see succeed, because he has a story. He's had Tommy John surgery twice, which is a nail in the coffin for most pitches, but he's shown some success following his second surgery. Garcia was called up to the big club in September with Zach Duke, and he is being groomed as a starter for the Nats now after a great September...
  The 2012 Washington Nationals season ended in about the worst way possible, but that's all over starting today. The 2013 season is finally underway. Pitchers and catchers are required to report to the Washington Nationals Spring Training facility in Viera, Florida by today, though many like Stephen Strasburg, Jordan Zimmermann, and Zach Duke have already reported. ...
The Washington Nationals are among that teams that are keeping tabs on free agent right-hander Javier Vazquez, according to Nick Cafardo of The Boston Globe. Cafardo notes that Washington's interest in Vazquez may be "piqued" by Gio Gonzalez's link to alleged PED clinic Biogenesis. MLB has yet to make its ruling, but one possible outcome would be Gonzalez receiving...
Here's video of Stephen Strasburg talking to ESPN's Buster Olney about going into 2013 with no innings limit and his desire to be a workhorse in the rotation. [Link to video here, also]. Sounds like Stras was all smiles and happy and ready to move on in Viera today. Earlier on Monday, Olney Tweeted that Strasburg traveled to, but missed, Jordan Zimmermann's wedding...
  Thanks for your patience, readers. This is the last installment of the 2012 Player-By-Player wrap up. (photo: The Washington Post) Henry Rodriguez is the ultimate "pitcher with potential." He has potential because he can hit triple-digits on the radar gun with his fastball on command. The problem: he rarely knows where it's going. His only truly decent season was...
See if you can spot Bryce in the newest UA commercial. The post Bryce Harper for Under Armour appeared first on Nationals Outsider.
The Washington Nationals have signed veteran relief pitcher Will Ohman to a minor league contract. The 35-year-old left hander will also receive an invitation to Spring Training. Ohman spent the 2012 season with the Chicago White Sox but struggled to the tune of a 6.41 ERA in 32 appearances. Currently the Nationals have no left handers who appear certain to be on their Opening Day...
Nationals News

Delivered to your inbox

You'll also receive Yardbarker's daily Top 10, featuring the best sports stories from around the web. Customize your newsletter to get articles on your favorite sports and teams. And the best part? It's free!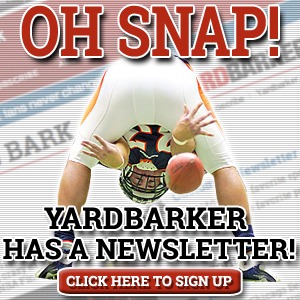 Latest Rumors
Best of Yardbarker

Today's Best Stuff

For Bloggers

Join the Yardbarker Network for more promotion, traffic, and money.

Company Info

Help

What is Yardbarker?

Yardbarker is the largest network of sports blogs and pro athlete blogs on the web. This site is the hub of the Yardbarker Network, where our editors and algorithms curate the best sports content from our network and beyond.