Found January 01, 2012 on Pirates Prospects:
PLAYERS:
Dave Parker
,
Tony Pena
,
Jason Thompson
,
Rick Rhoden
,
Pascual Perez
,
Gary Carter
,
Tim Raines
TEAMS:
Sacramento Kings
,
Philadelphia Phillies
,
Cincinnati Reds
,
Boston Red Sox
,
Pittsburgh Pirates
Continuing down memory lane with a look at the 82nd win in 1983.
The 1982 Pirates were never in serious contention for the post-season. Althought they did play meaningful games in September, something that we have only been able to wish for recently. That 1982 team had a strong offense – ranking second in the National League in runs scored, first in homers and first in OPS. There was reason for optimism. Of the Opening Day starters in 1983, only Bill Madlock, Dave Parker and Lee Lacy were over 30. Lacy, at 35, and Rich Hebner (same age) were the two oldest players to get more than 100 plate appearances.
But the offense in 1983 tailed off badly, falling to the middle of the National League in runs scored and dingers. While Johnny Ray and Tony Pena each posted similar years in 1983 that they had in 1982, Jason Thompson fell off quite a bit. He had 24 fewer extra base hits (including 13 fewer homers) and 25 fewer RBIs. In spite of that, his OPS+ of 115 would've been welcomed throughout much of the 1990s and 2000s in Pittsburgh as the Pirates struggled (and really continue to struggle) to find an adequate first baseman. Bill Madlock won his fourth and final batting title. But his totals declined as he missed 32 games. A large chunk of his absences came in September after he messed up his calf. Dave Parker returned to full time duty but suffered what would be the worst season of his career until his final one. Dale Berra got 160 starts at shortstop but did little offensively. Mike Easler was the primary left fielder and hit .307 in fewer than 400 at bats, with his playing time curtailed by injury. Lee Lacy started at least 15 games at each outfield position and hit .302 in fewer than 300 at bats.
Centerfield would be the most intriguing position for the Pirates. Omar Moreno left via free agency following the 1982 season. The Pirates acquired Lee Mazzilli from the Yankees for three minor leaguers and Tim Burke just before Christmas 1982. Mazzilli was the Bucs starting CF in 1983 and homered on Opening Day. He hit second originally (with Lee Lacy hitting leadoff), but then became the primary lead off hitter (as Lacy became a spot starter and Easler's more powerful bat was moved into the lineup). Mazzilli was doing the job offensively. He was hitting .284 and leading the league in walks when he strained his back in mid-June. The Pirates apparently sensed danger (and a need for better defense in center) and acquired Marvell Wynne from the Mets. Wynne played CF the rest of the year and Mazzilli became almost exclusively a pinch hitter.
Rick Rhoden was the workhorse of the staff. He led the team in starts, innings pitched and ERA. Larry McWilliams, acquired in the summer of 1982 for the mercurial Pascual Perez and a career minor leaguer, won a career best 15 games and struck out a team best 199 hitters (good enough for third in the league). John Candelaria logged 32 starts and notched 15 wins. The rotation was bolstered by a couple of rookies. Lee Tunnell made 25 starts and won 11 games (including three shutouts). He would have a total of 22 career wins. Jose DeLeon would show flashes of brilliance in winning seven of his 15 starts. He carried a perfect game into the seventh inning against the Padres in his second career start. In his third career start, he had a no hitter against the Mets for 8-2/3.
The additions of Tunnell and DeLeon were much welcome as injuries and ineffectiveness harmed two longtime Pirate hurlers. Don Robinson did two stints on the DL with issues in his pitching shoulder. He would make just nine appearances, including only one after July. Jim Bibby was back after missing all of 1982 with a torn rotator cuff. But he was ineffective. He was pulled from the rotation after the All-Star break and was relegated to mop up duty out of the bullpen. It would be his final season in Pittsburgh.
The bullpen was also precarious. Rod Scurry's career began its awkward, downward path. After a stellar 1982 season, Scurry pitched in 61 games in 1983 and had an ERA of 5.56. Kent Tekulve was rock solid. He had a 1.64 ERA in 76 games. Cecilio Guante and Manny Sarmiento backed up Teke. But all three were righties. What they lacked, with Scurry being hit hard, was an effective lefty out of the bullpen.
Their two toughest competitors in the division were two teams headed in entirely different directions. The Philadelphia Phillies had stocked themselves with aging veterans. Only one Phillie who got 300 hundred plate appearances was under 30 – Von Hayes. 38 year old Steve Carlton led the team in innings pitched and Ron Reed (40 years old in 1983) and Tug McGraw (38) combined to pitch in nearly 100 games. The Montreal Expos posted a group of outstanding young players. Gary Carter (29) and Andre Dawson (28) are both in Cooperstown. Tim Raines (23) might one day join them. Tim Wallach (25) anchored third and would play in five All-Star games. Warren Cromartie, only 29 and a regular since he was 23, would bolt for Japan after the season.
By the middle of June, the Pirates were in rough shape. After a stretch of twelve games in which they only played Montreal or Philadelphia, Pittsburgh was in fifth place and 8.5 games off the pace on June 19th. But starting on June 20th (not too long after Wynne was acquired), the Pirates would tally nine straight wins to knock four games off the distance between their position and first place. Eight different pitchers collected wins during that stretch. But the Pirates limped into the All-Star break in fifth place and eight games under .500. Pittsburgh went 12-2 out of the second half starting gate to find themselves 1/2 game in first place after a 5-4 win against Los Angeles on July 21st. That stretch included an eight game winning streak, with seven of those wins notched on the road. Suddenly it was a race.
Down the stretch, the offense faltered. Easler missed the better part of a month with a thumb injury suffered in early August. Madlock was limited in September with the calf injury. Thompson hit just .191 in August. Berra hit just .211 in August. After a fast start, Wynne tailed off badly hitting just .216 in August and .215 in September. Starting pitching kept the Pirates in the race. In August the starters posted a 2.78 ERA and followed that up with a 3.08 ERA for September and October.
Pittsburgh finished a six game winning streak on Saturday September 17th that put them in a first place tie with the Phillies at 78-70. Pittsburgh would lose in 9/18 and then win just six of the remaining 13 games. The Phillies did the opposite. Philadelphia's win on 9/18 put them in first place to stay and was the third win in an eleven game winning streak. The Pirates would finish six games off the pace, two games in front of Montreal.
Rick Rhoden tossed a complete game three hitter on Friday 9/23 with a first inning grand slam setting the pace in a 10-1 laugher against Montreal. That was win #81. Pittsburgh would get more stellar pitching the next day. Candelaria and Guante combined on a five hit shutout of the Expos in Montreal. Bryn Smith and Jeff Reardon limited to the Pirates to only a single run. That lone tally came in the fifth when Berra and Candy hit back-to-back doubles. That was just the second RBI and the only double that Candelaria would have on the year. Pittsburgh would win two more times and finish 84-78.
The 1983 off season was filled with roster moves. On the first day of free agency, Dave Parker signed with his hometown team – the Cincinnati Reds, ending a brilliant and troubled time in Pittsburgh. The Pirates, almost one month later, traded their only other powerful outfield bat – Mike Easler – to the Red Sox for young lefty John Tudor. In an effort to bolster the offense that was now without Parker and Easler, the Pirates signed the aging Amos Otis from the Royals on December 19th.
All of this was disastrous. In 1984 the club would finish in last place in the East Division for the first time since the divisions were formed. Pirate outfielders would combine to hit just 30 home runs. Parker and Easler would combine to hit 43 dingers. The pitching was stellar. Pittsburgh was tops in the league in ERA, second in complete games and third in ERA. The offense struggled mightily. Otis contributed nothing. Thompson's numbers dropped again. In the National League, the offense was 10th in runs scored, 9th in homers and last in walks.
The 1984 club would win 75 games in that last place effort. While those 75 wins was an embarrassement, there are three final points to make. First, the 75 victories was the lowest total (in a full season) for the team since they won 74 games in 1963 (when Willie Stargell was a rookie). Second, the Pirates have won 75 games just once in the last twelve years. Finally, it would get worse before it would get better after 1984. With the offense needing a makeover, Pittsburgh acquired Sixto Lezcano, Steve Kemp and George Hendrick prior to the 1985 season. Unmitigated disaster isn't strong enough. The 1985 club would lose 104 games. In addition to the struggles on the field, the city and the team would be embroiled in the cocaine trafficking trial of seven local men who were dealing drugs to Pirate players and players from other teams. It would not be until 1988 that the Pirates would finish over the .500 mark.
Original Story:
http://feedproxy.google.com/~r/BuccoF...
THE BACKYARD
BEST OF MAXIM
RELATED ARTICLES
Despite what we've seen over the last two decades, the Pirates during their long history have had some mighty good infields and outfields.  No, really.  Inspired by a brief exchange on a message board recently, I thought it'd be interested to try to determine which ones were the best. As a measure, I decided to use Wins Above Replacement (WAR), specifically the version found...
The Mexican Pacific League playoffs began yesterday.  This league uses a playoff format like we're used to seeing in the US leagues.  The top 6 teams are in the playoffs, with #1 Culiacan playing the #6 Navojoa, #2 Mexicali vs. #5 Mochis, and #3 Obregon vs. #4 Hermosillo  in the best-of-7 first round.  Los Venados de Mazatlan, with Pirates' Rogelio Noris, finished in last...
Born on this date in 1911 was Hall of Fame first baseman Hank Greenberg who played for the Pittsburgh Pirates in 1947. He missed nearly five seasons due to World War II but the 36 year old Greenberg still led the American League in homers with 44 and RBI's with 127 his first full season back in baseball in 1946. The Pirates purchased him from the Detroit Tigers for $75,000 in January...
Before I get into the birthdays for today(there are no trades to mention) I have to mention the tragic passing of a legendary Pittsburgh Pirates player on this date in 1972 when the great Roberto Clemente died in a plane crash en route to Nicaragua to deliver relief aid after the country was struck by an earthquake. He was just 38 years old. Clemente passed away 39 years ago today...
A few months ago, one of my favorite guys on the interwebs, Paul "Sully" Sullivan posted his "All Nope... Not THAT One Team".  Basically, it was a roster of players who share the names of other famous people.And if the modern day king of shedding light on the "things that make you go hmmm" makes a sequel...I'd like to add Pittsburgh Pirates reliever...
  Edwin Jackson is looking for a five year deal at $12 M a year. At the start of the off-season I had Edwin Jackson listed as a pitcher that I liked, but one that I never thought would be a possibility for the Pittsburgh Pirates. A few weeks ago I pointed out that the market for the 28 year old right hander has been surprisingly quiet. There were talks that Jackson's asking price...
With the Hall Of Fame election announcement coming on January 9, 2012, it is time to review the ballot, go over the names, and decide who belongs in the Hall Of Fame. There are twenty seven men on the ballot this year and we will take a look at each one individually prior to official announcements.  You can find all of the profiles in the I-70 Baseball Exclusives: Cooperstown Choices...
For a team that finished 23.5 games back in the standings in 1906, the Pittsburgh Piratesdid very little to improve for the following season. It is likely they expected the Chicago Cubs to fall back somewhat from their amazing 116-36 season but looking at the off-season moves, or lack there of, you could say that the Pirates themselves should've expected to regress as well. Now...
Born on this date in 1951 was all-star third baseman Bill Madlock who played for the Pittsburgh Pirates from 1979 until 1985. He was originally drafted by the Washington Senators in 1970 and made his major league debut in 1973 after they moved to Texas. After just one season he was traded to the Chicago Cubs for Hall of Fame pitcher Fergie Jenkins. The Cubs dealt him to the Giants...
We'll keep track of today's minor moves right here.. In a press release, the Blue Jays announced the signings of right-handers Jerry Gil, Robert Coello, and shortstop Brian Bocock to minor league deals.  All three players will receive invitations to Major League spring training.  Bocock was involved in a minor mid-season swap this year when he was sent from the Phillies...
MLB News

Delivered to your inbox

You'll also receive Yardbarker's daily Top 10, featuring the best sports stories from around the web. Customize your newsletter to get articles on your favorite sports and teams. And the best part? It's free!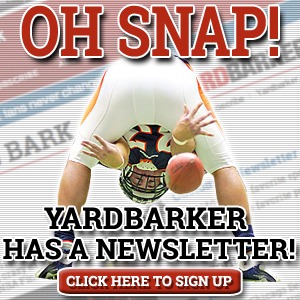 Latest Rumors
Best of Yardbarker

Today's Best Stuff

For Bloggers

Join the Yardbarker Network for more promotion, traffic, and money.

Company Info

Help

What is Yardbarker?

Yardbarker is the largest network of sports blogs and pro athlete blogs on the web. This site is the hub of the Yardbarker Network, where our editors and algorithms curate the best sports content from our network and beyond.