Found July 26, 2013 on Bob's Blitz :
USA Today reports: "[Pete] Rose maintains a relationship with [Alex] Rodriguez — who has come to him for hitting advice since the pair met at an autograph signing in Las Vegas several years ago. Rose says the two last communicated when Rodriguez's differences with the Yankees over his quadriceps injury first arose this month. Rose advised Rodriguez to shut out the distractions." "I don't want to get into all that," Rodriguez said, according to Rose. "I just want to come back and rake." "A-Rod is a great kid, I think, but he lacks self-confidence," Rose said. "A lot of good players do. Sparky Anderson taught me this a long time ago: There's three ways you can treat a person. You can pat 'em on the butt, you can kick 'em in the butt, or you can leave 'em alone. If Sparky was alive today, he'd tell you that A-Rod needs to be patted on the butt." "Before any of this stuff came out, A-Rod had Hall of Fame stats," he said. "Still does. So to get pinch-hit for (as Rodriguez did in the 2012 playoffs) is tough for a guy to take, especially in a town like New York. "Plus, all through his career in New York — it wasn't fair — he was always compared to Jeter. They're totally different, and they're thought upon totally different by the fans. A-Rod can do no right, and Jeter can do no wrong. It's not because of his ability — he's got great ability. It's just the way people perceive him." Rose also had advice for Arod's soiled colleagues: Come clean and do it quickly. "Come clean as quickly as you possibly can," Rose said Thursday from a memorabilia store a block away from the National Baseball Hall of Fame. "I guess Braun thought he was going to get away with it when he got off the hook the first time. I wish I could go around to all the spring training camps and talk to the young players about what happened to me. If baseball wants to get you, they've got enough resources and enough investigators that they'll find a way to get you." Got that? Come clean because baseball can catch you if they want to. "Braun's got to feel pretty fortunate to only get 65 games, because they're really cracking down on it," he said. "He did like I did. He disappointed a lot of people. Deceived a lot of people. And if you get anything out of it, I think the young players should take one thing away from it: Don't lie. All they have to do is watch what happened to me, and that would teach you, don't lie." Before, as always, referring to himself: "I've been suspended, in August, 24 years," he said. "Is that fair? I don't know. What's worse? They're both bad. "But the most important thing in baseball — the history of baseball — is the stats. I did nothing to alter any stats. I did nothing that would (tick) Babe Ruth off. I did nothing that would (tick) Roger Maris off. I did nothing that would (tick) Ty Cobb off. So I guess my question would be — wouldn't it be nice if you could talk to Roger Maris or Babe Ruth? Hank Aaron won't talk about it. Those are the guys whose records have been assaulted by steroids. Not my record. And if someone ever got 4,257 hits that was linked to steroids, I'd have something to tell you about it." USA Today...Pete Rose to cheaters: Baseball will catch you **Follow us on Twitter, View via Our Mobile Site, or Return to BobsBlitz.com.Follow us on Twitter. Subscribe or Return to Bob's Blitz.
Original Story:
http://feedproxy.google.com/~r/TheNjF...
THE BACKYARD
BEST OF MAXIM
RELATED ARTICLES
Pete Rose knows a thing or two about angering Major League Baseball. Rose, who has been banned from baseball since 1989 for gambling on the game, had some advice for Ryan Braun and other players caught up in the Biogensis performance-enhancing drug scandal, according to USA Today. "Come clean as quickly as you possibly can," the all-time hits leader said.  "I guess Braun...
LISTEN UP
Discussing the recent suspension of Ryan Braun, Pete Rose had the following piece of advice for those involved: "Come clean as quickly as you possibly can."
  If anyone knows a thing or seven about being on MLB's bad side, surely it's Pete Rose. Listen up young and aging players alike, Uncle Pete has some advice for you when it comes to steroids. Per an interview with USA Today, Rose said the following: "Come clean as quickly as you possibly can…I guess Braun thought he was going to get away with it when he got off the hook...
Despite being banned from the game for nearly a quarter of a century, Pete Rose continues to be an outspoken figure in the Major League Baseball world. His latest comments come just days after the league decided to hand down a hefty suspension to Milwaukee Brewers star Ryan Braun for his connection to the Biogenesis scandal. Rose, who was banned from baseball in 1989 after being...
Pete Rose is one of America's foremost experts on apologies. Not because he has made a ton of them, but because he spent so much time not making one, then made one, and is now spending his life as a giant, desperate, walking apology. He knows how it's done and he knows how it's not done and he knows that, whatever it is, you definitely need to nip it in the bud before...
Most current Major League Baseball players wouldn't want to be caught dead associating with Pete Rose. So, it makes perfect sense that the all-time hit king is pretty chummy with Alex Rodriguez. Rose was in Cooperstown, N.Y., on Thursday — not at the National Baseball Hall of Fame, obviously, but at a memorabilia store a block away — and he spoke to USA Today on a number of...
MLB News

Delivered to your inbox

You'll also receive Yardbarker's daily Top 10, featuring the best sports stories from around the web. Customize your newsletter to get articles on your favorite sports and teams. And the best part? It's free!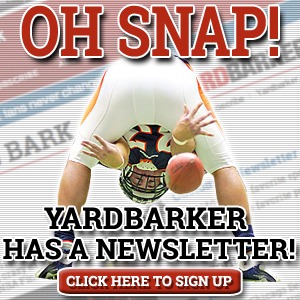 Latest Rumors
The Backyard

Today's Best Stuff

For Bloggers

Join the Yardbarker Network for more promotion, traffic, and money.

Company Info

Help

What is Yardbarker?

Yardbarker is the largest network of sports blogs and pro athlete blogs on the web. This site is the hub of the Yardbarker Network, where our editors and algorithms curate the best sports content from our network and beyond.