Found March 15, 2013 on Monkey with a Halo:
With spring training baseball up to full speed and headed for the regular season, the news is coming fast and furious. Each rest day, each slap double, each pick-off attempt is being carefully reviewed, studied and analyzed by coaches to help players perform their best, and by opponents searching for any sign of weakness. Like a gardener cultivating his crops, coaches are helping fine-tune their athletes in the hopes of storming the gates on Opening Day and beyond. There is, however, a third group with little-to-no interest in wins. These men are also watching tapes and analyzing, sometimes more meticulously than a helping hand or a feared foe. These men are the sports press, and it is their duty to bring spring baseball to the masses. However, with less games happening, the analyses are forced to be a little bit more in depth than your typical game recaps. The stat lines and dramas are held to a somewhat higher standard before opening day, often yielding very interesting conclusions. Take, for example, the recent spring training game against the Padres. Mike Trout hit a double and a triple, but no home runs. How does it happen that the Rookie of the Year and a leading MVP candidate can't hit a homerun in the pre-season? It's got to be that extra weight everyone was on about, right? Maybe he feels slighted about his contract raise being too small? No! I've got it! He's upset about Torii Hunter going to Detroit. That's the ticket! Trout's done. He's a rookie flash in the pan. No homers against a pitcher with a near 4.00 ERA and a .500 record? He's not going to be the same old Trout, that much is certain. The spring training stats don't lie! And what of Peter Bourjos? Simply put, Halo fans sure are glad he didn't get traded in the off-season! After vocalizing his desire for more playing time and tentatively being given the nod as the starting center fielder, Speedy Pete's been a demon! Hitting over .300 with a home run to his credit and faster than ever, it's no wonder he's taken the center field job from Trout! But what's his secret? It's got to be the socks! Tucking his uniform pants into his socks has always made Bourjos more aerodynamic, and now hiking them up the extra inch or so has given him the big push he needs to succeed! There is no other explanation, else it would have been apparent by now. Spring training tells all! The Halos' big man, Albert Pujols, has made his presence known in preseason with two big homers. For a man so fixated on the icebreaker last season, this is good news. The downside, of course, is that we're past the halfway point in spring training and two is a number Pujols doesn't want. Last season, Albert slammed seven balls over the outfield wall. He's currently on track to hit just five. We knew his 10-year contract wasn't going to be all that useful towards the end, but just one year in and Pujols is already falling off. Crunching the numbers, he's projected to hit only 21 homers this year, almost a full third less than last year's 30. The downslide has begun! Halo fans are in for a loooooong stretch of old-man baseball. So sayeth the spring training stats! So shall it be! In better news, the numbers look absolutely amazing for the million dollar man Josh Hamilton. While he's sat out a handful of games, his stats look even better than they did when he was racking them up against our beloved Anaheim franchise. NASA can't confirm due to budget cuts, but it's believed that his first homerun in an Angels uniform is still in a shallow orbit somewhere over Colorado. If you're Arte Moreno, you've got to be looking at re-modeling the right field pavilion, because another retired number is coming! Its spring training math, baby! It's foolproof! Of course, spring training is just that: Training. The statistics have meaning, but one game in April will wipe out every run earned in Tempe these last few weeks. As always, Opening day will be the true benchmark. We'll see how far these men have grown as athletes after an offseason reflecting on missed chances and playoff dreams. In the meantime, spring training is fun to watch, but it is important to keep things in perspective. After all, if spring training stats and records meant THAT much, the Astros would have been one of the worst teams in the league last season! ...waitaminute. [follow]
Original Story:
http://www.monkeywithahalo.com/2013-a...
THE BACKYARD
BEST OF MAXIM
RELATED ARTICLES
Despite having some of the brightest stars in the game, both young and old, a $160 million payroll and sky high expecations, the Los Angeles Angels are far from a perfect team. Many have picked the Halos as their World Series favorite, much like they did last season when they failed to even qualify for the playoffs for the third consecutive season. Led by wunderkind Mike Trout, the...
The World Baseball Classic wasn't something I was planning on covering too much seeing how it is kind of lame and features almost no Angels. Well, Erick Aybar has forced my hand because in the course of two pitches, he made himself very relevant. First and foremost, Aybar got to be at the plate when umpire Angel Hernandez, who is just awful, made the worst strike call in...
    Now that didn't take very long.   A mere four years he graduated, Millville High School in New Jersey is naming its baseball field after its most famous alum, Mike Trout.   That's gotta be some kind of record.   Trout had arguably the greatest rookie season in the history of baseball in 2012. He became the first player to hit over .325, hit 30 home runs and steal over...
The MWAH prospect countdown finally crosses the finish line with the top prospect in the entire system and only Angel prospect to crack into any of the Top 100 prospect lists. Kaleb Cowart Position: 3B  Highest Level: High-A Bats:Switch Throws: Right  Height: 6'3" Weight: 195 lbs. Age: 20  Born: 6/2/92 2012 Season Stats Low-A: 290 PA, .293 AVG, .348 OBP...
Los Angeles Angels first baseman Albert Pujols has been participating in spring training contests for the past week, but he ran the bases for the first time this exhibition season yesterday, according to Jon Paul Morosi of FOX Sports. Pujols underwent surgery on his right knee in October. He had been suiting up as the Angels' designated hitter during his initial spring...
No longer a rotation candidate, Jerome Williams will have to reinvent himself as a reliever in 2013 if he wants to keep his great comeback story alive. 2012 Stats: 137.2 IP, 6-8, 4.58 ERA. 4.15 FIP, 139 H, 35 BB, 17 HR, 98 SO, 1.90 GB/FB, 1.1 fWAR 2013 ZiPS Projections: 129.2 IP, 6-8, 4.58 ERA. 4.31 FIP, 140 H, 33 BB, 17 HR, 86 SO, 0.8 fWAR 2013 Bill James Projections...
Key Additions SIGNED/RESIGNED: Ryan Madson (P), Joe Blanton (P), Sean Burnett (P), Josh Hamilton (OF) TRADED FOR: Tommy Hanson (P), Jason Vargas (P) Key Losses Torii Hunter (OF), Maicer Izturis (2B), Jordan Waldon (P), Kendry Morales (1B/DH), Dan Haren (P), Zack Greinke (P), LaTroy Hawkins (P) Projected...
Josh Reddick hit a three-run homer off Jered Weaver in the first inning, Luke Montz and Yoenis Cespedes each had two-run drives in the second off the Angels' ace and an Oakland Athletics split squad blew a big lead before rallying for a 13-13 tie with Los Angeles on Saturday. Weaver gave up eight runs and six hits, walked two and did not strike out a batter in two innings. ...
As part of our preview for the upcoming 2012 season, we'll be doing a 10 Bold Predictions for 2013 series that will be featured between now and Opening Day. Our first prediction: Bryce Harper has a better statistical season then Mike Trout. We're already getting really tired of all the accusations that we've got some kind of weird man-crush on Bryce Harper. We really aren't...
Is there a Mike Trout or Bryce Harper among the prospects that will debut in 2013? It's unrealistic for fantasy owners to expect a statistical season from a prospect similar to the one Trout had last season, but there are farmhands who will undoubtedly impact fantasy squads this season. This is the first of a two-part series that will examine a few prospects that could greatly...
Mike Trout had a double and a triple and Peter Bourjos homered as the star-studded Los Angeles Angels knocked the San Diego Padres around early but blew a lead late in an 8-6 loss Wednesday. Bourjos' two-run homer in the fourth inning off Clayton Richard put the Angels ahead 5-2. Richard allowed five runs and nine hits in five innings. Los Angeles starter Joe Blanton allowed...
MLB News

Delivered to your inbox

You'll also receive Yardbarker's daily Top 10, featuring the best sports stories from around the web. Customize your newsletter to get articles on your favorite sports and teams. And the best part? It's free!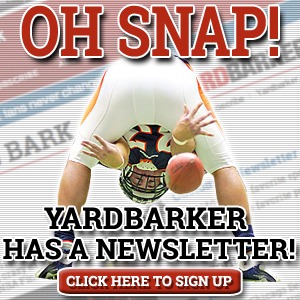 Latest Rumors
The Backyard

Today's Best Stuff

For Bloggers

Join the Yardbarker Network for more promotion, traffic, and money.

Company Info

Help

What is Yardbarker?

Yardbarker is the largest network of sports blogs and pro athlete blogs on the web. This site is the hub of the Yardbarker Network, where our editors and algorithms curate the best sports content from our network and beyond.