Found January 09, 2013 on The Rhino and Compass:
I was planning on putting together a post regarding the Hall of Fame today, regarding the fact that nobody was elected to Hall by the BBWAA. I had some crystalline points and a well thought out opinion on the matter, I believed. In fact, I was asked the question earlier this afternoon, and then heard a similar response from, of all people, Jim Souhan on ESPN1500. Anyways, my response to the question "what are your thoughts on the writers shutting out people from the Hall of Fame this year" is as follows. Personally, I view the HOF as a museum, and put an emphasis on the "fame" portion. Statistics are important inasmuch as they help a team to win in the present, so they aren't a HUGE deal to me (good news for Jack Morris!) when it comes to electing players for the Hall of Fame. But you have to look at how players and their careers have told the story of the history of the game, in my opinion, whether or not they were cheaters or may have some character issues. I would argue that players like Mark McGwire, Sammy Sosa and Barry Bonds saved baseball, with the attention they drew to the game after the strike in 1994, and they would all be in if I voted, along with Morris and Clemens. But the way the voting works, the way voting in any election of anything works, people look after their own interests and have their own standards, and the hall is different things to different people. So, I guess I don't mind that nobody got in.
Original Story:
http://ryanhenning.com/?p=5171
THE BACKYARD
BEST OF MAXIM
RELATED ARTICLES
DETROIT Jack Morris remains on the outside looking in. Morris, who won 198 games in 14 seasons with the Detroit Tigers and pitched for four World Series winners, failed to cross the 75-percent threshold required for induction into the Baseball Hall of Fame. In totals released Wednesday afternoon, he got only 67.7 percent of the vote just a percentage point ahead of last year&...
Jack Morris' quest to reach the MLB Hall of Fame is down to its final shot. The former Detroit Tigers pitcher again fell short of induction (as did everyone else on the 2013 ballot) — Morris received 67.7 percent of votes, shy of the 75 percent required to make the Hall. This was Morris' 14th year on the Hall of Fame ballot, meaning he has just one year of eligibility left...
The Baseball Hall of Fame made some interesting headlines Tuesday when, for the first time since 1996, nobody was elected to an inducting class. Amongst others, caught in the crosshairs were two former Detroit Tigers, who are both deserving of landing in Cooperstown soon. Alan Trammell and Jack Morris, two players well justified of hall honors, didn't make the grade yet again....
Ben and Sam try to figure out whether the sabermetric movement has helped keep Jack Morris out of the Hall of Fame or given him a better chance to get in.
A year ago, Jack Morris missed his ticket to immortality by just 48 votes.  And depending on who you're getting your Hall of Fame predictions and updates from...it looks like it might happen again.So, while not everyone agrees on whether or not Morris is Hall worthy, I think we can all agree...whether you're a metrics guy, a black/gray ink guy or something else, it's the...
(Written on 1/11/12) As we all know by now, The Baseball Writers have voted SS Barry Larkin into the Hall of Fame. Outside of the talk about how good of a player Larkin was, many have focused on those who fell short, such as Jack Morris, Jeff Bagwell and Lee Smith, all of whom got over 50% of the vote, but fell short of the 75% that was needed to gain entry. Tim Raines got 48...
For the first time since 1996, the BBWAA (Baseball Writers Association of America) elected no one to the Baseball Hall of Fame. The ballot consisted of many repeat players such as Jack Morris making his 14th appearance but was littered with players linked to steroids such as Barry Bonds and Roger Clemens. The *home run king* received 36.2% of the votes which was well short of the...
Any fan of baseball, including writers with votes for the Hall Of Fame, should have been rooting for contemporary inductees in this year's ballots. Unfortunately, it did not happen. MLB lost an opportunity to shine the light on some outstanding players from recent times and from a couple decades back. For all that baseball has gone through over the past 15 years – the steroids...
MLB News

Delivered to your inbox

You'll also receive Yardbarker's daily Top 10, featuring the best sports stories from around the web. Customize your newsletter to get articles on your favorite sports and teams. And the best part? It's free!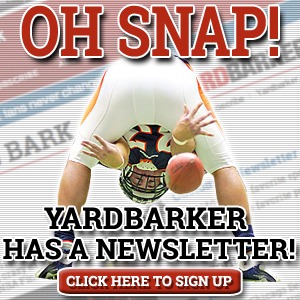 Latest Rumors
Best of Yardbarker

Today's Best Stuff

For Bloggers

Join the Yardbarker Network for more promotion, traffic, and money.

Company Info

Help

What is Yardbarker?

Yardbarker is the largest network of sports blogs and pro athlete blogs on the web. This site is the hub of the Yardbarker Network, where our editors and algorithms curate the best sports content from our network and beyond.