Found May 11, 2012 on Monkey with a Halo:
Forgive the potential hyperbole, but when the Angels open their series against the Rangers at 5:05 PM today, it will either be the beginning of the end to their 2012 season or a bright new beginning to their quest to reconquer the AL West. While the baseball-loving free world would have you believe that the Rangers have already wrapped up their third straight division title, they enter the series seven games ahead of the Angels.  That's a big lead, but should the Halos manage a three-game sweep of Texas, that lead would be whittled down to a perfectly manageable, not at all insurmountable four games.  Yeah, I know, with the way the Angels are playing and the way the Rangers are playing, a Halo sweep of Texas seems unlikely, but that doesn't mean it is impossible. But honestly, it isn't about narrowing the gap in the division, that is just a happy side effect.  What the Angels need this weekend is a series win of any kind and the associated boost in confidence that comes with besting the supposed best team in baseball and your top rival on their home field.  That, my friends, is something the Angels need more than bullpen help, catching depth or Pujols to play like his old self.  OK, maybe not the the Pujols thing, but you get my point. The Angels are supposed to be contenders, but they haven't done anything remotely contenderish yet.  Hell, they haven't done anything other than prove that they can beat up on the abysmal Twins.  But a series win over the Rangers, now that would be sweet.  And it would be the perfect jump-start for a Halo turnaround, which they badly need.  They need it not just because of hole that they dug for themselves in the division, but because if they are ever going to start playing well, it has to be now. No, not now because they are facing Texas, but because of who comes after the Rangers.  Their next 14 games post-Texas come against the Athletics for two, the White Sox for two, the Padres for three, the Athletics for three more and then the Mariners for four.  After wasting their Downy soft April schedule, the last thing the Angels can afford to do is not run rampant over this batch of cupcakes they are about to be served. I just don't think they can do that if they don't get the ball rolling in Arlington first.  While a series win would finally prove to the team that they have overcome their wretched start to the season, a series loss or, gulp, getting swept, would be a deathblow to this club.  Christ, look how tightly wound Albert Pujols is.  He nearly beat li'l Erick Aybar to death with his glove because he playfully slapped his elbow after a win.  Imagine what the clubhouse will be like if the Halos get smacked around in this three-game series.  Yikes, I don't even want to think about.  We'll cross this bridge when we come to it, but let's hope we won't ever come to it. [follow]
Original Story:
http://www.monkeywithahalo.com/2012-a...
THE BACKYARD
BEST OF MAXIM
RELATED ARTICLES
TEMPER TEMPER
Erick Aybar apparently doesn't understand the famous Albert Pujols Intensity yet. If he did, he clearly would not have participated in such tomfoolery as smacking Pujols in his elbow/foreman rather than his hand during the postgame High 5 line. In response, an angry Pujols retaliated. Hat tip: RedditSo, just for the record, in an Angels uniform Pujols has now...
The Angels aren't really getting their money's worth. After inking a 10-year, $254 million deal this offseason, Albert Pujols has sputtered out of the gate. The first baseman is hitting .192 with just one home run and 11 RBIs. His on-base percentage sits at .228. Obviously, those numbers sit well below Pujols' career averages, so the safe bet is that he'll turn things...
Pardon me for hitting this point again and again, but it's by far the most fascinating part of Albert Pujols' season so far. Anybody can go into a home run drought; the difference between a home run and a flyout is, what, the width of a cuticle? It's very easy for a home-run hitter to not hit a home run. They do it all the time. But to not walk is just so deliberate...
Your browser does not support iframes. There was an unusual moment during the Angels' postgame handshake lineup on Wednesday night. After beating the Twins 6-2, the Angels players lined up for handshakes and high-fives to celebrate the win. For some reason, Albert Pujols chucked his glove at teammate Erick Aybar. The move was strange and made Pujols look like a jerk, but SI injury...
Make no mistake about it, the Cardinals seem to be adapting well to life after Albert Pujols. Obviously much better than the Angels are adapting to life with Pujols. Predictably, people want to know just how the Cardinals are continuing to contend in the National League after losing arguably the best player in baseball. So Lance Berkman took it upon himself to let us all in on why...
After last night's 6-2 Angels win over the Twins, as the Angels are doing their postgame handshakes, shortstop Erick Aybar taps first baseman Albert Pujols on the elbow. Pujols proceeds to whip his glove at Aybar, and looks really, really irritated afterwards, inspecting his elbow. It's worth noting that the elbow that Aybar tapped was the one that Pujols has had problems...
The May 11th, 2012 edition of daily news for the Los Angeles Angels ...
We are now into May there have been several surprises this baseball season. To the surprise of most people, the Dodgers are in first place in the NL West. This is almost as crazy as Albert Pujols not hitting a homerun in the month of April, but oh wait… that happened… So how are the Dodgers having all of this success? Well, a large part of that is due to Matt Kemp. Most people...
Los Angeles is the "City of Angels" and its Angels baseball team has a superstar now in Albert Pujols.  But Albert was imported from St. Louis and has yet to prove his worth to the people in LA.  There is someone who wears Dodger blue that is rapidly winning over the people of LA.  His name is Matt Kemp and
Matt Adams, 1B, St. Louis Cardinals Current Level: AAA 2012 Top 15 Prospects Ranking: 8th Current Value: Nearly Ready Barring injury, St. Louis probably won't be looking to shake its roster up anytime soon given its success in 2012 despite the loss of Mr. Albert Pujols. Lance Berkman and Allen Craig, both capable of playing first base, are also getting healthy, which could mean...
MLB News

Delivered to your inbox

You'll also receive Yardbarker's daily Top 10, featuring the best sports stories from around the web. Customize your newsletter to get articles on your favorite sports and teams. And the best part? It's free!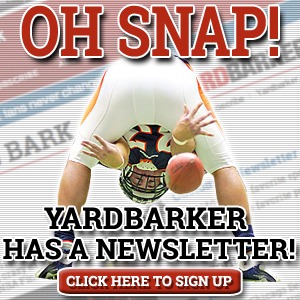 Latest Rumors
Best of Yardbarker

Today's Best Stuff

For Bloggers

Join the Yardbarker Network for more promotion, traffic, and money.

Company Info

Help

What is Yardbarker?

Yardbarker is the largest network of sports blogs and pro athlete blogs on the web. This site is the hub of the Yardbarker Network, where our editors and algorithms curate the best sports content from our network and beyond.