Found December 22, 2012 on World Series Dreaming:
Merry Christmas Dreamers! This has been quite a year, one that will be remembered for a long time to come. None of this would be possible without you, the World Series Dreaming fan, so for that I want to say thank you. While I love baseball, and love talking about baseball (especially Chicago Cubs baseball) without all of you, I would just be talking to myself. So thank you for making World Series Dreaming an ever growing success. My hope is that both the Facebook page and our blog home will continue to grow, which will primarily be due to all your support. I would also like to say thank you to my partners in crime for helping make World Series Dreaming everything that we have become. So, to Rice Cube, Maria Montero, Rich D' Anna, Mauricio Rubio, Jackson Scolfield, Packle, Gunther Dabynsky and Robb Tavil I say thank you. Without all of your hard work, World Series Dreaming would not be anything close to what we have become. Now, what is becoming our yearly tradition…… here is your yearly Twas the Night Before Christmas Parody Twas the weeks before Christmas, when all through Chicago Every Cub fan was waiting, to see what where the next player would go The roster was built by Epstein with care, In hopes that a World Series soon would be here. The Cub fans were snuggled around their computers, With visions of free agents picking the Cubs as their suitors. Theo with his saber metrics, and Hoyer doing his thing, The two had just started some wheeling and dealing. When all through Twitter there arose such a clatter, Cub fans went to their computers to see what was the matter. To World Series Dreaming they would dash, And saw some pitchers being added in a flash. So many new pitchers rumored to be joining the team Compared to last year the starting rotation is a dream. On World Series Dreaming what should appear, News and rumors that could ease my fear. With a General Manager so witty and slick, I knew in a moment  a deal could come quick. More rapid than Campana the signings they came, Epstein smiled, and announced the rotation by name! "Now Garza! now Wood! now Feldman and Villanueva! On, Jackson! On, Baker! on, Bowden and Samardzija! To the bullpen my attention would once again turn Thanks to World Series Dreaming, a new closer I would learn From over the seas Fujikawa's plane would fly, With a reliable closer my hopes would be high. Why they still had Marmol no one knew, Until Epstein and Hoyer still said he would close games too. And then, in a twinkling, Cub fans hopes did fall For now the ninth inning would not be stress free at all. As I bowed my head and began turning around, When I learned another free agent was Chicago bound. He was dressed all in pinstripes, from his head to his foot, And at the hot corner is where he would stay put. An outcry of panic came from the Cub fans pack, They all cried "I can't believe he is back." With Stewart coming back, fans were not merry! His performance last year gave fans a feeling that was scary! His wrist injury last year left his value quite low, Making Epstein and Hoyer decide to give him another go. Fans welcomed him back while gritting their teeth, Their feelings for him they did not care to sheath. Being on twitter when injured instead of supporting his team, Left some fans salty wishing the trade of Colvin was only a dream! Then a signing of an outfielder named Schierholtz with the first name of Nate, Brought some rumors of trading Soriano which many saw as great! Epstein's plan continued unfolding in his head, His calm demeanor let me to know I had nothing to dread. He spoke not a word, but went straight to his work, After filling all the positions, his face wore a smirk. Looking over the roster he began rubbing his chin, This year's roster would bring us closer to a win! He ran to his office, to watch his team play ball, All while waiting for July and his first trade call. "These moves" he exclaimed," will work alright, "A World Series I will bring, so rest easy this night!"
Original Story:
http://worldseriesdreaming.com/2012/1...
THE BACKYARD
BEST OF MAXIM
RELATED ARTICLES
The Chicago Cubs announced Friday they have finalized a one-year, $2.25 million deal with outfielder Nate Schierholtz. Schierholtz, 28, batted .257 with six home runs for the Giants and Phillies in 2012. The Phillies decided to non-tender Schierholtz, who made $1.3 million last season. In other Cubs moves, left-handed pitcher Gerardo Concepcion cleared waivers and was assigned...
Assuming that the deal actually goes through as planned, which is easier said than done on the North Side these days, the Chicago Cubs will have made their most noteworthy signing of the offseason, in bringing in starter Edwin Jackson.  Jackson, who has become the very definition of a journeyman over the last several years, finally gets a home for more than a few months in agreeing...
The Cubs agreed to terms with 29-year-old career swingman Carlos Villanueva on Wednesday. With Scott Baker's early season availability in question as he rehabs from April Tommy John surgery, Villanueva should have a chance at making the club's opening day rotation. Villanueva showed promise in the rotation as myriad Blue Jays injuries opened a spot for him in Toronto. In his...
The Texas Rangers temporarily filled their 40-man roster Friday by picking up left-hander Jeff Beliveau on a waiver claim from the Chicago Cubs. Beliveau pitched in 22 games for the Cubs this year, going 1-0 with a 4.58 ERA. He was designated for assignment Dec. 12 to make room when the Cubs signed Ian Stewart. Beliveau was the organization's minor league pitcher of the year...
Carrie Muskat announced the Cubs new minor league staff for 2013 on December 11th.  Depending on how far you read (if you saw it at all), you may have missed this: "Yudith Ozorio will manage the Dominican squad, the same position he has held for the past three seasons. Leo Hernandez will serve as the pitching coach in his 18th year with the club while Oscar Bernard makes his...
I think George Carlin said it best: "I've never ****** a 10, but one night I ****** 5 twos" Which, you know, might be the perfect way to describe the Cubs 2013 rotation. The Cubs have handed out contracts to Edwin Jackson (4yrs, 52MM) and Carlos Villanueva (2yrs, 10MM), rounding out a rotation of not great but not quite awful starters. MLB Depth Charts projects the starting...
A look at the roller-coaster careers of two former first-rounders.
It`s the eve of armageddon and a major league manager controls the fate of the world.
   It seems the Chicago Cubs have added a front of the rotation starter to their rotation. According to Ken Rosenthal, the Cubs have agreed to a four year contract with free agent RHP Edwin Jackson. It seems we have been through this before. Exactly a week ago, the Cubs were in agreement with RHP Anibal Sanchez on a 5 year, $75 million deal, only to have the Detroit Tigers to...
Free agent pitcher Edwin Jackson has found a new home, agreeing to terms with the Chicago Cubs. As is the Cubs' practice, the well-traveled right-hander did not receive no-trade protection in his four-year, $52 million deal. The Cubs will be the eighth major league team that Jackson has played for, in a career that began with the Dodgers in 2003. Like many baseball writers, ESPN's...
Cubs News

Delivered to your inbox

You'll also receive Yardbarker's daily Top 10, featuring the best sports stories from around the web. Customize your newsletter to get articles on your favorite sports and teams. And the best part? It's free!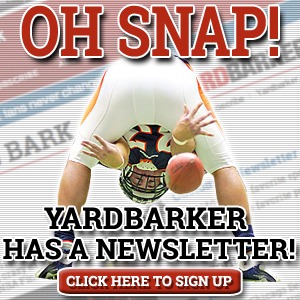 Latest Rumors
Best of Yardbarker

Today's Best Stuff

For Bloggers

Join the Yardbarker Network for more promotion, traffic, and money.

Company Info

Help

What is Yardbarker?

Yardbarker is the largest network of sports blogs and pro athlete blogs on the web. This site is the hub of the Yardbarker Network, where our editors and algorithms curate the best sports content from our network and beyond.