Found February 27, 2012 on 22gigantes:
What's up with all the Giants-bashing going on these days from the disgruntled and bitter members of San Francisco's discard pile?
<a title="22gigantes: "Is <a target=" href="http://22gigantes.com/2012/02/is-cody-ross-bitter-about-the-giants.html" target="_blank">Last week, it was Cody Ross telling reporters how much better it is in Boston than San Francisco.
Then, yesterday, Aaron Rowand spewed out a bunch of garbage about the Giants, followed by a line of excuses longer than his best hitting streak.
Rowand, who is in the Miami Marlins' spring training camp as a non-roster invitee, told <a title="Miami Herald: "Veteran Aaron Rowand hoping to stick with Miami Marlins "" href="http://www.miamiherald.com/2012/02/26/2661162/veteran-aaron-rowand-hoping-to.html" target="_blank">Clark Spencer of the Miami Herald, "I haven't been this excited about a season—and baseball itself—in a while. The last couple of years [in San Francisco] definitely weren't as enjoyable as I would have hoped."
He then made some excuses as to why he played so poorly in San Francisco:
"I just got shuffled in and out of the lineup, and it was tough to get a rhythm."
And…
"Physically, it's a difficult park to hit in…The gaps in that place are 404 in left-center and 421 in right-center, and because it's only 309 down the line, the right fielder doesn't play straight up. He plays in right-center. So when you hit line drives to right field or right-center field that you think are base hits and they end up outs, mentally you kind of feel like there's no hits for me over there, and you start getting into bad habits."
Even winning a World Series ring wasn't good enough for Rowand:
"[Winning the World Series] was tough. We pulled together as a group. But as much as we all had fun and loved being around each other, there's a part of that that's difficult if you're not getting consistent playing time. When you feel like you're not performing to your capabilities, it becomes stressful."
The Giants certainly overpaid for Rowand when they signed him to a five-year, $60 million dollar contract four years ago, following a 2007 season in which he batted .309 with 27 HR and 89 RBI for the Philadelphia Phillies.
He never came anywhere close to that kind of production again.
And, sadly, the Giants are still paying.
Rowand, who batted .233 with 4 HR and 21 RBI last year, will earn another $12 million dollars this season whether or not he catches on with the Fish. If Miami does sign him, the Giants will save about $480,000 (the league minimum, which will be paid by the Marlins).
Rowand used to carry the nickname "Crash," because of his fearless style of play in the outfield. And I'm sure Phillies fans will always remember this play.
These days, I hear he goes by "Crash And Burn." Because that's exactly what's happened to his career.
Despite his obvious bitterness, I'll admit I'm kind of pulling for A-Row.
Hey, $480 grand is $480 grand, right?

I hope you enjoyed reading "Aaron Rowand bad mouths Giants, makes excuses." I'm interested in your opinion on this article. Why not leave a comment at 22gigantes.com?
Original Story:
http://feedproxy.google.com/~r/22giga...
THE BACKYARD
BEST OF MAXIM
RELATED ARTICLES
It was a milestone day for Giants catcher Buster Posey, who hit live pitching for the first time since May 25, 2011. I don't need to remind you what happened on that crappy day. Today, on the other hand, was glorious. Posey stood in the batter's box as Jeremy Affeldt stood on the mound waiting for the Giants catcher to get set. On Affeldt's first pitch, Posey grounded one to...
(Eds: APNewsNow. Will be updated.) Left-hander Madison Bumgarner enjoyed the flow of champagne over his head after San Francisco's successful run to the World Series title two years ago, a mere three months after he reached legal drinking age. He's about to start his second full season in the majors this April and remains the youngest pitcher on the Giants' 40-man roster...
This is Nate Schierholtz's time to flourish. Having spent all or part of the previous five seasons with the Giants, Schierholtz finally is likely to open the season as a regular for the first time.
Giants general manager Brian Sabean said Sunday that he's still pondering whether to add former outfielder Pat Burrell to the team's stable of special assistants and part-time coaches.
Let's dig into the Giant's third basemen for the upcoming 2012 season. Since Edgardo Alfonzo and Pedro Feliz manned the position from 2003 through 2007, the Giants have had little offensive power coming from the "hot-corner". After Feliz hit 22, 20, 22 and 20 home runs from the 2004 to 2007  seasons respectively and Alfonzo hitting 13 and 11 home runs in 2003 and 2004, the...
Buster Posey is healthy again and back behind the plate. Brian Wilson is back on the mound. Freddy Sanchez is back from shoulder surgery, eager to start turning double plays again. Aubrey Huff, he's just back in shape. Back together again as a full unit after an injury-plagued 2011 season derailed San Francisco's hopes of repeating as World Series champions, these rejuvenated...
While Tim Lincecum and Matt Cain appear destined for $100 million contracts, it might be unwise for the Giants to sign either to a nine-figure deal. Historically speaking, that is. The success rate of $100 million...
A subdued Brian Wilson began Spring Training by admitting that he pitched with a sore throwing elbow and a bad hip through much of last season. Monday, a rejuvenated Wilson sounded much more like the prescient, confident, eloquent Giants closer from two years ago who hadn't yet grown his feared beard.
SCOTTSDALE, Ariz. -- From his 2010 postseason dominance to a sizzling second half a year ago, Madison Bumgarner already has a career's worth of impressive numbers.
Closer looks sharp and declares himself healthy
MLB News

Delivered to your inbox

You'll also receive Yardbarker's daily Top 10, featuring the best sports stories from around the web. Customize your newsletter to get articles on your favorite sports and teams. And the best part? It's free!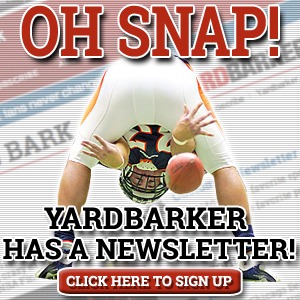 Latest Rumors
Best of Yardbarker

Today's Best Stuff

For Bloggers

Join the Yardbarker Network for more promotion, traffic, and money.

Company Info

Help

What is Yardbarker?

Yardbarker is the largest network of sports blogs and pro athlete blogs on the web. This site is the hub of the Yardbarker Network, where our editors and algorithms curate the best sports content from our network and beyond.